Sales of the anti-obesity pill Belviq from Arena Pharmaceuticals (NASDAQ:ARNA) continued to buck the seasonality factor by bringing in a 2% increase in week over week sales according to industry tracker IMS Health. The fact that Belviq has been able to avoid a dip in sales is a testament to the fact that it is new as well as the fact that marketing partner Eisai is pushing the drug via 600 sales reps and television advertising. Belviq sales remained above Qsymia from Vivus (NASDAQ:VVUS) for the second consecutive week. Qsymia sales were flat week over week with the drug selling 13 fewer scripts this week than last. This begs the question as to the real value of the sales reps and television advertising campaign. Belviq saw sales increase by 223 scripts, meaning that Belviq gained 236 scripts over its main competitor. Whether those 236 scripts are worth the cost of 450 more sales reps and $250,000 a week in television ads can certainly be debated. The answer to the question likely depends on how much of the growth was from free trials, and how many of those free trials will convert to paying patients.
In 2014, the average weekly growth rate of total scripts has been 3.57%. This metric has been trending down for about 10 to 12 weeks now. I anticipate that in the data 2 weeks from now, the average will dip below 3.5%. The average growth rate for new scripts stands at 3.93% with similar trending in terms of weeks. Refill data shows an average growth of 2.85%. Last week, I mentioned that the inflection in sales that the street wants to see is likely about a month away now. This means that the proving grounds to demonstrate concrete evidence of sales above $100 million in 2014 will have taken 8 to 9 months. The day will soon come when the sales line (orange on the chart and nearly hidden by the green guidance line) can get itself above the green guidance line. At the moment, the sales line is just below.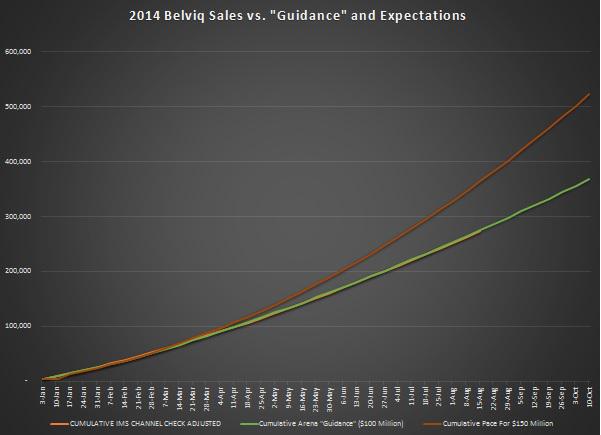 Chart Source - Spencer Osborne
On a quarter-over-quarter basis, this week's sales were 27% better than the corresponding week in Q2 and 215% better than the corresponding week from a year ago. Overall this quarter growth is 34% better than last quarter. This is down from 36% last week. It is very likely that Q3 will be about 25% better than Q2, a decent pace considering the time of year we are dealing with. That being said, the street wants to see more robust growth or something concrete to jump-start this equity.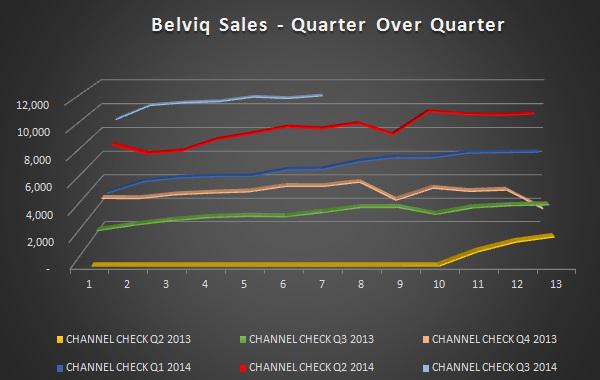 Chart Source - Spencer Osborne
In looking at the most important aspect of watching scripts we want to look at the revenue story. Overall sales equates to gross revenue. Net sales, of which Arena gets 31.5%, are derived by removing certain costs from gross sales. I use the assumption that 55% of gross sales is in the neighborhood of where net sales will be. The notable item this week is that net sales for 2014 are right at the cusp of $30 million. It is very important that investors understand that having a product on the market means that there is more than simply speculation for the street to consider. The street will give a lot of weight to the fundamental story. As yet, that story as it relates to Belviq has not demonstrated that it can sustain the development of the pipeline or deliver profits. That is not being bearish. It is simply an assessment of the data.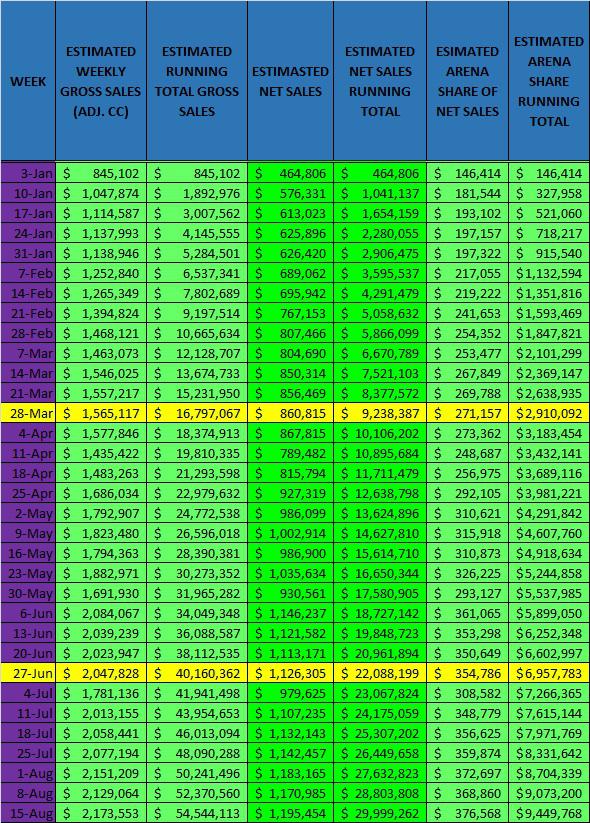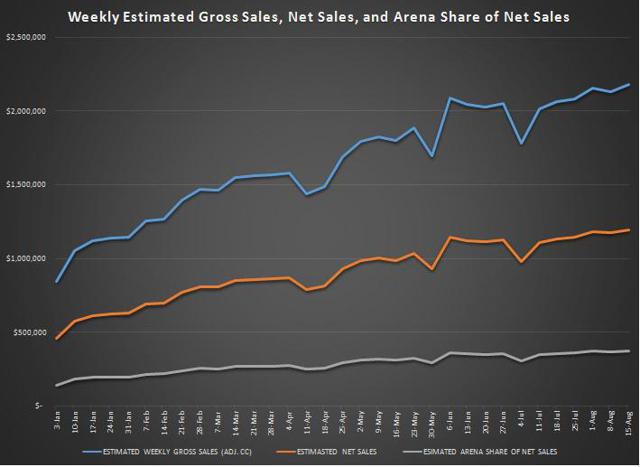 Chart Source - Spencer Osborne
In looking at the revenue story of Belviq, I find it helpful to consider annualized rates as well as the averages we have seen so far this year. The annualized rate gives you an idea of where revenues would be if sales remained flat for a 12-month period. That does not typically happen with a drug at this stage in its launch, so investors should think of that as a foundation upon which to assign some measure of growth. The averaged data shows where the dug is currently trending for this year. Again, this is a foundation from which to assume that some measure of growth would apply. The annualized run rate now stands at $113 million in gross sales, while the average for this year stands at about $86 million.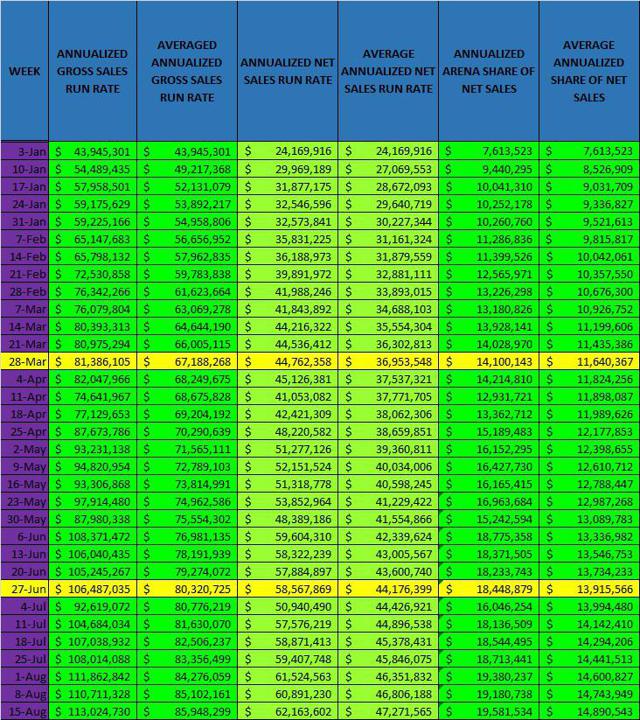 Chart Source - Spencer Osborne
Summary
Sales of Belviq are challenging the seasonality factor pretty well. The conversion of free trials to paying customers appears to be about the same as it was prior to advertising starting, which I consider to be positive in that the seasonality would tend to take away from all segments of the prescriptions. Arena's partner Eisai (OTCPK:ESALY) is responsible for marketing efforts. That is good for Arena investors, but only good if Eisai is making money from this venture as well. Simply stated, the best situation for Arena investors is seeing Eisai making money. If we consider the weekly cost reps and advertising, it is clear that Belviq is still bringing in a loss. Consider the cost of the reps to be $1.6 million per week, advertising to be $400,000 per week, and $400,000 to Arena. Net sales need to be at about $2.5 million per week for Eisai to break even without considering soft costs. Why do Arena investors need to understand this? Because it has a direct impact on how much money Eisai dedicates to sales reps and advertising. Eisai is at a difficult stage and seasonality does not help the situation. The sales progress is good, but we need to see sales at levels 3 to 5 times better than today to see all parties in this partnership happy. The road to that will not be a cakewalk. You simply need to understand that.
Refills are taking on a greater importance. I cover this subject at the beginning of each week for my readers. The data seems to currently indicate that the refills are trending in line with what we have seen traditionally. This means that the ad campaigns are bringing in more potential customers and the rate at which potential customers convert is fairly consistent. That gives confidence in that bringing people into the door is a worthwhile effort to the extent that the company is still able to grow. One might have anticipated that the conversion rate would dip slightly in the face of adding a lot of free trials. That has not happened, and I view that as a positive. The advertising (I cover this subject mid-week each week) seems to have found a stable place. The Belviq ad is seeing more prime-time slots and has somewhat better time-slot placement, though it is still airing a lot in the overnight.
The bottom line is that while progress seems very slow, the right things are happening for the possibility of seeing the equity appreciate. Catalysts would be very helpful, and there does not seem to be much on the horizon in the next 3 months or so. Investors should watch the situation with Orexigen (NASDAQ:OREX) and Contrave. That drug could gain approval in the next few weeks and marketing partner Takeda is a big player. Stay Tuned!
Disclosure: The author is long ARNA.
The author wrote this article themselves, and it expresses their own opinions. The author is not receiving compensation for it (other than from Seeking Alpha). The author has no business relationship with any company whose stock is mentioned in this article.
Additional disclosure: I have no position in Eisai, Vivus, or Orexigen
Editor's Note: This article discusses one or more securities that do not trade on a major U.S. exchange. Please be aware of the risks associated with these stocks.