General Motors (NYSE:GM) has spent the last couple of years slowly trying to re-establish itself as a diversified global presence. It's done so at the same time as other U.S. auto companies have been looking to also expand their global footprint. The last year or so has been prosperous and the U.S. auto makers seem to have bounced back stronger than ever from the 2008 financial crisis.
Equity analysts were basically unanimous when the company's stock touched the low $30's that the effects of the recall would soon be over and that the company would recover. Except, that's not what happened.
GM stock has sunk from the beginning of this year from over $40 to $34.24.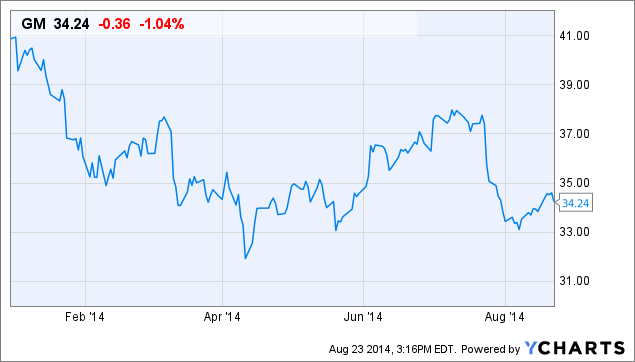 From what we're seeing now, this might not be the best place to buy, either.
According to Fox News, General Motors is looking to potentially stop an expansion in Russia and perhaps cut the amount of models that it's plant is producing. GM launched a $300M plant in 2008 and was supposed to expand on what it already had next year. First, they decided they were going to reduce production at the plant in August and September (August is a notoriously slow month in Europe). They're now mulling over their options as to what to do for next year.
In addition to this, and of note to Mr. Bannister who cited "geopolitical tensions fading" as a reason to flip out and go bullish on the market, the company has noted that production is slowing due to the Ukraine standoff with Russia. If this isn't a direct economic impact of geopolitical tensions, I'm not sure I could come up with a better one for you.
Russia's car market has been slumping all summer. Fox News notes that in July, it was reported their sales dropped 23% YOY after a 17% fall in the previous month.
Autonews.com notes that Ford is already ahead of GM:
Ford Motor Co. wrote down its entire $329 million investment in its Russian joint venture with Sollers the second quarter after outlining plans in April to eliminate 950 positions at two of the partnership's plants.
General Motors has spent gratuitously overseas to try and move its brand(s) into new markets and continue growth. Here in the states, General Motors had spent most of it's time dealing with the ignition recall crisis which has occupied all of 2014 for them.
(source)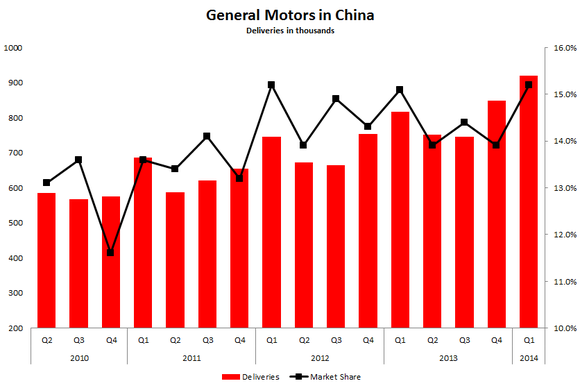 I know that a couple of the American born analysts that I work with don't like the fact that GM took taxpayer money and then:
poured capex into expansion in China
was stopped in it's tracks by the recall crisis
As a Brit, looking from the outside in, I can understand why they're upset. As a businessman, I understand exactly why GM is seeking out business prospects in China.
But China and Russia, along with other overseas countries, we feel are going to sour on GM; the only question is will it be before or after the U.S. markets start to pull back?

The Peel's Feel:
With regard to China, I'm not sure how long the economy is going to hold up there regardless. Consensus is that the country is itself entering into a bubble that some think will dwarf that of the United States housing crisis. Tack that onto our already long and comprehensive list as to why we think equities will suffer and bonds will rise heading into 2015.
In the midst of what we think is still a period of uncertainty for the automaker, we're taking this news as a queue to reaffirm that we want nothing to do with investing in General Motors at this point. Though we like Mary Barra as an executive and think she is no doubt competent enough to run the company, GM has far too much on it's plate right now.
Should the economy or market turn on them, the company could be slated for significantly more trouble, and it could bring stockholders with them.
We rate GM as ROTTEN (SELL) and currently have a end of 2014 price target of the name set at $31.
Disclosure: The author has no positions in any stocks mentioned, and no plans to initiate any positions within the next 72 hours.
The author wrote this article themselves, and it expresses their own opinions. The author is not receiving compensation for it (other than from Seeking Alpha). The author has no business relationship with any company whose stock is mentioned in this article.