Jiayuan (NASDAQ:DATE) will report 2Q14 earnings on Thursday before the market opens. The details of the conference call are given below.
| | |
| --- | --- |
| United States: | +1-845-675-0438 |
| United States (Toll-free): | +1-855-500-8701 |
| Hong Kong: | +852-3051-2745 |
| Mainland China: | 400-1200-654 |
| International/All other regions: | +65-6723-9385 |
| Passcode: | 88540178 |
Consensus expects $0.07 EPS (-22% y/y) on $23.5m in revenue (+21% y/y). The stock has been trading sideways over the past months as the market is concerned about the stagnation of its core online services business. While personal matching making and event will likely maintain their near-term momentum, the two segments only account for 20% of the total revenue.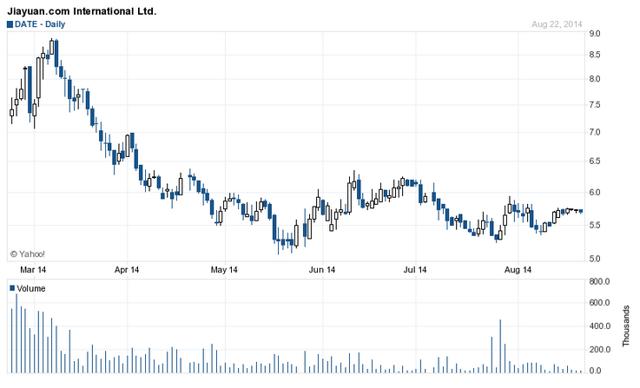 Core business in stagnation
I expect Jiayuan's core business of online services to continue to see revenue stagnation due to heightened competition from other online dating sites such as Zhenai.com and Baihe.com. In Q1, the segment saw 7% y/y growth and investors can expect mid-single digit growth in the near-term as Jiayuan does not differentiate much from its competitors in terms of online services.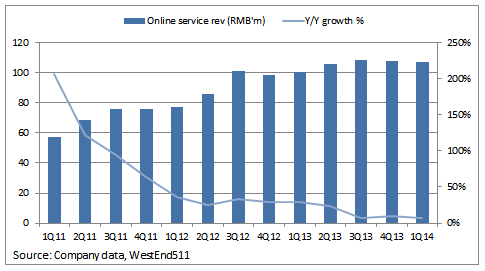 It is worth remembering that revenue is a function of monthly paying user and ARPU. While MPU has seen signs of recovery over the past two quarters, that is mainly due to higher promotional activities, which is evident in the declining ARPU profile.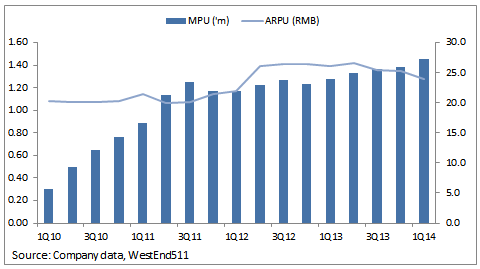 Going forward, promotional activities are likely to stay to drive MPU and user stickiness and near-term revenue growth, but I question the long-term sustainability of such strategy in that users are less likely to stay once promotion is scaled back.
Personalized service will drive this stock
Personalized matchmaking is the only bright spot in the business, having seen triple digit revenue acceleration over the past two quarters, +112%/+138% y/y in 4Q13/1Q14. I believe that this segment will become a bigger revenue contribution of Jiayuan in the future in that the younger generation is becoming more selective in terms of finding the right mate given the long list of factors to consider (i.e. social status, personal wealth, occupation, family background etc). Jiayuan's large database and expertise in China's matchmaking market is an attractive asset to leverage on. Moreover, personalized matchmaking commands higher ASP and margin, which could boost Jiayuan's profitability in the future, if management executes. Finally, high-end matchmaking (targeted for the high-income individuals) is an area that Jiayuan should place a particular focus on. I note that such business model has proven to be successful in the developed world and could be replicated in China.
At 27x forward earnings with a 4% dividend yield, the stock looks attractive but the biggest overhang is the stagnating core business. I am short on the stock unless there is a material recovery in online services segment.
Disclosure: The author has no positions in any stocks mentioned, and no plans to initiate any positions within the next 72 hours.
The author wrote this article themselves, and it expresses their own opinions. The author is not receiving compensation for it (other than from Seeking Alpha). The author has no business relationship with any company whose stock is mentioned in this article.