By Scott Tzu
BlackBerry (NASDAQ:BBRY) has fallen off the map of late with Apple's (NASDAQ:AAPL) partnership deal with IBM (NYSE:IBM) muting a lot of the unbridled optimism that was shrouded around the company coming into 2014.
In the meantime, the company has come out and done nothing but reiterate that it's going to meet its goals for becoming cash flow positive once again. I'm not sure that this job has been the walk in the park that BlackBerry's CEO is making it out to be, especially in these last few months. Thom (another of our analysts) said to me, "Chen's unstoppable confidence up to now took its first blow when BlackBerry was left out of the Apple/IBM deal."
It has once again become a time where BlackBerry is going to test the $10 line to see if it can graduate to double digits. As we inch ever so close to the company's "re-birth," we're guessing that BlackBerry will take down and hold over $10 this time.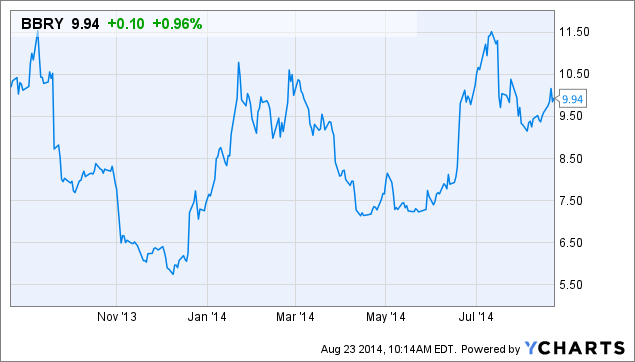 BBRY data by YCharts
The one-year chart really tells the tale. It's a question of how and when BlackBerry is going to be able to get into and stay into double-digit territory. A couple of times, BlackBerry investors saw $10 and thought they were leaving single digits behind for good. Both times the stock wound up fading back under $10. The first time due to lack of speedy progress on the company restructuring and the second time when investors were blindsided by the Apple/IBM news.
Throwing a wrench in the gears of BlackBerry's progress was Apple and IBM several months ago, which announced a partnership solely for the purpose of getting into the enterprise business, traditionally BlackBerry's corner of the market. There were many on this site and others who didn't seem concerned about this partnership and some who even argued it would help BlackBerry. We think that's a bit of wishful thinking.
While most of us here at OPI agree that nothing has come of the Apple partnership thus far, we're concerned about it's 2-3 year impact on BlackBerry.

The Peel's Feel:
We think the BlackBerry trade is simply a matter of timing.
Operating in a vacuum from the rest of the market, here's how we see the timeline of BlackBerry going heading into the end of this year and into 2015.
Heading into the end of 2014 we expect a good response for the Passport and continued growth in classic BlackBerry models in emerging markets. We believe that phone revenue will impress as a result of the FOXCONN partnership and as the company continues to develop its other monetization strategies, including using QNX in vehicles.
We expect the company to meet its goals of cash flow positive and, upon release of this news, we expect to see the stock eventually pushed toward the $13-$14 region. If we were buyers of BlackBerry on Monday, this would be the news that we're looking for to sell off on. We do believe there's 30-40% in a 6 month trade here.
That's where the unbridled optimism stops, however.
With the introduction of Apple and IBM into this space, we think 6-8 quarters out we're going to need to step back and fully evaluate BlackBerry's business from that point. Questions we'll ask include:
Is the company showing growth since cash flow positive?
How are competitors in Apple and IBM making out?
Is the balance sheet as strong (or stronger) as it is now?
Is the company fairly priced for to be acquired?
What is John Chen's 2-4 year plan for the company and who is next at the helm?
We know that bulls are excited about the upcoming Passport device from the company and there's no doubt that John Chen has done a good job in doing what's necessary to turn things around. We do feel, however, that BlackBerry's run back after cash flow positive is a "special situation" that is going to need constant re-assessment as quarters roll by.
We'll need answers to all of these before we can start to assess the company as a long-term buy and hold.
We rate BlackBerry as juicy (buy) for now, with a price target of $14.
Disclosure: The author has no positions in any stocks mentioned, and no plans to initiate any positions within the next 72 hours.
The author wrote this article themselves, and it expresses their own opinions. The author is not receiving compensation for it (other than from Seeking Alpha). The author has no business relationship with any company whose stock is mentioned in this article.