Sinclair Broadcast Group Inc. (NASDAQ:SBGI) announced last week it will launch a new division within the company in order to create original content for its TV broadcasts.
Dubbed "Sinclair Original Programming", it will focus on developing commercials, infomercials and entertainment programming within the new division.
Along with shrinking its dependence on other companies in the industry for its content, Sinclair also believe there will be distribution opportunities for the content it creates in-house, which should provide an additional revenue stream for it.
(click to enlarge) source: StockCharts.com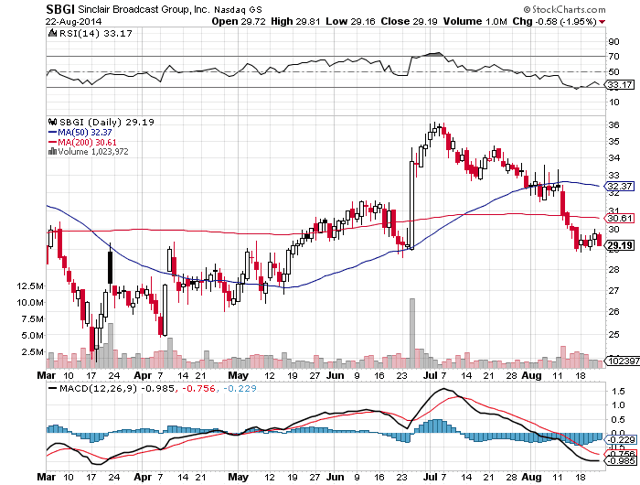 Click to enlarge
Sinclair's Performance
In its most recent quarter Sinclair did very well, although in general it hasn't been rewarded as it should have with its share price. I've been bullish on Sinclair for some time, and in November 2013 revealed a number of reasons why I believe it has 30% upside or more. You can read the reasoning behind that here.
As for its latest quarterly results, it beat expectations, generating revenue of $404 million, up $125 million, or 45% over the same reporting period in 2013. Digital interactive and political revenue were the reasons given for beating expectations and guidance.
Diluted earnings per share was $98 million, or $0.42 per share. Free cash flow for the quarter was $81 million, of which $15 million was paid out in dividends. EBITDA in the quarter was $157 million, an increase of $44 million year-over-year, a gain of 39%. Margin for EBITDA was 35%, with 59% of EBITDA being converted to free cash flow.
Broadcast TV cash flow in the quarter was $169 million, a gain of $48 million, or 40% over the same reporting period in 2013.
American Sports Network
A couple of months ago Sinclair announced it was going to launch the American Sports Network, which will be broadcast on the CW, MyNet and other channels.
This is a good move because live programming draws premium advertising dollars for the very sake of it being live and not usually time-shifted as scripted and other TV shows are.
On the other hand, this will drive costs up as the initiative is rolled out, which will offset some of the short-term gains. Over time though, this is a real winner which will definitely add to the top and bottom lines of the company.
It also provides an opportunity of another revenue stream by having the option of making syndication deals with other broadcasters.
With at least 160 live games broadcast annually, this is going to change the existing channels the company owns; and it should do so for the better. It think over time viewership is growing to grow far beyond what it currently is.
Original Content Strategy
The major reason for the creation of an original content unit is to gain more control over the process, lower fee costs, and to create another revenue stream by syndicating its own content.
Other possibilities are revenue from its infomercials and commercial production arm of the new unit.
It appears this is almost an entire revamping of much of its cable business, when taking into consideration American Sports Network and in-house content creation; both of which will take time to execute to the point they both reach their full potential.
I think the costs of producing these new strategies and the time it'll take to roll them out is likely the reason the company isn't being rewarded as it should with its current performance.
Long term I like how Sinclair looks though, and it should only get better as time goes by. I still maintain my 30% upside for the company, and once this other projects start to mature, it could be significantly higher over time.
Conclusion
In the short term Sinclair should do very well, especially with the increasing amount of political ad spend for the remainder of the year.
National advertising will likely remain weaker, while local advertising should continue to grow in the low to mid single digits. On the local side broadcast revenues accounted for 80% of all broadcast revenues, and that's a good trend in a political season.
As for the long term, I think Sinclair is making some strong moves to strengthen its cable unit, which has a lot of room to grow from its current base.
The sports is a given to me, and that will help boost revenue and earnings once that's established. On the original content side, that has potential to lower costs, but it also is more risky because there has to be a team in place that knows the market and can churn out enough solid hits to overcome the inevitable failures. This isn't as easy to do as it may sound, and it remains to be seen if Sinclair will be able to execute on the idea.
If it does produce some good hits, then the revenue and earnings potential rises significantly because of the probability it can syndicate those popular shows to many areas it doesn't serve in.
This idea needs to be attempted, as on some of its cable networks it hasn't been able to gain the type of traction it had hoped for. With sports now about to change the look of these networks, adding some winning TV hits will be a nice complementary content package which could cause the company to outperform over time.
The key of course is execution, but it's becoming clearer where Sinclair wants to go and how it's going to try to get there. I like its chances, and believe with the closing of the Allbritton deal, the ONE Media launch, and its strong cash flow, it's positioned well to navigate the path laid out successfully.
Disclosure: The author has no positions in any stocks mentioned, and no plans to initiate any positions within the next 72 hours.
The author wrote this article themselves, and it expresses their own opinions. The author is not receiving compensation for it (other than from Seeking Alpha). The author has no business relationship with any company whose stock is mentioned in this article.