A few years ago I shorted Corinthian Colleges, Inc. (NASDAQ:COCO) with the thesis that [i] for-profit colleges were saddling people with student loans without improving their job prospects after graduation, and [ii] the government would eventually remove their accreditation. The more money I lost, the more I shorted the stock. I may have been three years too early. That said, the company is set to announce its quarterly earnings on Aug. 25 and the stock - $0.18 per share - is priced for bankruptcy.
Corinthian is one of the largest post-secondary career education companies in North America. As of March 31, 2014, Corinthian had nearly 75,000 students, and operated 93 colleges in 25 states and Ontario, Canada. The company operates under the Everest College, Wyotech and Heald brand names. Corinthian's U.S. schools are accredited and grant diplomas or degrees pursuant to four primary concentrations: allied health, business, criminal justice, and automotive and construction trades. All of the Canadian schools grant diplomas and are regulated by the provincial ministry for education. The company also offers an online learning alternative available to students seeking an online education. Analysts are expecting revenue of $337.42 million and earnings per share ("EPS") of $0.11 per share. Below are the company's historical financial results: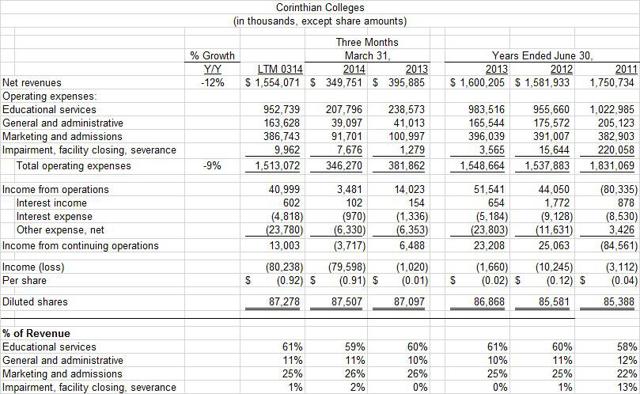 Click to enlarge
Revenue
The lion's share of Corinthian's revenue consist of tuition and fees paid by students. Most students in the U.S. rely on funds received from federal financial aid programs under Title IV of the Higher Education Act of 1965.
Revenue declined 12% Y/Y from $396 million from three months ended March 31, 2013 to three months ended March 31, 2014.
Revenue declines are partially due to a decline in student population. At June 30, 2013, student population was 81,284. In January 2013, the company sold four Everest schools which also caused the student population to decrease.
The company is currently party to a government probe over whether it misled students and investors about its finances and job placement. The company has since struck an agreement with the Department of Education to sell many of its campuses or close them down.
About 85 of its 107 campuses are on the block, but the company has been unable to find a buyer.
Analysts' revenue estimates of $337 million for the current quarter imply a 4% decline sequentially.
Earnings
Corinthian's operating income margin declined to 2% in the quarter-ended March 31, 2014 from 4% a year ago, rendering the company unable to cover its other expense items.
The company had a loss of $0.91 per share in the quarter-ended March 31, 2014. Analysts are expecting EPS of $0.11 in the current quarter.
Conclusion
Corinthian has a market capitalization of $16 million and the stock is priced for bankruptcy. Whether or not the company survives may be a harbinger of things to come for competitors like Strayer Education (NASDAQ:STRA) and ITT Educational Services (NYSE:ESI). I would advise investors to avoid the stock.
Disclosure: The author has no positions in any stocks mentioned, and no plans to initiate any positions within the next 72 hours.
The author wrote this article themselves, and it expresses their own opinions. The author is not receiving compensation for it (other than from Seeking Alpha). The author has no business relationship with any company whose stock is mentioned in this article.
Editor's Note: This article covers one or more stocks trading at less than $1 per share and/or with less than a $100 million market cap. Please be aware of the risks associated with these stocks.