Facebook (NASDAQ:FB) has had a great deal of success as the company dominates the social media landscape in both number of users and level of engagement. The number of daily active users on Facebook was 829 million in June of 2014 which was up 19% from the same period last year. The company's revenues in the second quarter of 2014 were $2.91 billion, which was up 61% from the second quarter of 2013. The biggest trend in social media and communication is mobile. Facebook has done well in this category as well as the company had 1.07 billion mobile active users as of June, which represented a 31% increase over last year's number. The average American spends a whopping 40 minutes on Facebook per day. Facebook definitely has an enormous moat because its user base is so large. It will be difficult for any company to overtake Facebook especially since it also owns the enormously popular Instagram. Instagram reached 200 million monthly active users earlier this year. Ads are starting to be implemented on this application, so this should be accretive to earnings in the future.
With all of this being said, as an investor it is important to understand the competitive landscape that faces every company that you own stock in. I believe that the number one competitor that Facebook is up against in the long term is Snapchat. Snapchat has experienced an enormous amount of growth in its user base in the recent past. Facebook offered to purchase Snapchat in November of last year for $3 billion which the company rejected. Google (NASDAQ:GOOG) (NASDAQ:GOOGL) offered $4 billion to buy it and Snapchat rejected that as well. The management of both Google and Facebook knew that this company had a bright future ahead of it; it is this future that I will explore in this article.
The two main competitive advantages that Snapchat has over Facebook is that it is viewed as more secure because the pictures and videos are instantly deleted and its messaging ability is easier to use. The privacy concerns that users have with Facebook have been shown to be bubbling over in the recent problems that it has had with the introduction of its new messenger app. I wrote more in depth about this in my article "Facebook: A Stubborn Mark Zuckerberg?" While Snapchat certainly isn't foolproof in its security because the pictures or videos can be saved, it certainly doesn't collect data on its users the way Facebook does. This is both the value and the inherent flaw in Facebook business model. The company has a great deal of information about its users and this helps marketers target their ads to the correct customers. The negative of this is that some users feel that the company has too much information about them. While there have been claims that Snapchat may have collected data on its users' locations and information from its users' address book, this definitely pales in comparison to Facebook. The only information that the company has in Google's cloud storage centers is unopened pictures and videos.
Snapchat has grown up from the days when most in the public thought of it as a mere sexting app. The application now allows for users to send text messages and communicate via live video calling. The fact that the company has so much room for expansion into many different areas makes the growth trajectory of the company very exciting. The company has been rumored to be working on a product called Snapchat Discovery. This could allow users to see videos, news articles, and advertisements. This expansion eventually could start to eat into Facebook's dominance. If users switch to using Snapchat as a means for communication they may spend less time on Facebook in the future. The importance of messaging is why the company bought Whatsapp for $19 billion in February of this year.
Facebook actually has tried to destroy Snapchat on two separate occasions and failed both times. It created the Poke app in December of 2012, but that was finally ended in May after it failed to catch on with users. The second challenge to Snapchat is Slingshot. This application was launched in June of this year and hasn't caught on with users as it has recently fallen out of the top 1,000 top free apps category in the IOS App Store in America according to App Annie. Facebook has been able to acquire Instagram to prevent competition with Facebook, but now that the CEO of Snapchat is stating that an acquisition "isn't very interesting" to him, it looks like Facebook will actually have a serious threat that it can't simply acquire.
The demographic that Facebook has been struggling with is teenagers. According to iStrategy Labs, the 13-17 year old usage among teens has declined 25.3% in the past 3 years. This certainly caused strife among investors last year which has now abated. I definitely wouldn't sell the stock based on these numbers. The stats that I presented in the beginning of this article surely outweigh this trend. Teenagers may be considered a leading indicator to trends in social media, so I am simply presenting to long term potential risks that the company faces.
The growth of Snapchat has been meteoric. As you can see from this chart, the number of pictures sent via Snapchat has increased at a parabolic rate. The number of pictures sent daily was slightly over 400 million when Facebook and Google made their offers and now it is at 700 million.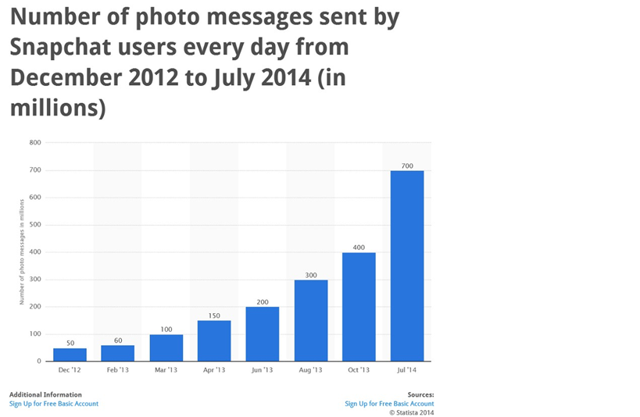 Millennials have been the demographic that seems to adopt technology the fastest. They can be a leading indicator to which social media platform the rest of the population will be using in the future. This chart backs up my opinion that Snapchat is the biggest threat to the long term success. Snapchat has surpassed Vine, Twitter, Pinterest, and Tumblr in terms of Millennial usage. The reason why I wouldn't sell Facebook based on this threat is because it still has Instagram to satiate the social media needs of the young users. Snapchat is growing fast and may impede on Facebook's turf, so I am simply advising investors to monitor the situation closely.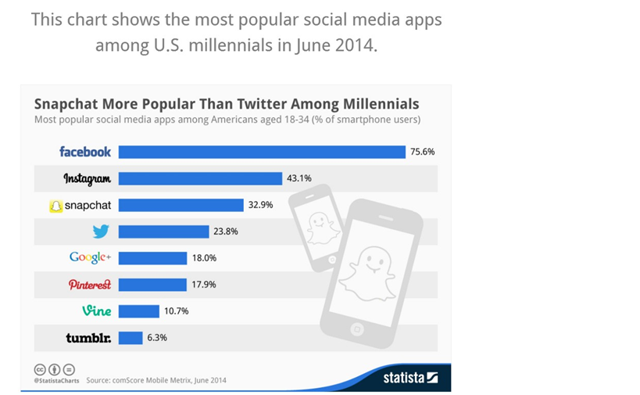 The younger the demographic studied the better the numbers get for Snapchat and Instagram and the worse they get for Facebook. This shows the importance that Instagram will have on the future of the firm's profitability. If you look at this chart which shows the percentage of recent American high school graduates daily usage, Snapchat has 46% penetration compared to the 61% penetration of Facebook. Facebook is the dominant player in social media today, but these trends imply that the gap may shrink in the future.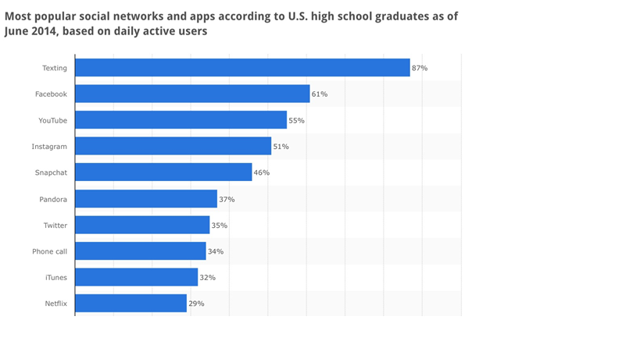 Facebook will continue to do well in the near future, but I am trying to emphasize that Snapchat is the biggest threat to the company's long term popularity. This is likely over looked by investors that are in their 40s and older. The application will grow and will add features in the future. Facebook investors should watch this closely.
The two main risks to my thesis are that Snapchat executes poorly on its long term plan and that teens and young adults lose interest in the app. Snapchat has been firing on all cylinders, so it seems unlikely that it will make a mistake on a new feature that it adds. The second one is a bigger risk for the company. The popularity among teens also may not transfer into adults increasing their usage as is the case with Tumblr. These risks that Snapchat faces would be considered positive upside potential for Facebook as the company's only other competitor is Twitter (NYSE:TWTR), which is more of news agency than a social network. Twitter has been around since 2006 and Facebook has experienced no significant drop-off from users switching platforms; it definitely poses little risk to Facebook's long term profitability and popularity.
Disclosure: The author has no positions in any stocks mentioned, and no plans to initiate any positions within the next 72 hours.
The author wrote this article themselves, and it expresses their own opinions. The author is not receiving compensation for it (other than from Seeking Alpha). The author has no business relationship with any company whose stock is mentioned in this article.