Kona Grill, Inc (NASDAQ:KONA) owns and operates upscale casual restaurants. Despite having only 23 restaurants, the company is diversified across the U.S. The company's sales come from three segments, Sushi, Kitchen, and Bar. The stock is up about 40% over the last year which thoroughly beats out their competition in the upscale casual market. For the industry, Q2 sales were down about 1% on a traffic decline of 2%. For Kona, SSS (same store sales) were up by 3.2% and overall restaurant sales were up by 15.9%.
Locations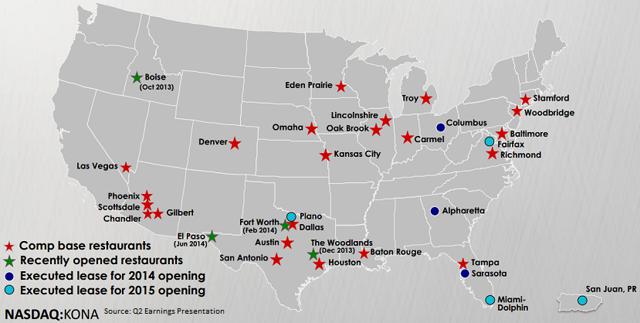 Click to enlarge
Kona's locations are fairly diversified. Texas and Arizona are the only two states that have considerable exposure. From a marketing perspective, that could be challenging as the company is unlikely to capture any economies of scale. However, the company's performance has reflected an ability to bring customers in the door and keep them happy. They compensated for the disadvantages in marketing by tracking competitor's prices and competing. The following chart compares the cost of a meal at Kona's vs. several of their competitors.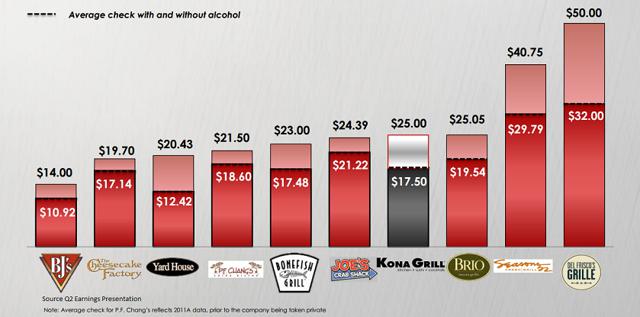 Click to enlarge
Kona has stayed competitive on price without dropping margins too far. The restaurant operating margin was 19.2% in the quarter. The margin was slightly compressed by higher than normal labor costs which are attributable to opening new restaurants. As the new locations fine tune their staffing levels the labor costs should drop back down. Long term they should run around 32.5 to 32.8% of sales.
The company's margins may also be squeezed by higher values reported in G&A. The increased costs represent fees being paid in the current period for tax planning services. Management has projected that the reduction in taxes paid over the next few years will be significant, but did not elaborate to the point of providing target effective tax rates.
Solid price returns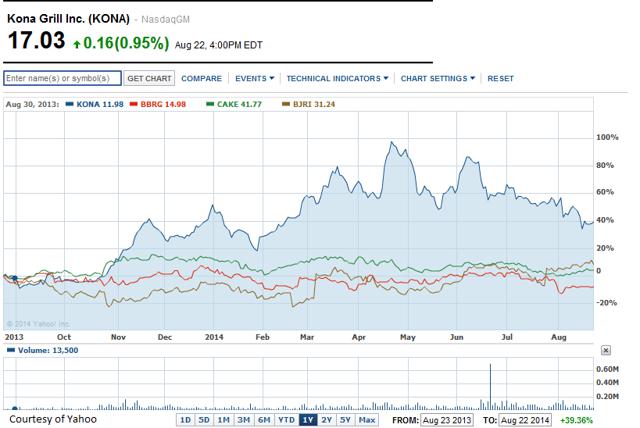 Click to enlarge
Kona has been competing effectively and their primary competition is feeling it. Bravo Brio Restaurant Group (NASDAQ:BBRG), The Cheesecake Factory (NASDAQ:CAKE), and BJ's restaurants (NYSE:BJ) have all had miserable years. However, Kona's stock price has declined since reporting the Q2 statements. That could be a function of too many people only looking at the financial statements. During the Q2 earnings call management updated their long-term unit growth guidance to 20% annually. Their confidence comes off continued negotiations to acquire desirable properties. Kona is seeing some of the best properties in the country available and has fought their way onto the shortlist of developer's highly desired tenants.
The bottom line
Kona has shown solid growth during a difficult period in the industry. They are continuing to open new stores and have indicated they will have a presence in highly desirable new developments. The stock dipped after the company announced it had sold a substantial number of shares through an offering that closed June 25th. The offering gave the company the funds they would need to continue their rapid expansion, and the shares were sold at a higher net price (around $17.44 per share by my math) than they are trading at now. Management guidance for lower tax rates and higher growth rates should be driving valuation metrics higher.
Disclosure: The author has no positions in any stocks mentioned, and no plans to initiate any positions within the next 72 hours.
The author wrote this article themselves, and it expresses their own opinions. The author is not receiving compensation for it (other than from Seeking Alpha). The author has no business relationship with any company whose stock is mentioned in this article.