The temptation to release a bunch of potential big-hit films one after another in the summer box office season was too much to pass up by the studios, as falling attendance resulted in emotion overruling logic, as the industry paid for it with an underwhelming performance.
If it wasn't for the surprise performance of Guardians of the Galaxy and Teenage Mutant Ninja Turtles, the numbers would have been a bigger disaster than they already are.
Interestingly, while June was down 16% against the summer of 2013 and July didn't reach the $1 billion mark for the first time in twelve years, the performance of Turtles and Guardians will result in August generating over $1 billion in the domestic market for the first time in history.
The apparent reason for the surprising performances is the lack of films geared to children and families this summer; a reason 'How to Train Your Dragon 2' probably exceeded expectations.
I think the major reason was the decision by Disney's (NYSE:DIS) Pixar to change its May 2014 release of 'The Good Dinosaur' to November 2015. It's not that the films would have competed directly against one another, just that the pent-up demand wouldn't have been so strong if Dinosaur had played.
Either way it has been a slow summer, and there are several likely responses from the industry that will change the way the summer box office is handled in the future.
(click to enlarge) source: StockCharts.com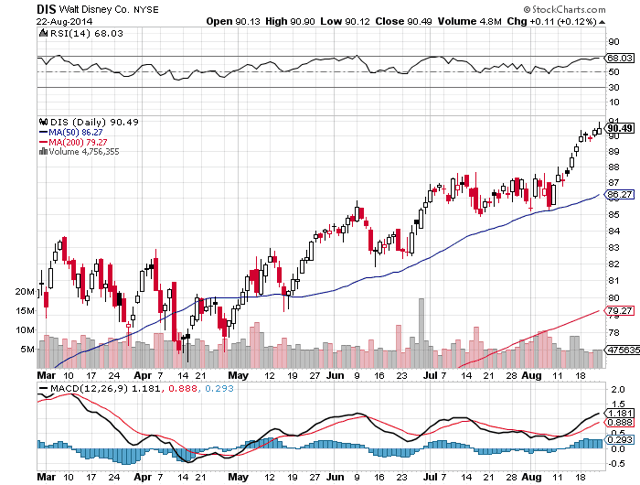 Click to enlarge
Crowded Release Schedule
The first thing that will probably be changed is the film release schedule itself. There is simply no way the cost of films can allow companies to release tentpole films one weekend after another and make money.
If the larger companies wanted to weaken their smaller competitors, they could release them on the same weekend or the weekend after in order to wear them down. If they did that, they would have to be willing to justify that decision to shareholders, who are looking for the best returns. So while it's a strategy, it's probably not one that will be incorporated, although you never know if some of the larger companies want to thin out the competition or weaken them for an acquisition offer.
That's one of the reasons I was concerned when Lions Gate (NYSE:LGF) decided to up the ante with larger films, breaking from its past strategy of releasing smaller niche films that made money almost every time, but didn't attract the attention its larger peers did when they produced huge hits that drew the headlines.
(click to enlarge) source: StockCharts.com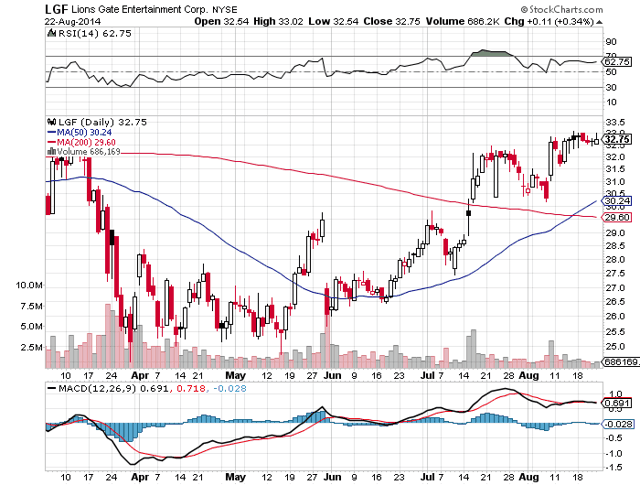 Click to enlarge
Now, as to the release schedule, the changes there will be to lengthen what is identified today as the summer season, with new releases starting in early spring instead of early summer. In other words, the summer season is going to be lengthened and redefined.
I draw that conclusion from the decision by Warner Bros. Pictures (NYSE:TWX) to change the release date of Batman vs. Superman from May 6, 2016 to March 25, 2016. There is no doubt in my mind, with the way the films ate each other up this year, that this will be considered the new summer season by studios. The one caveat is the industry may possibly wait to see how the film does before committing to that as a new way of doing things. But with a down year and young people choosing small screens as their entertainment consumption screen of choice, they may just go ahead with earlier releases for potential hits in the spring of 2015.
(click to enlarge) source: StockCharts.com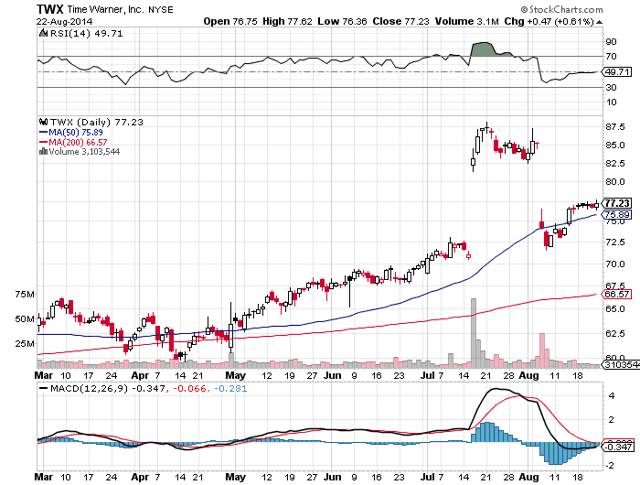 Click to enlarge
Captain America: The Winter Soldier, which was released on April 4, 2014, suggests this is a viable strategy, as it was the top performer for three weeks in a row.
However it pans out in the short term, I think we are going to see the beginning of a longer summer season in the years ahead, with proven franchises being released earlier and earlier. The reason for summer releases is fading, when it is taken into consideration that the reason in the past for summer releases was to cater to the younger demographic. That is becoming irrelevant, and is going to be less relevant in the years ahead.
For the larger companies, they may be able to throw their weight around more and get the perceived top release dates. We already see that with a number of release date changes after a big film release date is announced.
Franchise Fatigue?
In the past, the release of franchise films has almost guaranteed it would do better than its predecessor, but even those assumptions are being challenged, as evidenced by the failure of the latest installment of Transformers to reach the $250 million mark domestically, the worst performance of all four Transformer films.
Some point to the growing international market as having potential, and that's true. But the reason the domestic numbers are what are always focused on is because revenue there is much more lucrative than foreign markets, which are much more costly to distribute in, and don't bring the margins or returns of the domestic market. It's helpful, but nowhere near as beneficial as sales at home.
With all the moving pieces at this time, we really don't know if we're in the midst of franchise fatigue, or it's simply too many movies being release too close together.
Other than extending the summer season, the only remaining option would be for companies to compete head on domestically until one or more of them blinks.
With more than one franchise underperforming its predecessor this summer, and some of them the second in the franchise (second installment have had a history of outperforming the first in a franchise), it will probably take another year before we see if film fans are tiring of the same old fare and want something fresh, or they are being forced to choose between two good franchises at the same time.
If franchise fatigue is a factor, we'll see a lot more efforts to throw out different characters such as the Turtles or the Guardians.
What's at Stake
Even in a period of disruption for films, they can still be a powerful performer for companies, as confirmed by Disney, which has been driven by the performance of its last several films, providing a lot of revenue, earnings and cash flow.
Theaters have been also working feverishly to appeal to more mature movie-goers, by building premium seating and offering a variety of cuisine to suit the tastes of a variety of demographics.
In other words, they're trying to make going to the movies a destination for those wanting a premium experience and are willing and able to pay for it. This has been working well, and having regular seating still appeals to those patrons wanting to watch a film but not pay too much for the experience.
Where the film industry is going is it's finding out the floor on it true fans who will turn out to watch film after film and don't mind the increasing prices accompanying that. That means it still has pricing power, and under normal circumstances can offset lower patrons by boosting prices. The fact that didn't work this year is what is so concerning for studios, as it could point to the possibility the drop in visitors can only be offset so much by raising prices. If that's the case, entertainment companies could be facing some very challenging times.
This is why the larger companies have been diversifying their assets to counter this prevailing trend.
But for now, even under the worst case short-term scenario, films are still a big part of the performance of entertainment companies, and it should remain that way for a long time; although not in the form it has been in the past.
The stakes are still in the billions, and studios aren't going to stand around and let that simply collapse on them. This is why we're going to continue to see changes in the industry to capture as much of the market as it can before the generation coming up that has no strong desire to go to the big screen, becomes the dominant demographic. That's years away, but it's coming.
Conclusion
In the near future we'll see the summer box office season extended to much longer, as the purpose for having a summer box office to reach younger customers is rapidly fading.
There is also likely to be a change in the film franchise if it is found customers are getting tired of seeing the same cast of characters or themes over and over again. That hasn't been proven yet, but if it is, the slate of films in the future will include more variety in the recent past.
But knowing the film industry, they aren't going to give that successful business model up without a fight, and so we'll see how they respond if many of the franchises start to underperform.
Concerning the foreign markets, they're growth markets, and should do well as the middle class in various countries continue to grow in income and numbers. That means that revenue could climb, but lower margins will accompany that, which means lower earnings.
All of this is playing against the backdrop of newer digital distribution outlets like Netflix, and falling DVD sales.
For now films will continue to be an important part of the success of entertainment companies, but the increasingly difficult challenges could also cause them to wildly underperform as well.
(click to enlarge) source: StockCharts.com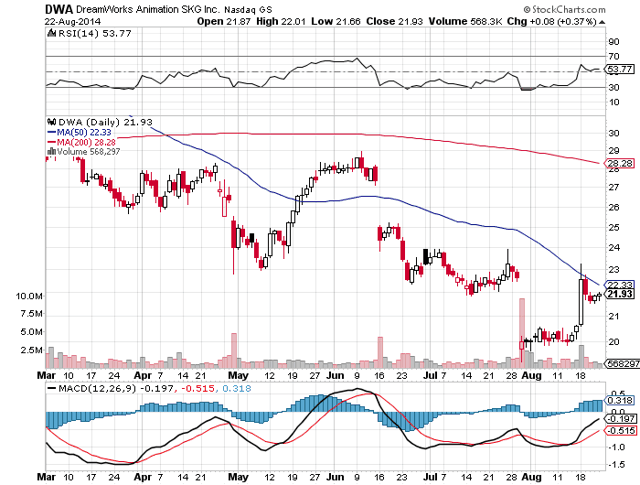 Click to enlarge
I'm looking for many studios to think about releasing fewer films, build out their consumer products divisions more, and look for further ways to diversify. DreamWorks (NASDAQ:DWA) is a good example of this, and it's likely to sweep across the industry to one degree or another, depending on the current size and diversity of a specific company.
Disclosure: The author has no positions in any stocks mentioned, and no plans to initiate any positions within the next 72 hours.
The author wrote this article themselves, and it expresses their own opinions. The author is not receiving compensation for it (other than from Seeking Alpha). The author has no business relationship with any company whose stock is mentioned in this article.