As with every New Year, there is a feeling of a fresh start in the air, and Anadarko Petroleum (APC) is hoping one of those fresh starts can come their way. The energy sector was shaken up due to the BP oil spill in 2010 and APC saw the repercussions in full force. Their per share price fell from $70 to around $34 in the peak of the disaster, and there was a very grim outlook. However, the energy sector in 2011 looks revamped, highlighted by their strong technicals and undervalued share prices. In the mix is APC who has both, as well as a strong growth potential.
The world market looks for strong growth in 2011 as well, and APC rigs can be found off the coast of many of the world's fastest growing countries. In the most recent Q3 earnings call, the executives emphasized not only the growth in exploration in places such as Brazil who look to increase infrastructure and would need a great deal of energy to match its expansion rate, but they also noted that the drilling and other such activities have been a success in these areas. Furthermore, the executives made it clear that 2011 will be about increasing shareholder return and a positive externality of this just happens to include the strengthening of their balance sheet.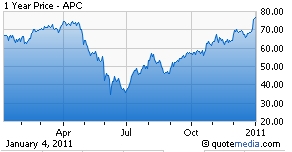 As if APC wasn't doing enough to get back in the good graces of society and its shareholders, in recent weeks BHP Billiton (BHP) has been rumored to be considering a cash takeover of Anadarko at $90 a share. This is a long way from its $34 low in July, but it has been trending up ever since, and due to management's strong efforts it looks like a good buy. It makes sense on BHP's part because BHP has a lot of cash on hand and is looking for expansion, and as noted earlier, APC is doing just that. On the news the stock has jumped greatly, but is still only trading in the high $70's. It has broken a 52 week high, but my DCF valuation has it accurately priced around $90 for 2011 and other sources' valuations have it as high as the $100's.
The energy sector is showing strong technicals and APC is no exception. In the last month, the APC has been using its 20 day EMA as support as it has continued to trend higher and volume has greatly increased due to take over talks. As of recently, after the large spike up from $34, APC looks to be in a period of consolidation in the $70's, but MACD readings show a potential jump above the signal and another accumulation phase looks ready to ensue. Lastly, momentum indicators are also in consolidation, but also look poised to spike. Considering all the information available, I see the share price reaching into the $80's in the near future.
*Tracking my previous articles performance
- ICGE, when written was trading at $8.23, it is now at $14.27 and has hit a 52 week high over the last 3 months.
- QSII, when written was trading in the low $50's, it is now trading in the low $70's and has broken a new 52 week high.