This Just Out: Specialty Retailers Downgraded
After reading this headline on an internet article, and followed by downgrades of several retailers to neutral or underperform, we wondered if retailers are overbought and whether there are any bargains out there to be had. We performed a screen on the apparel industry and analysed the results using our software to see which stocks, if any, seem to be selling at a discount to their fair value.
A total of 46 stocks were looked at and six were selected for analysis as possibly undervalued. The stocks analysed were: Aeroposatle Inc. (NYSE:ARO); Buckle, Inc. (NYSE:BKE); Citi Trends, Inc. (NASDAQ:CTRN); Syms Corp. (SYMS); True Religion Apparel, Inc. (NASDAQ:TRLG); and The Wet Seal, Inc. (WTSLA).
The results for intrinsic value are the following, using analyst estimates for the next 5 years' growth: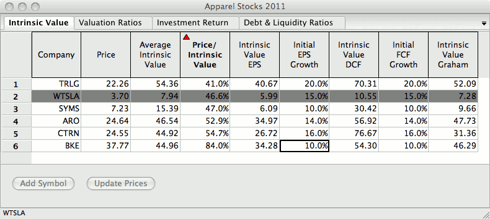 click to enlarge
Note: For WTSLA, EPS was adjusted to 2009 levels to account for large tax credit that positively impacted the net income for that year.
All companies seem to be trading at a discount to their intrinsic value with TRLG, WTSLA, SYMS, ARO, and CTRN trading well below the 25% discount to intrinsic we like to see.
The results for valuation are as follows: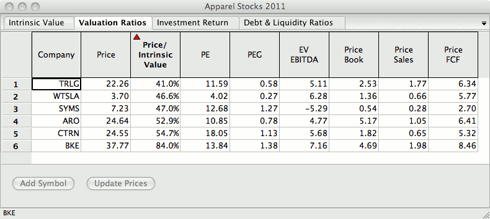 All stocks appear to be selling at a good EV/EBITDA of 7 or less. ARO, TRLG, and WTSLA are trading at PEGs well below 1. SYMS has a negative EV/EBITDA and further investigation into the income statement shows negative operating income over the last 2 years.
The results for investment return are as follows: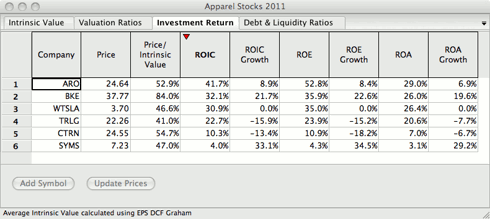 ARO, BKE, WTSLA, and TRLG have ROICs well over 15%. BKE, WTSLA, ARO have grown ROIC over the last 5 years (granted, some from a very low value), while TRLG's ROIC has dropped considerably from its high of around 55%. SYMS and CTRN's ROIC has either dropped below 15%, or never made it out of the single digits...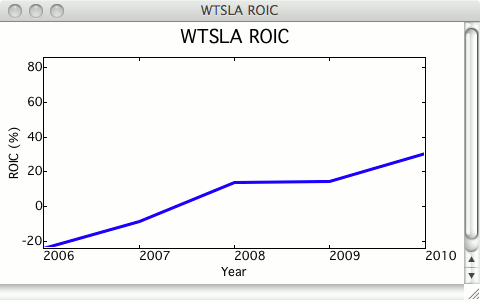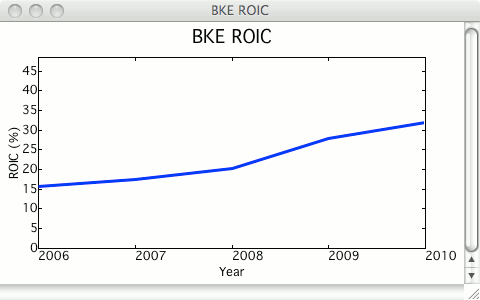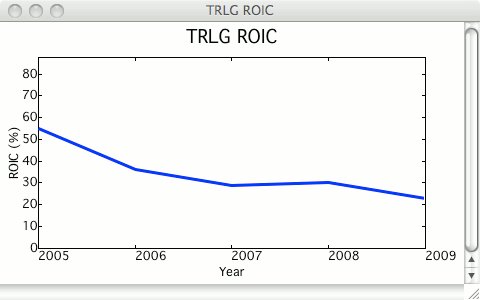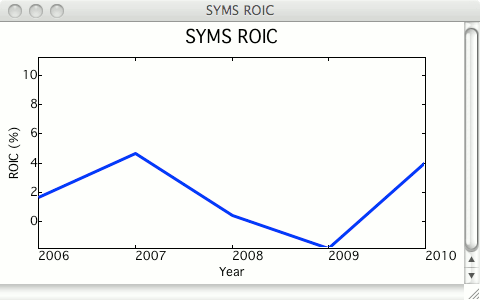 The results for Debt and Liquidity are as follows: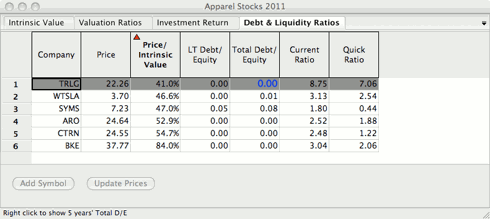 All stocks have little or no debt, and all except SYMS keep both current and quick ratios above 1. SYMS quick ratio of 0.44 bears further looking into.
From this group of stocks, we believe that based on fundamental analysis and intrinsic value ARO, BKE, WTSLA and TRLG merit further looking into. From our analysis, as far as it goes, it appears they are not overbought.
Final note: this analysis does not mean that these stocks are "buys." There may be other reasons for some of these stocks to be downgraded, but in our minds this indicates there are potential bargains still out there for investors that might reward further investigation.