First of all, BlackBerry's (NASDAQ:BBRY) hardware business probably bottomed out last quarter. Now this is a very important milestone, because one the reasons the stock has been hammered for such a long time is because the market had been discounting that BlackBerry devices would become an extinct species.
Hardware sales grew by 4.95% quarter over quarter, which was mainly driven by the success of the Z3. However the Z3 was only available in Indonesia at the time. Since then, the Z3 has been introduced to several additional key BlackBerry markets. So if hardware sales grew by 5% with the introduction of the Z3 in Indonesia alone, it might mean that hardware sales will start to pick up with the introduction of the Z3 in other markets.
Also, while I do not think that the company's new Passport device will be a smash hit, it will nevertheless enrich the company's product line and probably gain some corporate followers. We will have to wait for several more months to see how BlackBerry hardware sales are further progressing, but the current picture indicates that things are finally stable as far as device sales are concerned.
For the longest time, the reasons for BlackBerry's hardware market slide in the U.S. and many other markets has been the fact that BlackBerry devices did not have the app arsenal that other device makers such as Apple (NASDAQ:AAPL) and Google's (NASDAQ:GOOG) (NASDAQ:GOOGL) Android ecosystem had.
As we all now know, on June 18th BlackBerry announced that the Amazon Appstore - with more than 240,000 Android apps in its arsenal - will be available to all BlackBerry 10 devices with the launch of the BlackBerry 10.3 operating system. While I do not think that this move will mean much for BlackBerry's U.S. market share, I do think it will make a big difference for BlackBerry in the emerging market space.
I cannot stress enough the importance of BES12 for the future of BlackBerry. BES12 will provide device management for BB5, BB10, iOS, Android and Windows 8 devices. In addition companies will be able to migrate to the cloud with additional options like public cloud, private cloud and hybrid environments.
In order to help facilitate the transition to BES12, BlackBerry introduced its EZ Pass Program which allows every BES10 license that is activated through the program a free upgrade to BES12. And as per BlackBerry's recent quarterly report:
EZ Pass Program resulted in a total of 1.2 million licenses issued for BES10, including more than 10% of total licenses traded in from competitors' Mobile Device Management
The important thing about the above statement is that for the first time in a very long time BlackBerry is probably gaining market share in the MDM space.
See for a very long time BlackBerry's MDM offering was considered a niche product exclusively for BlackBerry devices. But with the introduction of BES12, BlackBerry is now targeting customers that have been using other MDM solutions also.
Let me put it in another way. The reason why so many other MDM companies have evolved is because BlackBerry was not a competitor. By the end of this year BlackBerry will compete head on with every other company in world that manages devices.
And if BES12 is only slightly successful, not only will this mean more BES12 licenses sold, but it might also mean many millions of devices sales for BlackBerry, if many Fortune 500 companies decide to upgrade their older BlackBerry devices.
FInally, another indication of BlackBerry's "Total Recall" is the data on short interest in BlackBerry's stock.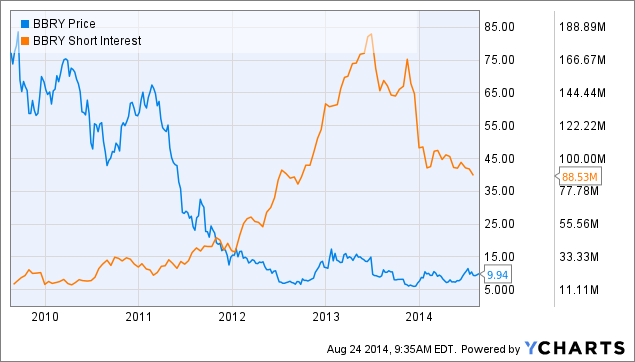 BBRY data by YCharts
Currently short interest stands at about 88.5 million, which is about the smallest number in about 2 years. If I'm right and the stock is in "Total Recall," then the short interest numbers will continue to come down, probably at an accelerated pace from now on.
I do not know if short covering will lift the stock (it might), but I'm sure that a smaller short interest number will make more investors look at the stock again since a return to normal short interest levels (5-20 million shares) means the market has discounted that the company is not in any danger of going out of business anymore.
Bottom line
While BlackBerry is not profitable yet, one can probably say that it is in the beginning of some sort of "Total Recall" state, as evidenced by the price action of the stock.
But please note, when BlackBerry will become profitable, the stock will not be at current levels, but probably at least double.
Long time readers know I only write about stocks that have the possibility to double within 12 months or less. Can BlackBerry double over the next 12 months? The answer is yes it can, even thought I do now know if it will.
Two catalysts should be on investors radar screen that might double the stock over the next several quarters.
1) Increased quarter-over-quarter devices revenue.
2) Increased MDM market share, if BES12 is even partially successful.
Disclosure: The author has no positions in any stocks mentioned, and no plans to initiate any positions within the next 72 hours.
The author wrote this article themselves, and it expresses their own opinions. The author is not receiving compensation for it (other than from Seeking Alpha). The author has no business relationship with any company whose stock is mentioned in this article.