In a recent SA article, I noted the strong discrepancy between LinkedIn's (NYSE:LNKD) actual GAAP earnings versus the non-GAAP earnings which were typically reported in the financial media - with the difference being largely attributable to stock-based compensation (SBC). I observed that a focus on non-GAAP earnings leads to what Warren Buffett famously described as "bad thinking". I also noted that:
The basic problem with pretending that certain costs in general - and stock based compensation in particular - aren't real costs is that companies tend to overspend on them.
(See the article for full details).
This weekend, while running through some valuation screens, I found another overvalued company - Workday (NYSE:WDAY) - which actually managed to (slightly) top LNKD's stock-based compensation and its valuation.
History and Valuation
WDAY is a company focused on providing cloud-based HCM solutions, describing itself this way:
Workday is a leading provider of enterprise cloud applications for human resources and finance. Founded in 2005, Workday delivers human capital management, financial management, and analytics applications designed for the world's largest companies, educational institutions, and government agencies. Hundreds of organizations, ranging from medium-sized businesses to Fortune 50 enterprises, have selected Workday.
In 2012 the company was brought public at an offering price of $28 in a very successful IPO run by Morgan Stanley, Goldman Sachs and a strong cohort of co-managers. Since then the stock has tripled and at Friday's closing price of $88.42, the basic valuation statistics now stand as follows: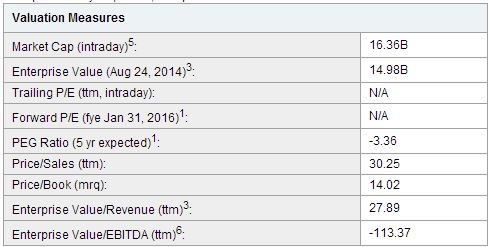 Workday's principal strengths are an incredible growth rate, two highly successful and proven founders in Dave Duffield and Aneel Bhusri, and a strong balance sheet. But do these strengths justify the company's valuation? On a historical basis, it is very rare for any company to grow into the type of valuation presented above. Yet if that doesn't suffice, another way to answer the valuation question is to look at comparables.
In its 10Q, WDAY mentions its competitors, including this excerpt:
The markets for HCM and financial management applications are highly competitive, with relatively low barriers to entry for some applications or services. Our primary competitors are Oracle and SAP, well-established providers of HCM and financial management applications, which have long-standing relationships with many customers. Some customers may be hesitant to adopt cloud applications such as ours and prefer to upgrade the more familiar applications offered by these vendors that are deployed on-premise. Oracle and SAP are larger and have greater name recognition, much longer operating histories, larger marketing budgets and significantly greater resources than we do. These vendors, as well as other competitors, could offer HCM and financial management applications on a standalone basis at a low price or bundled as part of a larger product sale. In order to take advantage of customer demand for cloud applications, legacy vendors are expanding their cloud applications through acquisitions, strategic alliances and organic development. For example, Oracle acquired Taleo Corporation, and SAP acquired SuccessFactors and Ariba, Inc.
Now SAP and ORCL won't be directly comparable because WDAY is a much younger and smaller company, though growing very quickly: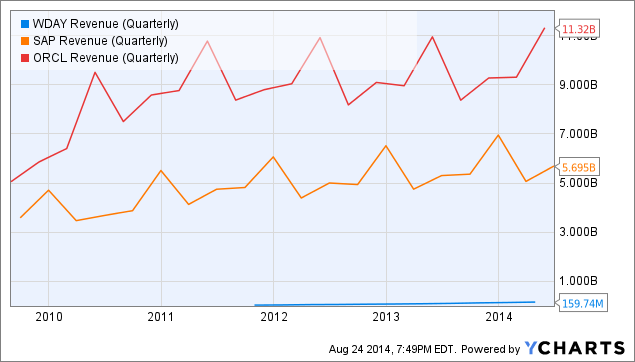 WDAY Revenue (Quarterly) data by YCharts
But what of the purchases of the competing companies? Taleo was bought at around 6X sales, SuccessFactors at 10X. Yet WDAY is currently trading at 30X sales! Other metrics are difficult, because WDAY doesn't make money, nor is it expected to in the foreseeable future, which leads to this EPS comparison: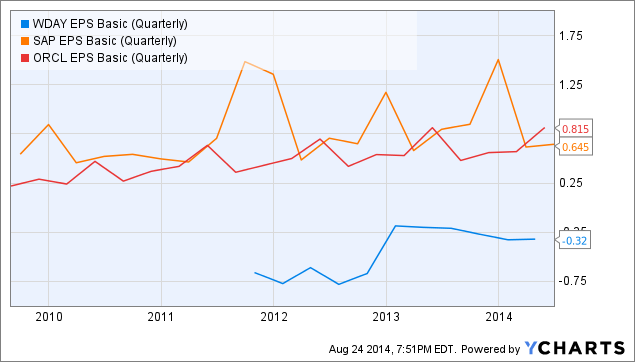 WDAY EPS Basic (Quarterly) data by YCharts
It's not clear to me why continued losses should warrant a price to sales premium, but that's the case today.
As to management, a big part of the rationale for the SuccessFactors and Taleo purchases were to bring on board talented and innovative managers. Thus it's unlikely that WDAY deserves a 3X to 5X valuation premium to those companies at the time of their purchases or a 5X to 7X multiple to ORCL and SAP now based solely on management.
Stock-Based Compensation is Underestimated by the Street
As with LNKD, I believe that one important reason for which WDAY has arrived at its current overvaluation, is that the street uncritically uses WDAY's "core earnings" metric to justify its price, yet core earnings don't count stock-based compensation among other things. Here's the breakdown from the recent 10Q:

As seen from the table, the company's operating loss more than doubles when stock-based compensation is included, yet Wall Street has a simple response: simply exclude it!
Not surprisingly, given that the company is given a pass on its stock-based compensation - it, and the number of shares outstanding has tended to grow at an accelerating rate, both absolutely and relatively: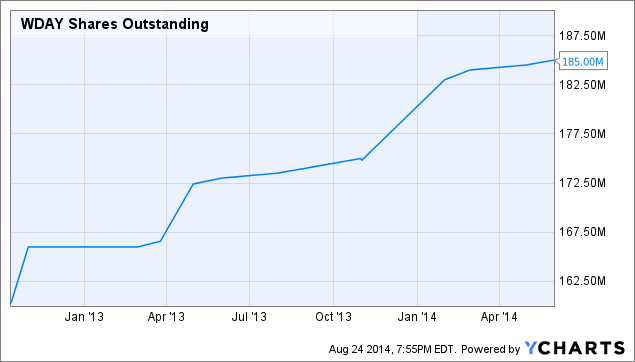 WDAY Shares Outstanding data by YCharts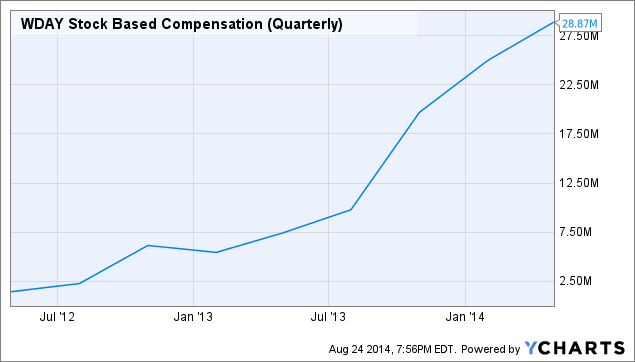 WDAY Stock Based Compensation (Quarterly) data by YCharts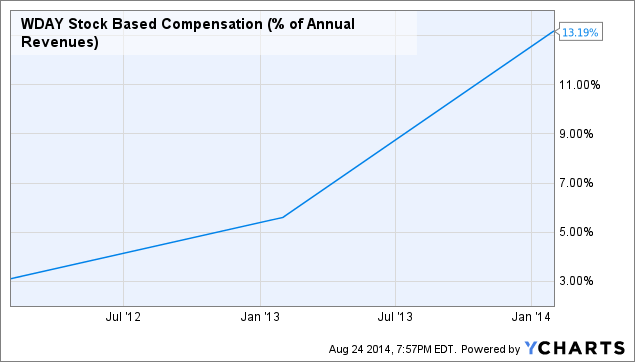 WDAY Stock Based Compensation (% of Annual Revenues) data by YCharts
In my opinion, this trend, coupled with sky-high valuations, set up a lucrative long term short opportunity. As a result I'm short the stock, however, as WDAY releases earnings after hours on Wednesday and has a history of beating estimates, I only have a small "starter" short position currently. I expect to add to that shortly after the earnings release.
Disclosure: The author is short WDAY, LNKD. I actively trade around core positions.
The author wrote this article themselves, and it expresses their own opinions. The author is not receiving compensation for it (other than from Seeking Alpha). The author has no business relationship with any company whose stock is mentioned in this article.