July of 2014 marked the "re-launch" of the anti-obesity drug Belviq from Arena Pharmaceuticals (NASDAQ:ARNA) and marketing partner Eisai (OTCPK:ESALY). Belviq had its initial launch in June of 2013 and sales during the first year came in well below expectations. Just prior to the initial launch Eisai stated at its Annual Shareholder Meeting in May of 2013 that they anticipated gross sales of $200 million by March 31st of 2014. The actual gross sales were about $45 million. Needless to say, Arena stock suffered because sales were not meeting expectations. The "slow" launch has been a hot topic of discussion and debate. Eisai started off with 200 sales reps and no direct to consumer advertising. In the Fall of 2013 magazine ads started to appear. In December of 2013 200 additional sales reps were added bringing the sales force to 400. Many investors were expecting television ads to begin with the beginning of weight loss season, January 1st. Television ads did not happen until mid April of 2014. In July, with the "re-launch" an additional 200 sales reps were added to the force, which now totals 600.
The number of sales reps needed can certainly be a topic of discussion, but this article is going to focus on the television advertising campaign. iSpot.tv is a service that tracks television advertising. The company has data on all commercials that are run, breaks it down into segments, sectors, time of day, and even tracks social interactions. iSpot has a wealth of information that can be of great value to investors that want to track the ad campaigns of a company that they are invested in.

Chart Source - iSpot.tv
Some, including myself, have been very critical of the time that most advertising is run. Between the first television ad airing on April 14th and the end of June, there were 2,372 ads aired (11 weeks) for an average of 216 ads per week. The overwhelming majority of these ads were run in the middle of the night and just 39 were aired in what is considered "Prime Time", an average of 3.55 "Prime Time" ads per week. Since the "re-launch" the dynamic has shifted a bit for the better, but how much? In the last 8 weeks we have seen 1,925 ads air for an average of 241 ads per week. Of these, 38 have been in "Prime Time" for an average of 4.75 "Prime Time" ads per week. Thus, we have seen the frequency of ads on a weekly basis increase as well as the frequency of "Prime Time" ads. Simply stated, the overall ad frequency has increased by 12% while the use of "Prime Time" has increased by 34%. This all seems decent so far, but one item of note is that in the three most recent weeks the number of ads run is lower than the average for the data since the "re-launch". Last week the number of ads run fell below 200 for the first time this quarter.
Relaunch Week 1 - 338 ads - 9 in Prime Time
Relaunch Week 2 - 240 ads - 1 in Prime Time
Relaunch Week 3 - 232 ads - 9 in Prime Time
Relaunch Week 4 - 241 ads - 3 in Prime Time
Relaunch Week 5 - 269 ads - 8 in Prime Time
Relaunch Week 6 - 214 ads - 1 in Prime Time
Relaunch Week 7 - 215 ads - 2 in Prime Time
Relaunch Week 8 - 176 ads - 5 in Prime Time
Essentially the bottom line is that the "re-launch" has brought about some changes in the way television ads are being handled. One factor that we do know is that in the last quarter consumer requests for free vouchers increased by 200% while free trials doubled. The television ad mentions the free trial and gives consumers a phone number. The stark increase in requests for vouchers and filling of vouchers respectively demonstrates that the television ads are carrying an impact. Below is a comparison of the totals from Q2 to what we are seeing in Q3: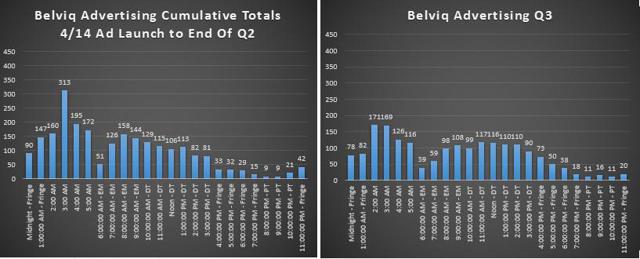 Chart Source - Spencer Osborne via iSpot.tv data
The biggest change that we can see is a shift from middle of the night airings to early morning and daytime airings. This is, in my opinion an improvement in the distribution of ads. That being said, there seems to still be a lot of emphasis and dollars spent on ads in the middle of the night. One has to wonder exactly how effective all of these reps and ad dollars are given the performance of Belviq vs. its main competitor Qsymia from Vivus (NASDAQ:VVUS). Vivus has about 150 sales reps and no television ad campaign, and while Belviq is seeing better week over week performance in script sales, the gap between the two drugs in terms of sales does not seem to be as large as the difference in sales reps (150 vs. 600) and television ad campaigns (none vs. an active campaign). Again, this is a subject that can be open for debate.
For investors in Arena, this time of year can be frustrating. The street wants to see concrete evidence that Belviq will be a big seller but seasonality does little to help demonstrate that in a way that translates to what the street understands. Instead of sales being down 5% right now, which is normal for the sector, sales are flat to slightly up. This is good. However, the street is looking for bigger revenue, especially given the big miss we saw against initial projections. Right now gross sales are on pace for about $110 million in 2014. This would be slightly ahead of guidance from Arena, but not so much that it will excite the street to a degree that we see the equity appreciate. Some investors are in hopes of seeing approvals in other countries. While this would certainly be a catalyst, it is appearing more and more likely that we will not see anything in 2014 on that front. Another potential catalyst centers around trial results for smoking cessation and a safety trial for combining Belviq with phentermine. Of those two, I am more bullish on the concept of the smoking trial as something that could be a big driver. Investors seem very excited about the Belviq with phentermine results, but as yet there is no real indication of how this can be monetized. Cost is a big issue with the adoption of Belviq. Adding more to the cost by adding another script for phentermine does not help that situation. We must also consider the pending results with how the study was designed. The study has 225 participants with at least 75 of these people being over a BMI (body mass index) of 40 (extreme obesity) because these are the most likely candidates for the combo. For perspective, it is estimated that 6.6% of the population falls into this category. The reason I bring this up is that the study is weighted to this group of people. At least 33% of the study falls into this category, while just 6.6% of the population is represented. It is easier to see a higher percentage of weight loss when there is more weight to lose. I have seen many investors tout percentages of weight lost with Belviq and phentermine as compared to the results from the trials for Belviq as a mono-therapy. Investors need to be careful in comparing the data from the two studies because the design is substantially different. Initial weight loss in someone with extreme obesity is "easier" and will garner "impressive" results over someone that is simply obese or overweight. Clearly there is a synergistic effect with the combo, and that will help those that need it most, but investors need to understand all of the dynamics at play.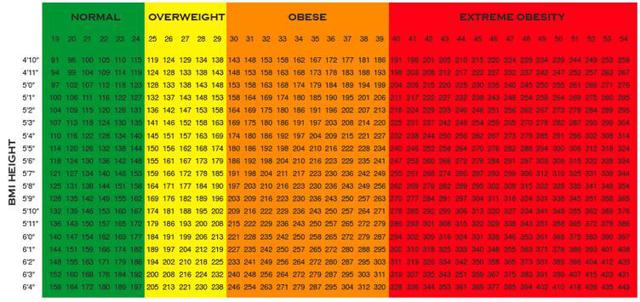 Summary
There has been a shift in what I would call the "quality" of time slots that television ads are running. This is good. There has also been a shift in running prime time ads. This is also good. The fact that Belviq is seeing modest growth in a season where we would typically see a decline is another positive point. The fact that the street is in a "show-me-the-money" state makes the equity challenging. A savvy investor that feels 2015 will bring about big jumps in sales may well find the current stock price very attractive. You should consider the potential, the timeline, and the competitive field in your analysis. Stay Tuned!
Disclosure: The author is long ARNA.
The author wrote this article themselves, and it expresses their own opinions. The author is not receiving compensation for it (other than from Seeking Alpha). The author has no business relationship with any company whose stock is mentioned in this article.
Additional disclosure: I have no position in Vivus or Eisai
Editor's Note: This article discusses one or more securities that do not trade on a major U.S. exchange. Please be aware of the risks associated with these stocks.