The last week of the year continued the previous two month theme of an improving economy. It is becoming increasingly clear that while housing remains a problem, the rest of the economy is moving on. Whether that continues into next year is something I'll address next week in a longer update. For now, let's enjoy what turned out to be a pretty good year for investors and hope that next year turns out to be a better one for the less fortunate among us. The economy may be improving, but it hasn't improved quickly enough to help the 15 million Americans who welcomed the New Year still looking for a job, or the other 9 million who are working only part time.
Despite those grim employment statistics, Americans apparently felt comfortable enough to get out and spend. The Goldman and Redbook retail reports we review each week both showed very healthy year over year gains over 4.5%. This was the best holiday shopping season since 2006, but apparently the people doing the shopping weren't the same ones completing the Conference Board's consumer confidence survey which fell to 52.5. The big negative in the survey was, not surprisingly, the jobs situation where almost half the respondents said jobs were hard to come by.
The housing market produced some mixed reports. The Case Shiller home price index fell again in one of those good news/bad news items. Lower prices are what is needed to clear out excess inventory but lower prices also just put more people underwater on their mortgages. More foreclosures next year are a near foregone conclusion. The lower prices did produce a rise in the pending home sales index to 92.2, a rise of 3.5% from October to November but that is a notable deceleration from the previous month's report. As I've said before, the housing market is just bumping along the bottom for now. Until we get a better jobs picture that doesn't seem likely to change.
The best news of the week was on the jobs market for a change. Jobless claims finally fell below the 400K level. Why is that level so important?
click to enlarge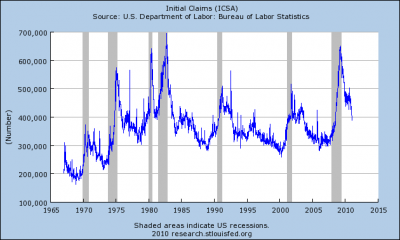 As you can see, for the last four decades, during "normal" times, claims range between 300 and 400k. Obviously, to get back the vast number of jobs we've lost it would be better to see claims closer to 300k than 400k, but at least we are back into the normal range. More good news was contained in the Chicago Purchasing managers survey; the employment component rose to 60.2 up nearly 4 points. It's just a regional survey, but it includes both manufacturing and non manufacturing sectors so it shows some pretty widespread strength. We'll get the national ISM surveys next week which will hopefully confirm this report, which showed strength across the board.
The economy has shown a renewed uptrend over the last quarter, but I am not willing yet to say that the US economy has turned the corner. We have seen over the last year that US companies have an incredible ability to increase productivity and get more out of their existing workforce. That's great for the corporate bottom line, and that isn't nothing, but it doesn't create new jobs. We have heard endlessly over the last couple of years about the virtues of small companies and the administration has pushed various initiatives to assist them. Unfortunately, that misses the point. New job creation comes from new companies that happen to be small not companies that just happen to be small. Job creation requires investment to create new companies, new products and new markets. And until we see that investment on a wide scale, any rebound in the economy will likely be too weak to get America back to work. We aren't there yet.
US stock markets ended the year with a marginally higher week. The gains this year were all in the last half of the year, but they were sufficient to produce double digit gains for most of the averages. Overall, not a bad year, and when combined with the other asset classes we use, it was a successful investing year for Alhambra and our clients. We weren't perfect by any stretch, but we kept the mistakes to a minimum, and rode our winners when we found them. Gold helped our performance considerably this year, as well as our exposure to REITs, high yield bonds, and small cap stocks. I'll preview our strategy for next year in next week's yearly outlook.
I hope you've gotten something of value from these weekly missives. Writing them certainly has great value for me and I look forward to hearing your feedback when I'm right as well as when I'm wrong. I rarely have to wait long for the latter, but I hope for more of the former next year. Happy New Year.
Disclosure: I have no positions in any stocks mentioned, and no plans to initiate any positions within the next 72 hours.