Avanir Pharmaceuticals (NASDAQ:AVNR) has a forward-looking event in February 2011 that will help take this company from a startup company to a mature biotech. The launch of their new drug, Nuedexta, for the treatment of Pseudobulbar Affect [PBA] should be that catalyst. The company has a market cap of under $500 million, an approved drug, and more than enough cash to fund their February 2011 launch of Nuedexta.
DPN (Diabetic Peripheral Neuropathy) and MS pain are both new possible uses for Nuedexta now that they are looking at additional indications. There is currently not a drug available indicated for MS pain, whereas the DPN indication does have one. Avanir has also mentioned (in their November conference call) a possible use of the drug for dementia. They have funding for one program this year so it will be key for them to choose the right one as they move forward.
The company did a secondary offering of 20 million shares at $4.40 in Q4/2010. The overhang of the offering weighed on the stock price, but that is no longer an issue. The fact that Avanir raised money when they did not have to showed that a partner may not be in the immediate plans, but that selling Nuedexta on its own is their direction. This decision might be best for shareholders, especially knowing that the offering has put these new shares predominately in institutional hands (Jefferies, Canaccord, Summer Street, Wedbush, & Merriman who were co-managers in the offering).
Furthermore, the current price is still under the $4.40 offering price from November 2010. The risk seems to be lower than with most biotechs, especially when you compare it with those biotechs that have higher market caps and are awaiting Phase II or III results from a study or an FDA approval of a drug. Avanir has a positive forward-looking event that is imminent in February with their product launch of Nuedexta. Avanir was one of a few companies to clear the FDA approval hurdle in 2010 while most companies failed to get approval, or received complete response letters from the agency.
Avanir is being chased by smart money here at these levels, according to a recent article.http://www.fool.com/investing/general/2010/12/07/8-drug-related-stocks-being-chased-by-the-smart-mo.aspx
Through the end of November, the short position had decreased significantly: http://www.bloomberg.com/news/2010-12-09/biggest-nasdaq-changes-in-short-interest-vs-float-as-of-nov-30.html?cmpid=yhoo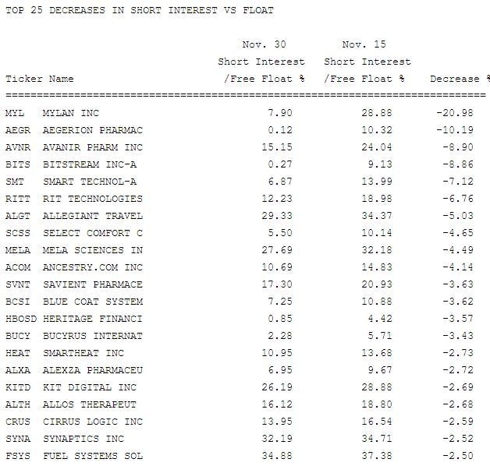 To recap: Avanir seems to look better at these levels in 2011.
-AVNR has a low-risk forward looking event that is imminent. They are going to be launching Nuedexta in Feb 2011 and many analysts (Canaccord w/ a $10 target) expect a strong commercial uptake after launch.
-Analysts expect significant commercial uptake in H2/11 because the market will be significant for stroke & brain injury. Early adoption will initially happen in the ALS & MS markets because of the high awareness surrounding PBA.
-Avanir has completed its 75-person sales force as well as all levels of sales management. The company is actively training in anticipation of the Feb launch. They have also hired 9 reimbursement specialists and 6 medical sales liaisons. AVNR expects it will take 9-12 months for formulary review and for reimbursement to be fully in place. Nuedexta is priced at $5,868 annually and will likely (initially) be placed on third tier unrestricted with co-pay or second tier with prior authorization with co-pay.
With any company, there is always risk, and with Avanir it is no different. There is the risk that Avanir will not find a partner in the European market as they have had a minor role there, while most of their focus has been on the U.S. development of Nuedexta. All of the disease awareness campaigns by Avanir have only focused on the U.S. market to date. It is management's goal to obtain a partnership in Europe. However, the timing and development of these partnerships are often unpredictable.

There is always the risk that even with awareness and education involving PBA, that it may not increase or change the treatment patterns of doctors and clinicians. It is important for Avanir to reach markets and segments not yet penetrated to grow awareness of PBA. This will allow them to grow established markets and increase the market size for Nuedexta in 2011.
I look for price appreciation from Avanir into February and throughout 2011 as the company looks to launch their product and focus on the growth of the PBA market. The average target from the 5 analysts that cover Avanir is over $10/share. It seems like a more realistic target with a product in hand to promote. Avanir should have solid opportunities to grow their business as well as the share price for investors as investors realize that the company, in 2011, is very undervalued in light of the upcoming opportunities for the company.
Disclosure: I am long AVNR.

Additional disclosure: My position in a stock can change at any time.