Introduction:
The Fed's Janet Yellen's tapering of bond purchases essentially ends the quantitative easing in a so far sanguine manner. Dovetailed with the market's resilient performance -the U.S. bond market has once again become the world's safe haven from geo political worries and provided substantial price gains for 2014.
Looking forward all good things (for bond markets 30-year bull run) will "someday" come to an end. Janet Yellen and the Fed will slowly and carefully massage Fed policy to one of higher interest rates. The higher rates will hurt bondholders' principle monies and cause a readjustment of capital for asset allocators. These dislocations are often brief but normal in a business and economic cycle. Everyone now hopes for an orderly process that is not fraught with angst, cursing, and gnashing of teeth.
The three ETF funds below have some built in protection for a rising rate environment. They all have portfolios of high yield corporate debt (mostly junk) partially offset from a rising rate environment with some short positions in U.S. treasuries.
First Trust Tactical High Yield ETF (NASDAQ:HYLS)
This is an actively managed fund that takes long and short positions. First Trust has a fairly comprehensive description of their strategy: "Under normal market conditions, the fund will invest in high-yield debt securities, including U.S. and non-U.S. corporate debt obligations, bank loans and convertible bonds. The fund intends to maintain both long and short positions in securities. The fund's long positions may total up to 130% of the fund's net assets. The fund's short positions will range between 0% and 30% of the fund's net assets. The fund may take short positions in U.S. Treasury securities and/or corporate debt obligations, which may be rated investment grade or deemed to be high-yield securities. This long/short strategy is designed to capitalize on investment opportunities through various market cycles." This ETF commenced trading in late February of 2013 and sports a healthy 195 million in AUM. More info available here.
ProShares High Yield-Interest Rate Hedged ETF (BATS:HYHG)
The fund seeks to replicate before fees and expenses the Citi High Yield (Treasury Rate-Hedged) Index. This ETF holds a portfolio of high yield corporate bonds with simultaneous short position in U.S. Treasury securities. From information gathered from the indexer it expands on the short side of its portfolio thusly:
"The short position in US Treasury securities is constructed using three US Treasury securities corresponding to the 2-, 5-, and 10-year US Treasury futures contracts in an attempt to approximate the maturity distribution of the overall index." This relatively new fund commenced trading in mid May of 2013 and is somewhat lightly traded with a healthy AUM of 166 million dollars. More info available here.
Market Vectors Treasury Hedged High Yield Bond ETF (NYSEARCA:THHY)
This fund seeks to replicate before fees and expenses the Market Vectors U.S. Treasury-Hedged High Yield Bond Index. This internally constituted index "Combines the more liquid portion of the high-yield bond universe with short positions in 5-Year U.S. Treasury Notes." More information on this internal index was not available but judging from the product description and the holdings - the short positions are in just one duration segment of U.S. treasuries. This fund commenced trading March 2013 and has an AUM of so far only around 10 million dollars. More info available here.
Summary Bond Fund Drawdown Comparison: 2013's Rising Rates
From May 1st 2013 to December 31st 2013, interest rates as defined by 10-year treasury yields soared from about 1.6% to around 3%. Below is a chart summarizing some fund facts along with the drawdown for last year's rising rates. Also included are the popular treasury long bond iShares 20+ Year Treasury Bond ETF (NYSEARCA:TLT), ten-year treasury iShares 7-10 Year Treasury Bond ETF (NYSEARCA:IEF),corporate high yield bond funds: iShares iBoxx $ High Yield Corporate Bond ETF (NYSEARCA:HYG), SPDR Barclays High Yield Bond (NYSEARCA:JNK), and PIMCO 0-5 Year High Yield Corp Bond ETF (NYSEARCA:HYS).
Note that the data for HYHG is incomplete as that fund started trading slightly after the period selected.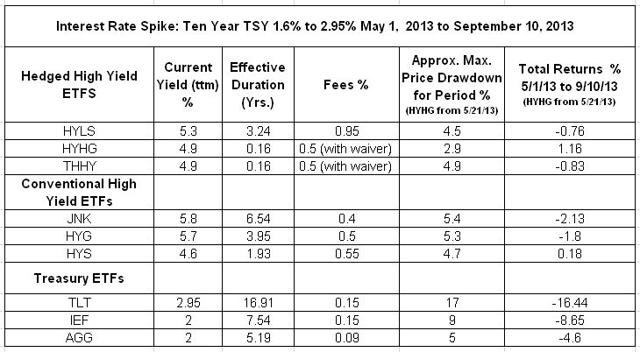 Chart Illustrating the ETF Price Action For Same Period: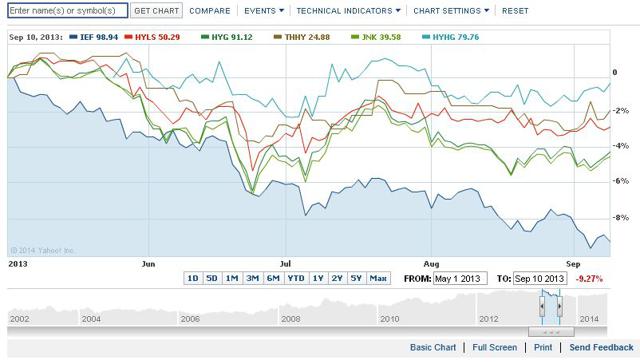 Note that the price action for the hedged high yield ETFs held up relatively well during this 2013 rising interest rate period.
Conclusions, Caveats, and Summary:
Investors should take note and be reminded that the bond portfolio of these funds are mostly rated BB and below. Because of the higher yields these funds sport - directly conveys the added risk of their holdings. However, these high yield bond funds with that short exposure to U.S. treasuries as part of their portfolios - can blunt some of the interest rate gyrations that the market may dole out in the years going forward.
Most of these funds are new and may be lightly traded. Investors should perform and digest their own due diligence by reading prospectuses, holdings, and other pertinent fund literature.
Disclosure: The author has no positions in any stocks mentioned, and no plans to initiate any positions within the next 72 hours.
The author wrote this article themselves, and it expresses their own opinions. The author is not receiving compensation for it (other than from Seeking Alpha). The author has no business relationship with any company whose stock is mentioned in this article.