What happened in 2010? By the end of November 2010, the number of Chinese Internet users had reached 450 million, up 17% from 384 million at the end of 2009. During the same period, China's Internet penetration rate had increased five pencentage points to 33.9%. The strong growth in user base has driven the number of publicly traded Chinese Internet companies to increase by 42% Y/Y to 37 (chart below).

Fueled by China's strong economic growth, online advertising stocks were the best-performing segment within the industry, with an average gain of 58.2% for the year. Among the 12 Chinese Internet stocks that were up for 2010, six of them were online advertising stocks. Due to slower user growth, lack of innovation, and a tougher competitive environment, online game stocks were the worst-performing segment, with an average loss of 20.4% for the year. Ten of the 14 declining China Internet stocks in 2010 were in the online game business, and the five worst-performing stocks in the industry were all online game stocks.
Driven by rising disposable income and the World Expo, online travel booking stocks performed well in 2010, with eLong (NASDAQ:
LONG
) shares up 79.2% and Ctrip (NASDAQ:
CTRP
) up 12.6%, ranking as the fourth and seventh best performers. With infrastructure (online payment, offline delivery, etc.) continuing to improve and innovations such as "seckill" and group-buying stimulating usage growth, e-commerce activities grew explosively for the year, leading to an average annual gain of 12.5% for Chinese e-commerce stocks and the first two B2C IPOs: Mecox Lane (NASDAQ:
MCOX
) and Dangdang (NYSE:
DANG
). Fueled by the rapid development of China's culture and entertainment industries, and the popularity of Hulu and Netflix (NASDAQ:
NFLX
) in the U.S., online video emerged as the next gold mine for the China Internet industry, leading to the wildly successful IPO of Youku.com (NYSE:
YOKU
).
What may happen in 2011?
This year, I expect social networking, online video, and B2C e-commerce to be the three hottest areas in the Internet industry in China. We may see investors enthusiastically chasing many IPOs in these segments, possibly including Renren.com (the "Facebook of China"), Tudou.com (another "Hulu/Netflix of China," following Youku.com), B2C leader 360buy.com, B2C baby product retailer Redbaby, and B2C apparel retailer VANCL.
As we see more and more news flow on these potential IPOs, I believe investors' enthusiasm will spill over to incumbent companies such as Sina and Sohu. The former operates China's most popular Twitter-like micro-blogging service "Weibo," while Sohu's high-definition video channel has a strong presence in the online video industry. With the public listing of Sina's real estate advertising business and Sohu's online game subsidiary Changyou.com, these two Internet portals have already demonstrated their ability to cultivate niche businesses in-house and spin them off to maximize shareholder value.
Most of these potential developments in 2011 share the same background: For various reasons, China's domestic Internet companies have been increasingly able to learn from global leaders and build up "XYZs of China" without worrying about competition from them. I expect 2011 to be a crucial year for China's domestic companies to raise capital, consolidate the market, and raise thresholds for newcomers. For investors in Chinese Internet stocks, this will be a crucial year to re-allocate capital to participate in the industry's next stage of growth.
Chart: China Internet Stocks' Performance in 2010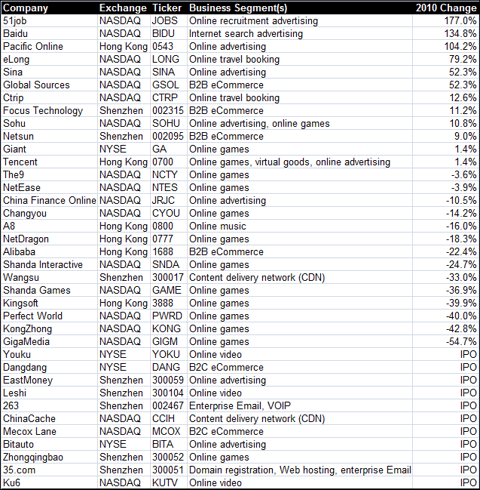 Disclosures: I have no positions in any stocks mentioned, and no plans to initiate any positions within the next 72 hours. My virtual investment portfolio has short positions in DANG, MCOX, YOKU.