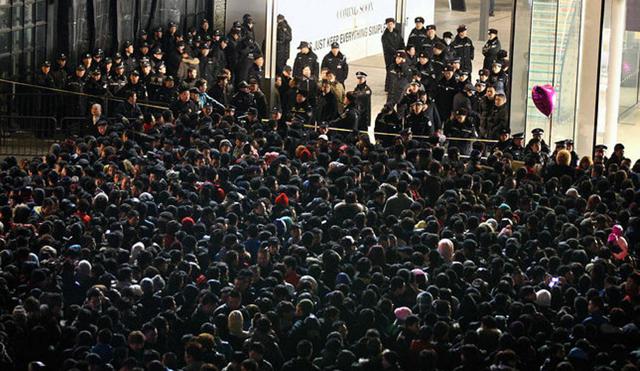 Picture: Riots at Beijing Apple Store for iPhone 4S. Source: tvnewswatch.blogspot.com
Call me "Captain Obvious" but Apple Inc's (NASDAQ:AAPL) iPhone 5S has been of monumental importance to the company. Sales during the iPhone 5S and iPhone 5C's launch weekend in September 2013 were a combined 9 million units; this is equal to the combined sales of the iPhone 5 (5 million units) and iPhone 4C (4 million units) during their launch weekends in September 2012, and September 2011, respectively. A lesser known fact is that the iPhone 5S is now the most dominant iPhone in China; however its dominance is based on new sales, while previous Apple handsets - iPhone 5, iPhone 4S, iPhone 4 - were driven by secondhand sales or via China's powerful gray market.
China's Gray Market
The following chart from Creative Strategies' Ben Bajarin illustrates Apple's iPhone sales in China by unit: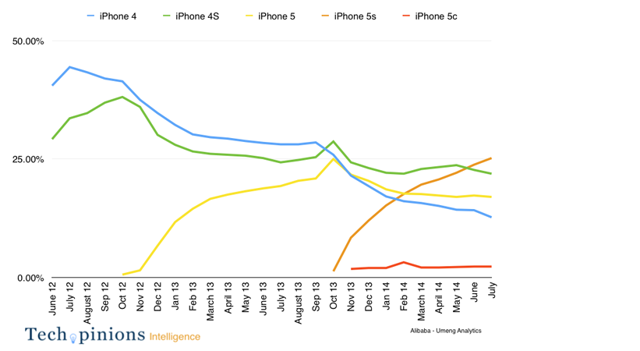 The blue line (iPhone 4) and green line (iPhone 4S) represent devices that were probably purchased through China's gray market.
The orange line represents the iPhone 5S which surpassed sales of other iPhones in China in the second quarter of 2014. According to Bajarin, these represent new sales.
During the early days of iPhone sales in China, iPhones were initially purchased elsewhere - U.S., Europe and Hong Kong - and smuggled illegally into China. The gray market developed for various reasons:
iPhone Launched in Hong Kong First
Apple has traditionally launched the iPhone in Hong Kong due to its status as a low tax city. However, the majority of iPhone demand in the region has come from mainland China. People in mainland China often paid more than $1,000 for an iPhone 5 in the gray market when the official retail price of the phone was $700.
Apple Purposely Created Frenzied Demand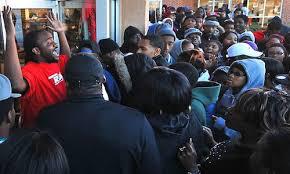 Picture: Chaos ensues as shoppers buy retro Air Jordans in Seattle (circa 2011). Source: gopusa.com
One way of creating demand for a product is to limit the supply. Consumers with a "must have" product will be the envy of those without it; those who missed out on that product's launch will be the first in line at the next launch. Not only does it create frenzied demand, but it helps maintain a premium price for a product. Nike Inc. (NYSE:NKE) markets Jordan Brand retro sneakers in this fashion. Nike is notorious for [i] heavily marketing a launch of new Jordan Brand sneakers, [ii] selling low volume, [iii] maintaining tight supply and [iv] watching the chaos ensue, similar to its December 2011 Seattle launch:
Fights, vandalism and arrests marked the release of Nike's new Air Jordan basketball shoes as a shopping rush on stores across the country led to unrest that nearly turned into rioting ... In suburban Seattle, police used pepper spray on about 20 customers who started fighting at the Westfield Southcenter mall. The crowd started gathering at four stores in the mall around midnight and had grown to more than 1,000 people by 4 a.m., when the stores opened, Tukwila Officer Mike Murphy said. He said it started as fighting and pushing among people in line and escalated over the next hour.
In a similar vein, in January 2012 Apple was forced to halt sales of the iPhone 4S at stores in mainland China after riots broke out at its Beijing flagship store. There were an estimated 2,000 people in the crowd - most of them migrant workers who had been hired by scalpers to purchase the phones for resale on the gray market; many had waited overnight in freezing temperature. Due to the size of the crowd, local police officials asked Apple not to open the store. The so-called reseller riots ensued. According to Bill Bishop, a Beijing-based technology consultant, the frenzy was Apple's own doing:
It's a conscious marketing strategy by Apple, and it's going to cause a problem because things are ridiculously out of control ... Nobody can be happy with Apple today in Beijing.
Apple Tamps Down China's Gray Market
Apple tamped down the froth in China's gray market with the launch of the iPhone 5S in 2013. Unlike previous launches, Apple made the iPhone available for sale in Hong Kong and mainland China at the same time. The company also expanded its distribution network, [i] distributing the phone through other phone carriers like China Telecom Ltd (NYSE:CHA) and China Unicom (NYSE:CHU) Hong Kong Ltd and [ii] making it available for pre-order through online handset stores. According to the Wall Street Journal, at the time the iPhone 5S and iPhone 5C were launched in China, the unsubsidized prices were $864 and $733, respectively. The unsubsidized prices in Hong Kong were $721 (iPhone 5S) and $604 (iPhone 5C), respectively, due to lower taxes in Hong Kong. However, the differential between retail ($700) and gray market prices ($1,000) that had been attributed to the iPhone 5 had mostly dissipated.
iPhone 6 Launch Predicated on Eliminating Gray Market
For Apple's launch of the iPhone 6 in September 2014 to meet expectations, sales to China must be robust and Apple must continue to follow the playbook it used in the iPhone 5S launch. The iPhone 6 is also key to Apple's future.
Seeking Alpha author Bill Maurer estimated the iPhone 6 cost Apple one million iPhone sales in its most recent quarter as consumers held off purchasing handsets while waiting for the iPhone 6 launch.
Apple's 35.2 million iPhones sold in its most recent quarter is about 63% of Apple's unit volume. iPhone revenue of $20 billion represents half the company's total revenue as well.
The company's revenue in China is just over 15% of total revenue and growing nearly 30% annually, representing the lion's share of Apple's revenue growth.
Analyst Amit Daryanani of RBC Capital is expecting unit sales of 10 million after the first week of the iPhone 6 launch; there has also been talk of Apple preparing for a ramp up of 70 - 80 million units. Such talk has pushed the stock above $100 per share. For the stock to stay at these levels, the iPhone 6 launch has got to deliver. Below is the company's six month stock chart: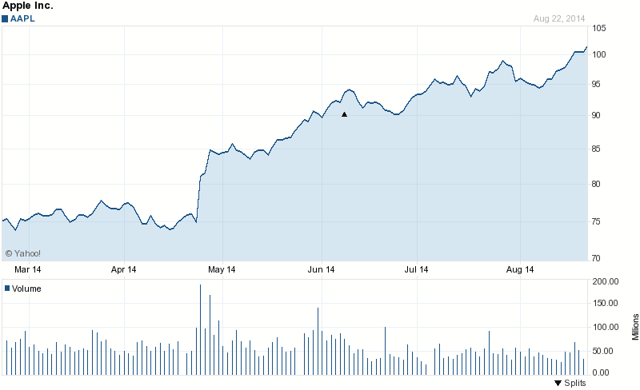 Conclusion
China's gray market has driven unit sales of the iPhone 4, iPhone 4S and iPhone 5. Apple's business prospects and stock price are riding on the iPhone 6 launch, particularly in China. Meeting expected unit sales means all but eliminating the gray market by launching the phone in Hong Kong and mainland China simultaneously, and making it available through other phone carriers and online distributors. I believe Apple will reach its sales bogey for the iPhone 6, and the stock will rise to $110 - $115 per share on the euphoria.
Disclosure: The author has no positions in any stocks mentioned, and no plans to initiate any positions within the next 72 hours.
The author wrote this article themselves, and it expresses their own opinions. The author is not receiving compensation for it (other than from Seeking Alpha). The author has no business relationship with any company whose stock is mentioned in this article.