The latest monthly report on new home sales showed a 12.3% year-over-year jump in the number of new homes sold. The mainstream headlines are focused on a miss from expectations that seem to me too high in the first place and focused on a month-over-month drop that is just part of the natural volatility in new home sales seen since the beginning of 2013.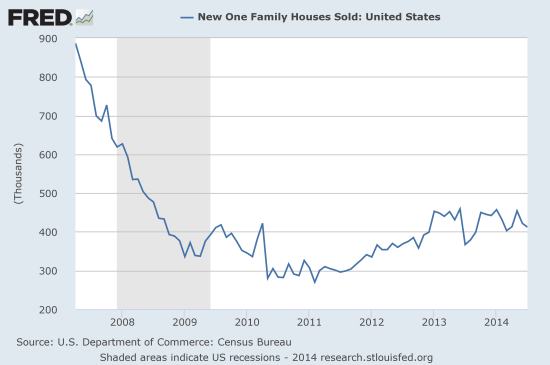 New home sales have bounced within a tight range over the last year
Source: St. Louis Federal Reserve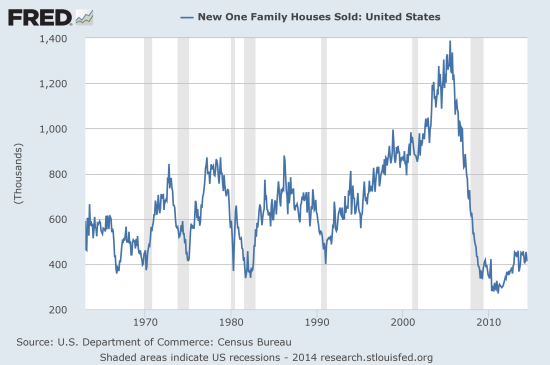 New home sales remain in a depressed state relative to history
Source: St. Louis Federal Reserve
The regional numbers were all over the place as usual. The South showed the strongest results with sales at their highest since February of this year. The Northeast delivered the worst monthly performance with new home sales at their lowest point since June, 2012. The most interesting development is that inventory has reached 6 months of sales for the first time since the housing market effectively bottomed post-recession. Six months of sales is supposedly the point at which supply and demand is well-balanced in the housing market.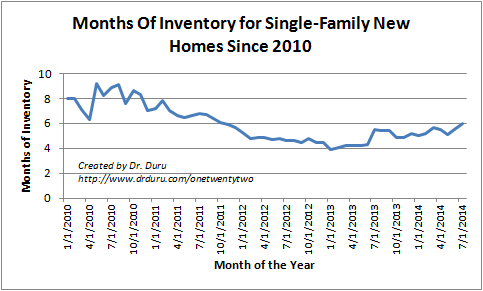 Months Of Inventory for Single-Family New Homes Since 2010
Source: Census Bureau historic releases
This chart shows it is hard to know what is true balance in today's market in the aggregate. Six months of inventory has been a cap on the market for a year now. Home builders have taken their time ratcheting up production to meet demand - a function of the caution built into the system since the housing bubble burst. Since housing bottomed around the time builders tightened supply below six months of sales, the current crossing of six months from the other side could be telling. I suspect housing starts will once again slow down, price growth will abate - if not reverse - and more (tentative) demand will come to market given the better options available in inventory. These are healthy developments that could generate more affordability in the market, but a firmer conclusion will require an analysis at the local market level. Home builder margins are not likely to increase much further if inventory continues to expand.
At the time of writing, the stock market reacted to the negative side of the headlines by taking iShares US Home Construction (NYSEARCA:ITB) down a notch despite a historic day on the S&P 500 (NYSEARCA:SPY) with a crossing of the "Y2K" mark.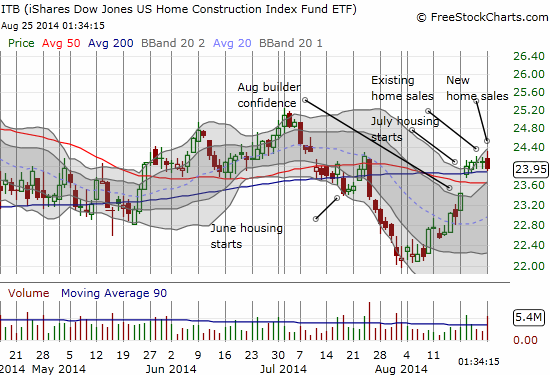 iShares US Home Construction trades back to critical support at the 200-day moving average
Source: FreeStockCharts.com
Be careful out there!
Disclosure: The author is long ITB. Long ITB through call options.
The author wrote this article themselves, and it expresses their own opinions. The author is not receiving compensation for it (other than from Seeking Alpha). The author has no business relationship with any company whose stock is mentioned in this article.