Airgas (ARG) is a provider of gases used in industrial and medical applications, producing and processing dry ice, liquid nitrogen, acetylene and welding equipment. Beginning as a regional gas provider in 1982 and going public in 1986, to date ARG has returned 11,000% to shareholders compared to the S&P 500 return of 1300%. Not bad for a company full of hot air.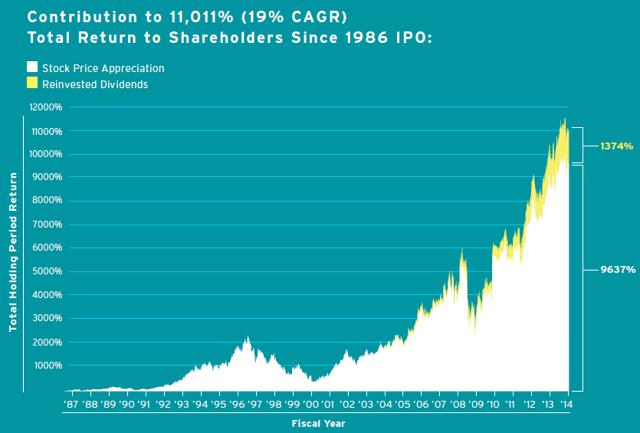 Boasting a 25% market share in the United States, ARG has amassed a following of over 1 million customers. ARG has built up a diverse customer base as well, supplying construction, healthcare, and the food/beverage industry. However as diverse as the ARG customers are, they are compartmentalized as well with no single customer accounting for more that 0.5% of ARG revenues. Over the previous fiscal year ARG earned $5 billion in revenues, with gross margins of 55% and operating margins of 12%.
In addition to the ARG track record of investor returns, ARG has also been offering dividend increases for the past 10 years. The current dividend rate is close to 2%, which is respectable. However, ARG has grown the dividend over the past 10 years at a 28% CAGR, from a payout of 20 cents a share to over $2 a share. ARG will further raise the dividend the next quarter by 15%. If the rate of an annual 15% increase was continued, in 10 years the dividend could be as much as $8.10 a share.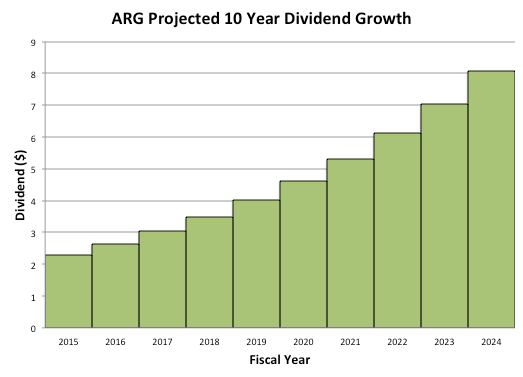 Source: ARG, Excel
With 74 million shares outstanding and assuming no further dilution or splits in the next 10 years, ARG would be paying out $600 million back to shareholders in dividends. Even without market cap growth and assuming revenues stay the same as in the previous year, paying out $600 million would be well below the 55% gross margins. However, looking at the operating margins of 12% over the same period and the $441 million reported in free cash, maintaining the dividend increase would need more free cash than already generated to fully cover the dividend without taking on debt.
Factoring in growth provides a better projection of ARG dividend prospects. The size of the American industrial gas market is roughly $20 billion, projected to grow at 7.3% annually for the next 5 years. Assuming the growth trend remains the same through 2024, the industrial gas market will have grown from $20 billion to $40 billion. If ARG remains as competitive as it is now with 25% market share, 2024 will bring in $10 billion in revenue. Maintaining 12% operating margins will give ARG $1.2 billion in free cash from 2024, twice as much as would be needed to maintain a 15% annual dividend growth over 10 years. Assuming maintenance of market share and projected growth of the industrial gas market, the projected dividend growth is both stable and leaves additional free cash to pay down debt or expand the company.
Fiscal year 2014, ARG reported $2.5 billion in total debt, which is significant compared to its market cap of $8 billion. ARG is paying the debt down slowly, with the FY 2014 debt a $100 million reduction from FY 2013. Currently cash flow is healthy and projected to grow, however the debt levels should be monitored moving forward. Furthermore, while the business is expanding in the United States, with increased distribution through online sales, no plans have been made to expand internationally. International expansion might be difficult with current levels of debt, and would likely be years down the road. ARG debt should be watched closely. Increasing debt would indicate eroding cash flow, while decreasing debt might make room for the company to expand further. In the near term if current cash flow trends and dividend increases continue, ARG will be a stable company providing a growing dividend. Investors should initiate long positions to enjoy the increasing dividends both now and for years in the future.
Disclosure: The author has no positions in any stocks mentioned, and no plans to initiate any positions within the next 72 hours.
The author wrote this article themselves, and it expresses their own opinions. The author is not receiving compensation for it (other than from Seeking Alpha). The author has no business relationship with any company whose stock is mentioned in this article.