By Thom Lachenmann
No sooner did we get a chance to see what a data breach can really do to a company with Target's (NYSE:TGT) last earnings, than UPS (NYSE:UPS) has come out and announced that they've been breached as well.
On Wednesday of last week, the parcel shipping company dropped the news that there were 105,000 customer transactions that had been compromised dating back to January of this year. A malicious software that could have stolen customer names, information and credit card details was to blame.
From a bird's eye view, the breach doesn't seem to be nearly as massive in size as Target's. UPS reported that it was limited to about 1% of its more than 4,400 stores.
UPS has "deployed extensive resources to quickly address and eliminate this issue", according to a Wall Street Journal article, citing the company's release.
No fraud has been reported with regards to the data as of yet.
CNN reported in relation to this an astounding number; 47% of all U.S. adults have had their personal information in jeopardy at some point in the last 12 months.

The Peel's Feel:
Our take on this is that we wouldn't go anywhere near UPS until the details of the breach are dealt with and it's been disclosed that it's been put behind the company.
The company's stock fell about 1% ending the week in which they disclosed the news; nowhere near the kind of discount that would perk up our ears about potentially investing here on the hopes of this issue going away and the stock regaining its losses incurred from nerves.
The risk/reward of going long here doesn't add up for the time being.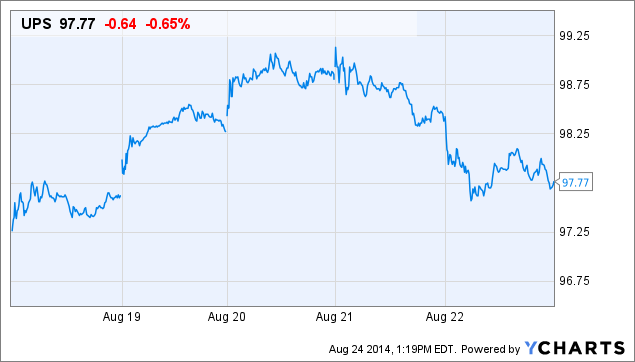 The first thing I thought of when reading the news that described the breach as "not that bad" was that this seems like a situation where a company could be couching the news up front.
Not saying that UPS has a corporate culture of that, because they don't, but just urging caution. GM's recall started with just a few cars being recalled; Target's breach turned out to be significantly bigger than it was first reported.
What UPS has going for it is the fact that most of its systems at franchisee stores are stand-alone, meaning (believe it or not) they don't have access to the internet, nor are they connected to other UPS store point of sales.
In this economic climate, we need to be very confident in our long picks; our office believes we're going to have a market correction before the end of the year. UPS didn't fit the bill for an investment before this news, and it sure doesn't fit the bill now.
We'll wait to see how and if this develops in the coming days, and check for other pertinent company disclosures around getting this issue under control.
Disclosure: The author has no positions in any stocks mentioned, and no plans to initiate any positions within the next 72 hours.
The author wrote this article themselves, and it expresses their own opinions. The author is not receiving compensation for it (other than from Seeking Alpha). The author has no business relationship with any company whose stock is mentioned in this article.