RGS Energy (RSGE) (see thesis), after years of underperformance and promises, posted big losses for the second quarter and is now teetering on the brink of an abyss. The stock price has collapsed in the recent past (see chart) and, given the cash flow bleed, one has to wonder how long the Company can be a going concern. In this article we discuss how the RGS Energy (NASDAQ:RGSE) story may have some valuable lessons to investors in the solar space.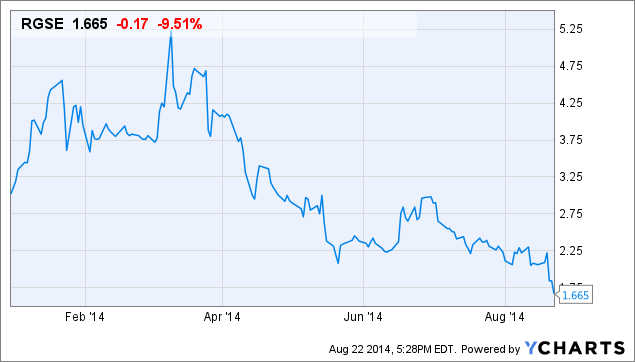 RGS Energy, which once went by the name Real Goods Solar (RSOL) is one of the pioneers of the US residential solar industry and has been in solar business since 1978. In 2008, couple of years after the current residential leader SolarCity (NASDAQ:SCTY) came into existence, the Company started trading in the public markets as Real Goods Solar (RSOL).
When SolarCity went public in 2012 at a billion dollar valuation, Real Goods Solar management realized that while both companies install residential and small scale commercial systems, they have massive differences in valuations. The difference in the business models or these companies was very simple: While Real Goods Solar was installing systems on a cash basis, SolarCity was installing systems using leases and PPAs. Basic economics suggests that spreading out payment terms accelerates sales growth. And, Wall Street generally tends to like growth even if it is unprofitable kind.
The other part of the valuation difference was Wall Street's love affair with the enigmatic Elon Musk. Unfortunately for Real Goods Solar, the Company did not have leaders with the stature of Elon Musk. The Company also did not have the financial engineering skills to attract high power investors.
To fix the problem, in 2012, Kam Mofid was brought in as a CEO to make Real Goods Solar a strong rival to SolarCity. Prior to RGS Energy, Mr. Mofid was the General Manager of Residential and Commercial Systems at SunEdison (SUNE) - a company widely acknowledged as the pioneer or the PPA/lease model.
The Company developed a new strategy and a new image in a bid to imitate SolarCity. Earlier this year, As a part of the shift, Real Goods Solar was rebranded as RGS Energy. During this time of transition, the Company's cash sales business were showing a negative growth at a time SolarCity's leasing business was booming. Without a leasing platform, and with a desire to grow quickly, the Company resorted to an acquisition binge.
The changes did get the attention of Wall Street and the market started to view RGS Energy as a potential rival to SolarCity. However, the Company never successfully delivered on the plan. In addition to internal execution problems, it appears that the management may have been distracted by acquisitions that the Company made during this time period.
It also appears that the new CEO saw the downside of the SolarCity lease/PPA model and wanted to deliver something better. Here is an excerpt of RGS Energy strategy from a recent article at Alternate Energy Stocks:
"Whether via smart strategy or just good timing, Mofid and his team have had benefitted from observing SCTY's successes and encounters with pitfalls. SCTY in many ways has paved the way in the residential installation business, and RGSE has had a bird's eye view of the process -- stumbles and all.
As a result, RGSE has chosen not to directly emulate SCTY. In Mofid's opinion, that company is taking on inappropriately high risk. In particular, Mofid thinks SolarCity is banking too heavily on its retained-value-model and being too aggressive in terms of assumed value of solar modules after 20 years of depreciation and continuing technological innovation. Learning from SCTY's success and risks with this model, RGSE will soon no longer rely on tax-equity concepts, reflecting a belief that retained value made sense in the past but no longer applies in "2014 thinking." Already, RGSE has incorporated lower tax value into its growth model as a risk control.
Mofid is not as sanguine as SCTY is about the retained-value-model of valuing solar panels. He also believes that SolarCity is in general too aggressive and too eager for risk -- not only in poor potential realization of retained value of installations but also, and perhaps more importantly, in the "deteriorating policy and subsidy environment in the U.S.," and on a state by state basis.
In any fast-growing industry where the name of the game is to capture as much emerging territory as possible, it's always a struggle to manage between top line growth vs. EPS. Here, RGSE, like SCTY, has chosen to invest in growth at the expense of current EPS, but in a more conservative way than SCTY. As Mofid says, "meaningful GAAP revenue is possible soon with our model.""
The last paragraph in the quote above may be one of the most telling reasons why the Company is where it is today. Prioritizing growth at the expense of EPS may work well for an internet company like Amazon (NASDAQ:AMZN) but it is a terrible idea for a solar installer. Nevertheless, the valuation of SolarCity's and a need to show growth probably caused the Company's board of directors and Mr. Mofid to go down the path of profitless growth.
The markets did buy in to this strategy for a while. A look at the recent history of RGS Energy shows this loss making company's stock some upticks in the last several months in spite of its poor financial performance. The Company's management was savvy enough to use these valuation bumps to raid capital markets on a regular basis to get acquisition and operating capital. Sounds familiar?
Unfortunately for Mr. Mofid, SolarCity has a cult following that a company like RGS Energy will never have. And, in spite of its deeply flawed products, SolarCity has delivered on the promise of growth. SolarCity set the growth bar high and capital markets are not generous to a loss making solar installer without a lease/PPA story. Buckling under the pressure to execute, RGS Energy announced large losses, a lease platform that is still in the works, a shift in strategy, and the ouster of Mr. Mofid.
The irony is that, the new RGS Energy CEO, Dennis Lacey will likely go down the same path as Mr. Mofid, albeit with a more limited scope to conserve the cash burn. Who can blame him?
It is undeniable that residential and small commercial solar system installation is a low margin business with very little differentiation. Every Tom, Dick and Harry with a Contractor's License (and in some jurisdictions, even without a license of any kind) can compete in this business. SolarCity made this business, with almost no barrier to entry, attractive to Wall Street with the promise of secure high growth long term cash flows.
In other words, the solar leases and PPAs and the financial engineering that goes with capitalizing these products effectively hide the undesirability of the underlying installer business. Leases and PPAs have become the buzzwords that the street wants to hear. SolarCity has come a long way by selling the retained value Kool-Aid with these leases and PPAs. So, why not RGS Energy?
While one can't blame the new management for thinking this way and, as attractive as this option may sound to RGS Energy's management, the chances of the scenario materializing are pretty low. However, any trace of self-doubt will not stop the Company and its new CEO from venturing on this path since there are few viable strategic alternatives in this commodity installation business.
However, the Company is going to have several key challenges to execution with the most important being availability of cash to steady the ship and grow. A few weeks back, the Company raised capital by selling stock and warrants but a lot of that cash will disappear quickly to support operational changes and operating burn. We find it unlikely that there will be much of an appetite in the capital markets for a new round of capital in the near term so the most likely path for the company is to curtail growth and reduce working capital to generate cash.
The most likely next step for the Company: A/R factoring. Assuming the Company's contract with SolarWorld permits, the factoring sources are likely to be SolarWorld or one of the Chinese solar manufacturers. Given the strength of the balance sheet, JinkoSolar (NYSE:JKS), Trina Solar (NYSE:TSL), Canadian Solar (NASDAQ:CSIQ) and JA Solar (NASDAQ:JASO) are the most likely options.
The new CEO referred to residential focus and extensive use of telemarketing to get the Company back on track. The strategy here seems to be one of one of getting quickly into the "retained value" game. Aggressively selling the leases and PPAs may impress the markets and get the company out of its current financial mess. Unfortunately, the lease/PPA products, as they are structured today, are neither in the long term interests of customers nor in the interests of long term investors.
Any victory here is pyrrhic.
Our Sentiment: Sell
Disclosure: The author is long JKS, CSIQ, TSL, JASO, SUNE.
The author wrote this article themselves, and it expresses their own opinions. The author is not receiving compensation for it (other than from Seeking Alpha). The author has no business relationship with any company whose stock is mentioned in this article.
Editor's Note: This article covers one or more stocks trading at less than $1 per share and/or with less than a $100 million market cap. Please be aware of the risks associated with these stocks.