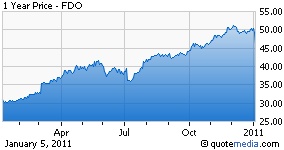 Family Dollar Stores Inc. (FDO) recently posted lower-than-expected first-quarter 2011 results. The quarterly earnings of 58 cents a share missed the Zacks Consensus Estimate of 61 cents, but jumped 18.4% from 49 cents earned in the prior-year quarter due to healthy sales witnessed in the Consumables category.
The Zacks Consensus Estimate had remained stagnant over the last 30 days with only one out of 23 analysts having revised their estimate upwards, which had no material impact on the consensus.
Management now expects second-quarter 2011 earnings between 92 cents and 97 cents, and fiscal 2011 earnings between $3.08 and $3.23. The current Zacks Consensus Estimates for the second quarter and fiscal 2011 are $1.00 and $3.17 per share.
The shares of Family Dollar drop 7.7% or $3.81 to $45.50 in pre-market trading on account of missing the analysts' expectations. Following the lower-than-expected results, we may witness a correction in the Zacks Consensus with analysts adjusting their estimates to better correlate with the company's performance.
We observe that Family Dollar's strategic initiatives to improve merchandising and store operations have helped grow the top and bottom lines.
Behind the Headline
The operator of self-service retail discount store chains posted a 9.5% year-on-year increase in revenue to $1,996.9 million, which came ahead of the Zacks Consensus Estimate of $1,986 million, and reflects sales growth across Consumables categories (up 10.9%), Home Products (up 7.5%), Seasonal and Electronics (up 6.6%), and Apparel and Accessories (up 5.8%).
Family Dollar, which faces stiff competition from Wal-Mart Stores Inc. (WMT) and Dollar General Corporation (DG), forecasts fiscal 2011 sales to jump by 8% to 10%. We believe effective price management, cost containment, tighter inventory control, private label offering, expanded operating hours and merchandise initiatives should drive sales trends.
Gross margin contracted 10 basis points to 36%, whereas operating margin increased 10 basis points to 6.1%. Management expects operating margin to increase moderately in fiscal 2011. The drop in gross margin was due to robust sales of lower-margin consumable items and increase in freight expense.
The company's point-of-sale technology and store realignment initiatives better position it to drive traffic, meet customer-oriented demand and improve in-store shopping experience. Consumers with lower disposable income are now prioritizing their purchases and looking for low-priced options. The company trades in merchandise generally priced below $10.
Based in Matthews, North Carolina, Family Dollar hinted that comparable-stores sales are on the rise due to improved traffic counts. Comps jumped to 6.9% in the quarter under review. Management predicts second quarter comps to rise between 5% and 6%, and fiscal 2011 comps to increase by 5% to 7%.
Other Financial Details
Family Dollar ended the quarter with cash and cash equivalents of $84.6 million, total long-term debt of $250 million and shareholders' equity of $1,229.3 million. Capital expenditures for the quarter were $38.9 million. Management expects capital expenditures for fiscal 2011 between $300 and $350 million.
Family Dollar in October 2010 entered into a $250 million accelerated share buyback agreement, under its $750 share repurchase authorization, and received about 4.4 million shares on account the transaction. The company still has $500 million at its disposal under its share repurchase program.
Stores Update
During the quarter, Family Dollar opened 85 stores and closed 18 stores bringing the total store count to 6,852 at the end of the quarter. During fiscal 2011, the retailer plans to open about 300 new stores and close 80 to 100 stores.
Currently, we have an 'Outperform' rating on Family Dollar. Moreover, the Zacks #2 Rank, which translates into a short-term 'Buy' recommendation, correlates with our long-term view.
Disclosure: No position