Introduction
Recent activist interest in PetSmart (NASDAQ:PETM) has resulted in a short-term rally and speculation that the company may be sold to a private equity firm or strategic buyer.
Investors who have been long should consider taking profits, as the potential for downside remains high based on fundamentals caused by traffic challenges.
Margin pressure is likely to create headwinds going forward due to increased competition in natural and organic food, which was traditionally a higher-margin space.
On balance, PETM has more downside risk than upside. A leveraged buyout transaction could provide further upside to the stock, but given the recent run-up, any takeover premiums are likely to be modest, as valuations would be stretched.
No Shortage of Overvalued Stocks
With the S&P 500 trading at about 18x P/E, low revenue growth, and a Market Cap/GDP ratio of about 1.8x, there is no shortage of overvalued stocks.
PETM is just one of several overvalued stocks we have written about recently. One of the most overvalued stocks out there right now is Netflix (NASDAQ:NFLX) (failure to stream cash flow), which has significant downside risk. Another is Zulily (NASDAQ:ZU) (even after correction, still overvalued), which also appears to be priced for perfection. PetSmart is yet another example of where investors should take profits if they have them, or consider selling short.
Traffic Numbers Down
PETM comparable store traffic growth numbers have been steadily declining since 2012, and turned negative in Q4 2013. As the primary driver of revenue growth, this presents a structural headwind for PETM and limits share price upside, in our view.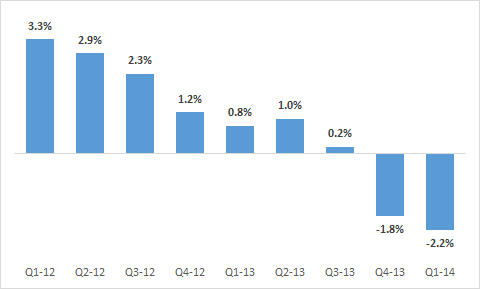 Source: Company disclosure
Margin Pressure
Increased competition in the specialty food space could result in a structural lowering of margins. Furthermore, the accessories product category faces strong headwinds from internet competition, as these products are easy to order online.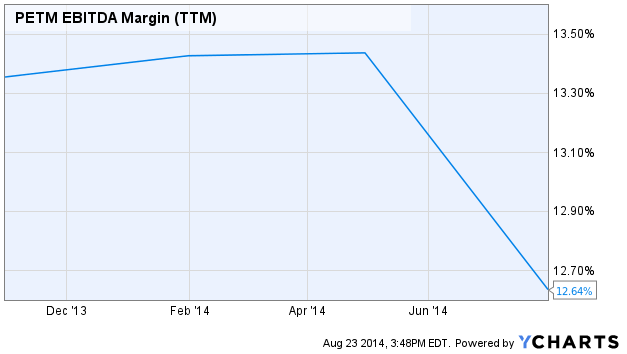 One of the more important pressures on margins that was discussed by management during the Q1-14 conference call and results was increased competition in the high-end market. High-end and organic food makes up ~30% of the pet food market today, according to management. Historically, this segment has been a growth engine for the company, so increased competition could both slow sales and erode margins.
Takeover Premium Likely Limited
Give the recent activist investor position that was made known by Jana Partners in July, there is a strong push for the company to become a takeover target. If this scenario plays out, anything greater than a 10% takeover premium could be difficult for a financial sponsor to pay. The only scenario that would likely offer a greater premium would be a strategic buyer like Petco due to synergies.
PETM currently trades at 8.2x EBITDA.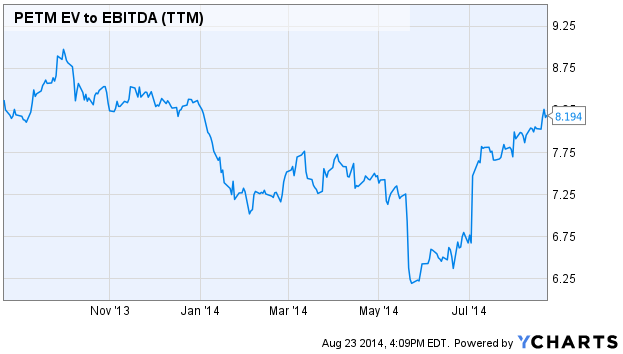 If we add a 10% premium on the market cap, that would imply an EV/EBITDA multiple of ~9x. At this valuation level, it would be a struggle for a private equity firm to generate sufficient returns (exit multiple not likely to be any higher) over a reasonable time frame. EBITDA growth would be the only path, but given the headwinds discussed above for traffic and margins, this seems challenging.
If PE firms typically target an equity IRR of ~20%, then this implies generating EBITDA growth of 7%-8% compounded over the next 5 years (assuming significant leverage in the ballpark of 75%).
Conclusion
In summation, if we take all the points discussed above, the downside risk to PETM shareholders appears far greater than the upside. If there is no sale of the company and takeover premium to shareholders, the future looks limited. Declining traffic and shrinking margins mean that organic growth will be extremely challenged. If a deal does go through, the takeover premium is likely to be limited, based on the recently increased valuation and which limits returns on a leveraged buyout. Risk to shareholders currently appears to be towards the downside.
Disclaimer: Consult your investment advisor before undertaking any investment decisions.
Disclosure: The author has no positions in any stocks mentioned, and no plans to initiate any positions within the next 72 hours.
The author wrote this article themselves, and it expresses their own opinions. The author is not receiving compensation for it (other than from Seeking Alpha). The author has no business relationship with any company whose stock is mentioned in this article.