For a number of reasons, Altria Group (NYSE:MO) has been a clear long-term outperformer. For one, the company is a perfect example of a dividend-growth stock with its high current yield and annual dividend increases. In addition, its cigarette business, while in secular decline, generates strong cash flows with which Altria can continue to reward its shareholders.
8% dividend increase continues a long history of dividend growth
On August 21, Altria announced that it was increasing its quarterly dividend by 8.3%, or 4 cents, to $0.52 per share, compared to its previous level of $0.48 per share. Annualized, this new dividend equates to $2.08 per share, good for a yield of slightly under 4.90%.
Altria's dividend increase was in line with what I was expecting. As I noted in a recent article, I had projected a dividend increase to $0.51 to $0.52 per share. My rationale was that the company likes to keep its dividend payout ratio in the 80% range. Given that 80% 2014 EPS guidance of $2.57 is $2.05, or $0.51 per quarter, this range turned out to be justified.
With the most recent dividend increase, Altria continues its long streak of dividend growth now going on 45 consecutive years. Indeed, these are hardly token in nature, with the 10-year average increase at over 10%.
Altria is a solid choice compared to its overpriced peers
Compared to its domestic peers such as Lorillard (NYSE:LO) and Reynolds American (NYSE:RAI), Altria appears to be a good value, with only sister stock Philip Morris (NYSE:PM) coming close.
As an example, by dividend yield, Altria easily leads the pack, even before the most recent increase:
MO: 4.88%
LO: 4.07%
RAI: 4.62%
PM: 4.46%
With its yield at 4.88%, Altria is a step above its peers. Do note that I expect Philip Morris to announce a dividend increase sometime soon, which may boost its yield closer towards Altria's.
By TTM price to earnings ratio, or TTM P/E, Altria is in line with Reynolds at around 19.50x, below Lorillard at 20x, and well above Philip Morris at under 17x. This has pretty much been the situation for the sector the whole year, as consolidation rumors boosted domestic tobacco valuations (MO, LO, RAI) in contrast to the currency woes face by the international focused PM.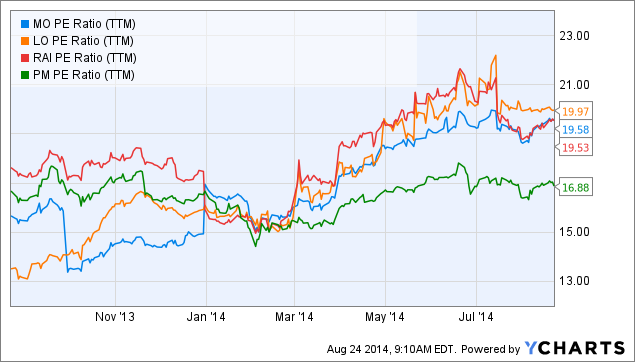 MO P/E Ratio (TTM) data by YCharts
Lastly, by price to free cash flow, or P/FCF, Altria is trading at 18.65x, 10% to 13% below its domestic peers Lorillard and Reynolds, and 8% above Philip Morris.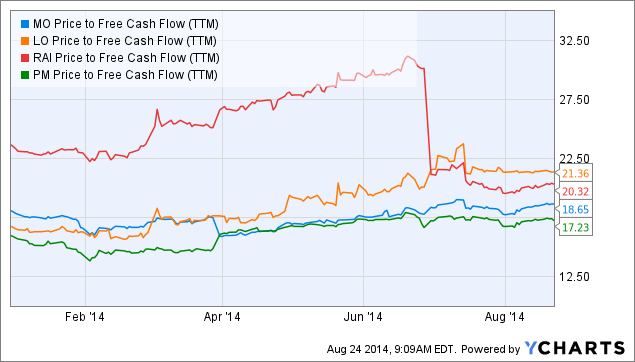 MO Price to Free Cash Flow (TTM) data by YCharts
P/FCF is a good proxy for determining the sustainability of the dividend, while TTM PE is a valuation metric. By both these measures, Altria is trading below its peers other than Philip Morris, which may signal some upside if it were to close the gap.
Conclusion
At current prices, Altria yields nearly 5%. This is a relatively high level of income considering the interest rate environment. When coupled with the dividend growth, Altria is likely to provide outsized returns for long-term holders. As a result, I consider Altria an attractive investment, though I would wait for a pullback to the $40 range before initiating or adding to a position.
Disclaimer: The opinions in this article are for informational purposes only and should not be construed as a recommendation to buy or sell the stocks mentioned. Please do your own due diligence before making any investment decision.
Disclosure: The author is long MO, PM.
The author wrote this article themselves, and it expresses their own opinions. The author is not receiving compensation for it (other than from Seeking Alpha). The author has no business relationship with any company whose stock is mentioned in this article.