The more successful investors are the ones who avoid uncertainty rather than having to deal with it, combined with a prudent dividend growth portfolio which creates a more reliable income stream.
Some of the most recent examples of how I have avoided uncertainty can be found by reviewing my articles on Annaly Capital (NYSE:NLY) and Bank of America (NYSE:BAC). I have gone back and forth on these two stocks over the last few years, while being called a "flip-flopper" by a few readers. To me, research includes not only the fundamentals of a stock, but also the environment surrounding the business of the stock itself.
In the two examples, NLY and BAC, I chose to avoid each for different reasons.
NLY had an overhang of uncertainty concerning interest rates and Fed policy. I was unsure if interest rates would skyrocket once the Fed began tapering quantitative easing. I chose not to stick with the stock and waited until after tapering began to get back into the stock at a much lower share price, as well as a more definitively positive future.
BAC had the unnerving overhang of the ongoing battle with the Department of Justice. When it became clear that the bank would finally settle, I bought shares of stock with more of a secure future. While many investors held on to their shares from around $5.00, I chose to sell at around $10.00 until the grey clouds passed. I might not have been right all of the time, and left $5.00/share on the table, but I also put my money to work elsewhere while not having to worry about the next shoe to drop.
The one thing I did not do was to try to short these securities. I simply wanted my portfolio to have less risk so I can have a better nights sleep.
To me, that is what investing for a more secure financial future should include; avoiding risk when you can, and not having to deal with uncertainty when there are so many other options to choose from.
A Real Time Example Of Uncertainty
I am a New Yorker (now in Florida) who dealt with the streets of New York City for virtually my entire career. I rode busses, subways, and taxis to get from point A to point B. When I became an executive, I always took taxis. Since there are thousands upon thousand of licensed taxi cabs in NYC, I found it more convenient to walk outside and "hail a cab" (even at the height of rush hour, or in the pouring rain) rather than waiting for a bus (exact change required), or entering the subterranean world of transportation (needing "tokens" and fighting the crowds).
Since leaving New York over 12 years ago, I can look back on that experience as never wanting to go through it again. Today, there are many more youthful business people navigating the transportation system of NYC, and are looking for alternatives. Today, even the taxi cab business is uncertain and that means uncertainty for a stock I used to own; Medallion Financial (TAXI).
A brief description of TAXI taken from its latest earnings report:
Medallion Financial Corp. is a specialty finance company with a leading position in the origination and servicing of loans financing the purchase of taxicab medallions and related assets. The Company also originates and services loans in other commercial industries, and its wholly-owned portfolio company, Medallion Bank, also originates and services consumer loans. The Company and its subsidiaries have lent approximately $5 billion to the taxicab industry and other small businesses.
I have invested quite happily over the years in TAXI but now there is a cloud of uncertainty brought about by new businesses that have entered the business segment, most notably Uber and Lyft.
These "tech" startups have basically invaded the formerly impenetrable business that TAXI had virtually owned by itself... the licensed "chauffer" business in the largest cities in the country. They are using technology to expose the taxi cab business' greatest weaknesses, cranky drivers, and hard to catch a cab periods of most importance.
Nearly four years ago, Uber introduced the idea of allowing passengers to book the nearest town car by smartphone, then track the vehicle on a map as it approaches their location. After the ride, the service automatically compensates the driver from the customer's preloaded credit card-no awkward tipping required. It's a simple experience and a much more pleasant way to get a ride than stepping onto a busy street and waving at oncoming traffic.
Uber is not a public company YET, but it has an appraised pre-market value of about $17 billion as it raised about $1.2 billion from GSV Capital (NASDAQ:GSVC). The company has stated that it will not be going public in the near term; however, as it grows, I would not bet that it won't.
Lyft, like its better-known rival Uber, lets you call a car using a smartphone app, and a driver who is also using the app rushes over to pick you up. This week, beginning in San Francisco, Lyft will introduce a new feature, Lyft Line, that instantly matches riders who are traveling between similar places at similar times, and offers each of them a deep discount to share a ride rather than go solo.....Lyft Line could become one of the cheapest ways to travel between many parts of the city - so cheap that people might use it to go to and from work daily, instead of driving alone. Though the service will be available in San Francisco at first, Lyft has run simulations of Line using its data from other regions, and it believes the service will work well in many suburbs and cities across the nation. It plans to begin rolling out Lyft Line elsewhere within a few months.
While Lyft is not the powerhouse that Uber appears to have become, it offers similar service and goes after yet another weakness of the business, pricing. If effective, this company can also become a huge pain in the neck for the taxi cab business.
The Growth Of The Disruptors Is Evident, Plausible, And Probable
While precise numbers are not made public, research such as this sheds light on just how much of an impact this service is having and will have on the taxi cab business, especially in NYC and other major metro areas.
In the report, the study compared the author's (Damodaran) research, with that of Bill Gurley, an investor in Uber itself. The following is a comparison by each, and it details how the growth of this disruptor (in this case, Uber) could grow:

Click to enlarge
The author states his opinion on who is more accurate:
Given that the values delivered by the narratives are so different, the question, if you are an investor, boils down to which one has a higher probability of being closer to reality. If you had to pick one right now, I think Mr. Gurley's has the advantage over mine for at least three reasons. The first is that as a board member and insider, he knows far more about Uber's workings than I do. Not only are his starting numbers (on revenues, operating income and other details) far more precise than mine but he has access to how Uber is performing in its test markets (with the new users that he lists). The second is that as an investor in Uber, he has skin in the game, and more at stake than I do and should therefore be given more credence. The third is that he not only has experience investing in young companies, but has been right on many of his investments.
Another peek "under the hood" so to speak, also offers more insight into the market size and anticipated growth, once again comparing the author's research to Mr. Gurley: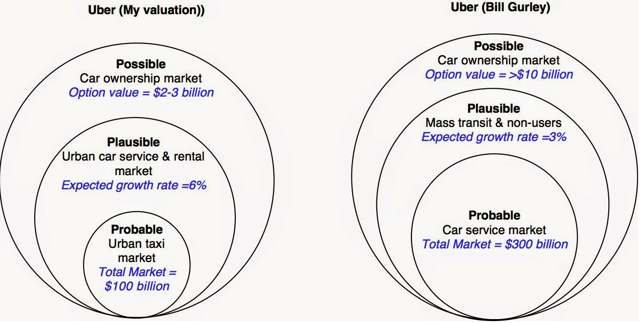 Click to enlarge
The author states:
Here again, Bill Gurley has two advantages to work with. The first is that as an investor and insider, he has access to information on Uber's experiences and experiments in its frontier markets (mass transit and suburban users), that may have led him to shift these markets from the plausible to the probable.
The "game plan" is eloquently shown in this graphic: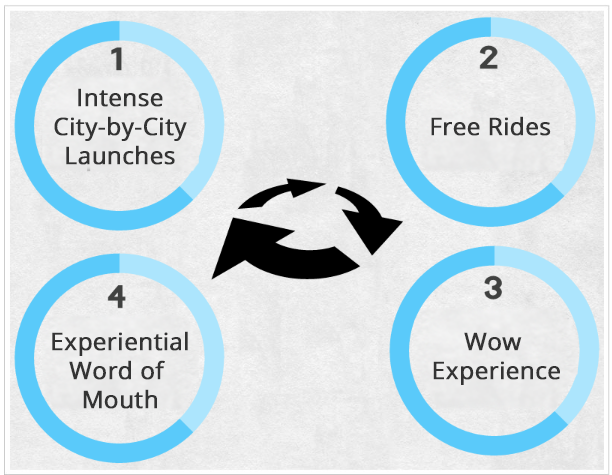 This particular analysis had this to say:
...perhaps the reason Uber has expanded so quickly is because they acknowledge that growth is not one-size-fits-all. What worked for San Francisco may not be what's right for Chicago or New York, which is why they take it city by city, with local efforts tailored to each new location.
Travis Kalanick, Co-Founder and CEO of Uber, had this to add:
"We think that cities deserve to have another transportation alternative. It sounds crazy to have to say that but you have to do that because you have incumbent interests which are often trying to curtail innovation and curtail sort of transportation alternatives that might compete with their existing business. And, because of that, it requires us to take a very local approach to how we go after a city. We have launchers that go into [cities] … and turn nothing into something. I like to say they drop in with parachutes and machetes [and] get highly involved with the suppliers, people who own cars and run car services, and really just make sure that we can launch a service that is high quality from the start. Being local and speaking with local voice is important when you're doing transportation and means you know what's going on for the city."
The bottom line is that the market is enormous and the growth rate of the new service is undeniable. It cannot be ignored and therefore poses a direct threat to the taxi cab business in every major metro city.
The Taxi Cab Business Is Not Dead, Yet
Although the "disruptors" are causing the taxi cab business some angst right now, the business is not standing still.
San Francisco has been transformed into a city full of smartphone-wielding guinea pigs, willing beta testers who try out new services and shovel feedback to engineers. But while many transportation startups are busy dreaming up new and unfamiliar offerings, Flywheel and similar companies like Curb and Hailo are trying to breathe high-tech life into the old taxis that have been around for decades. That business model comes with limitations as well as certain advantages-the biggest of which may be that the city of San Francisco is proving a willing ally, and that could in turn prove a model for other metros.
If this idea works, the taxi cab business could hold its ground, or compete. The operative word there is "compete". While driving folks around in NYC is not considered a monopoly, one visit to NYC would tell you who has been in charge, likewise in other major metro cities around the nation.
In and of itself, competition might not seem so bad, when each service is playing on a level playing field but those yellow taxi cabs are like NYC cockroaches: They are everywhere. To me that means they could still maintain the bulk of the business, for now.
The main issue is that those yellow taxi cabs need a city approved "medallion" to operate, and those have become pricier than gold, and are transferable from one taxi owner or company to the next, at very lofty prices.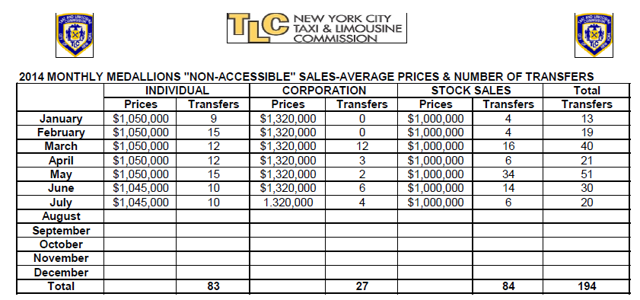 Click to enlarge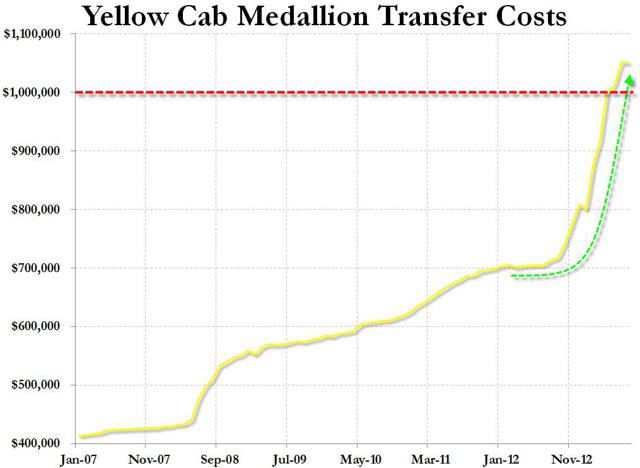 Click to enlarge
I remember a friend of mine, back in the mid 90s buying several cabs and medallions, and the cost back then was about $100k for a medallion. Not a bad investment to have an income stream from the business and appreciation of the medallion itself by 10x over the last 20 years or so.
That being said, I believe that the glory days for these medallions are coming to an end, and that is the major problem with Medallion Financial that I see. When TAXI released its earnings announcement, it highlighted the following:
Second quarter earnings of $7,105,000, or $0.28 per diluted common share, increased 14% from the 2013 second quarter to the highest level in almost 10 years
Managed assets were $1.446 billion, an all-time high, including $923 million at Medallion Bank
Not a single taxi medallion loan was more than 90 days past due
Net interest margin was 7.11% on a combined basis, up from 6.29% a year ago
Quarterly distribution of $0.24 per share declared
Company announces its largest ever stock buyback program
Not only was the quarter a stellar one, but the company announced that not a single taxi medallion loan was more than 90 days past due. Not bad, but why would that be a highlight? I will offer my opinion: It will soon become a "low-light" if those medallions decrease in value, and cab companies start feeling the effects of that just like folks who felt the impact of the housing crash.
Given the fact that TAXI's main business is lending money for the medallions, I believe that it can see a significant rise in loan defaults, as these upstarts continue to make headway in the actual business.
Individuals would probably be the first to default if rider-ship drops, and they cannot sell the medallions at the price they paid, and then next in line would be the small taxi companies themselves. TAXI would than have plenty of medallions in "stock" as they maintain ownership, and will sustain losses not just from the loan payments and interest rates, but how will they sell the medallions once again without taking a dramatic hit?
Truth be told, TAXI is already making plans to restructure its business.
Andrew Murstein, President of Medallion Financial, stated:
"We are extremely pleased with the 2014 second quarter and year-to-date results, which were among the highest in the Company's history. Also, we are pleased to announce that we will again be paying a distribution of $0.24 per share, the highest it has been in 13 years, and up from $0.22 a year ago. Over the last 5 years we have given our shareholders an annual return including distributions of approximately 17% per year, including 29% in 2013. While taxi medallion lending remains the foundation of the Company's overall managed business, the majority of our earnings now arise from non-taxi related loan products. We anticipate non-taxi related loan products to contribute to earnings at an increasing rate as we continue to grow these portfolios. We are proud to have performed so well, and we feel confident in our future."
The key question will be, can TAXI withstand the loan defaults and the declining medallion values without it affecting revenue, earnings, and for dividend investors, its dividend. I believe that given the facts and the uncertainty, I would either sell TAXI shares sooner than later, and if you are drawn in to its 8% dividend yield, put your money elsewhere and not deal with what I consider to be a major issue for the stock and the dividends.
As a matter of fact, why not put some money into AT&T (NYSE:T) for a 5.25% yield and maybe some risk capital for a dividend opportunity stock like NLY at about an 11% yield?
What About The Strength Of TAXI?
TAXI is a fundamentally sound company right now but looking at earnings, cash flow, revenues, loan payments, etc., is not the issue. The issue is the two major disruptors, Uber and Lyft, that can change the entire financial picture of TAXI from a positive into more than an uncertainty, a complete negative.
I believe that the total return of TAXI is headed for trouble if the company cannot stave off the problems that default of loans causes. TAXI is not a "too big to fail" bank folks. Both the share price and most importantly the current dividend are now in a state of uncertainty.
Why bother with it when you can put your money to work in less uncertain equities, right now, and not have to deal with this problem?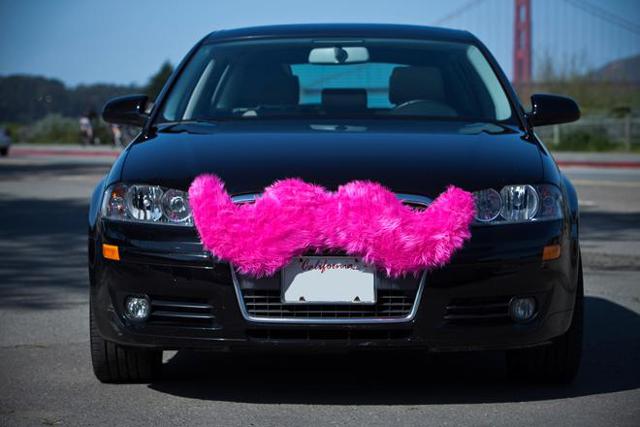 Click to enlarge
The Lyft "moustache".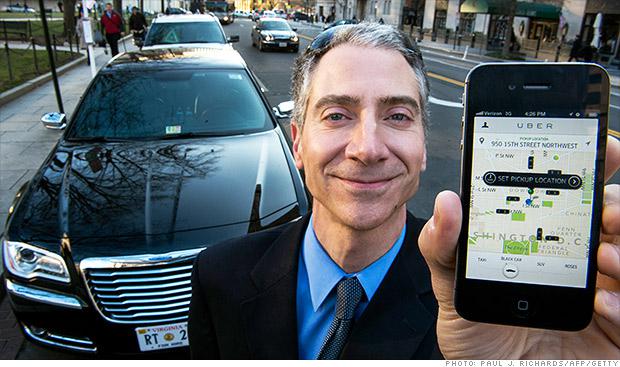 The Uber App and "taxi cab" car.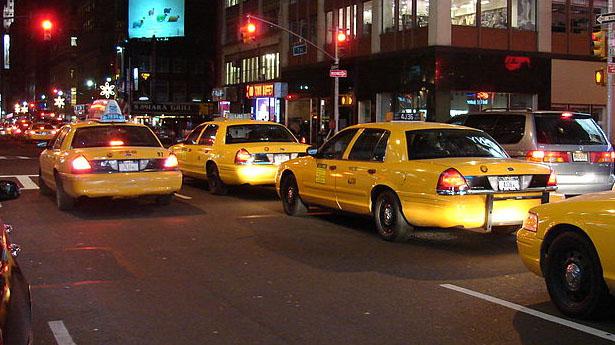 Hailing a cab tonight?
The Bottom Line
Uncertainty such as what I have described can occur at any time with any business sector. Especially when a disruptor causes "shock waves" (Think Tesla (NASDAQ:TSLA)). With thousands of other opportunities out there, why bother even thinking about it?
Avoid it when it hits you in the face.
Disclosure: The author is long NLY, T, BAC.
The author wrote this article themselves, and it expresses their own opinions. The author is not receiving compensation for it (other than from Seeking Alpha). The author has no business relationship with any company whose stock is mentioned in this article.