The unusally cold winter in the southeastern United States has been well documented. I see two possible effects if this unusally bad weather is to continue: a rise in orange juice prices and higher heating costs.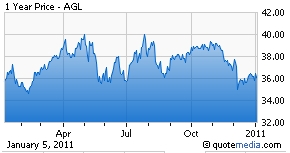 I have a way to profit on the latter - AGL Resources (AGL). AGL is an Atlanta-based energy company that provides natural gas to people in that area. If these low temperatures persist, they stand to benefit from the increased energy consumption in this area of the country.
Aside from being a speculative proxy for weather in the southeast, there are several other reasons to be excited about the prospects for this stock in 2011. First, capture the upside of a move higher in natural gas. If there is (ever) a move higher in natural gas the company should be able to increase their own service costs and help their margins. I know, natural gas has been a major laggard, and another move down is not out of the question. But, by playing through a utility, you can mute much of the downside risk and still capture some upside. Natural gas has also been negative correlated to the S&P in recent times, so if you think the market is overheated (and I do) there could be a rotation into natural gas.
Further, I really like the recent acquisition of Nicor (NYSE:GAS). Nicor is another distributor of natural gas, and basically doubles AGL's customer base. In the past, Nicor had operated on significantly slimmer margins than AGL so consolidation and adoption of AGL's better practices should help them improve.
AGL trades also trades at a pretty nice discount compared to other natural gas distributors. It has a P/E of 11, a 28% discount compare to its peers, according to S&P.
Finally, I think we need to take a step back and look at the big picture. We have rallied ~20% from the lows in August. If you must be long, it would seem being defensive would be smart. Also, in years coming out of recessions, the first part is usually dominated by the smallest and riskiest companies, the second by cyclical and slightly less risky stocks, and the third by cautious value plays. This would fall into the final category.
Disclosure: I have no positions in any stocks mentioned, and no plans to initiate any positions within the next 72 hours.