Vanguard's Information Technology ETF (NYSEARCA:VGT) started 10 years ago. It was designed to mirror the MSCI US IMI Info Technology 25/50 index. It holds 416 technology-related stocks, and has a market cap of $133.7 billion. Its net assets are $5.6 billion. VGT is immersed in all parts of the technology world. Is it worth the look at after all these years? From the Yahoo graph below, VGT has returned 78.16% over its first 10 years. This comes out to an annualized return of 6.3%. I also graphed the Technology Select Sector SPDR ETF (NYSEARCA:XLK). This is the largest technology ETF. During the same time frame, the price of XLK returned 61% and the annualized return was 5.87%. VGT did better than the largest tech ETF.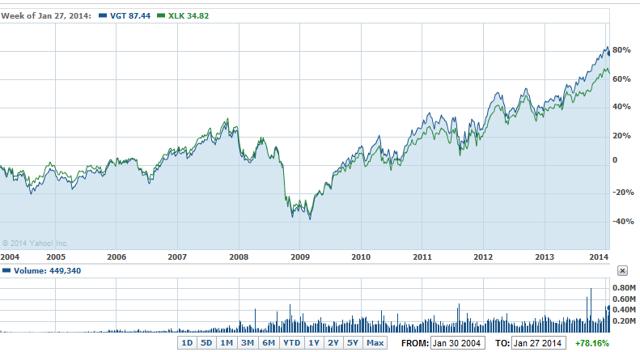 VGT is only a good investment if it does what it is suppose to do, and that is tracking its benchmark. It looks to be pretty good. The information in the table below came from Vanguard's website. The average tracking error for these nine years is -.18%. Considering that the expense ratio is .14%, VGT is really only losing by .04%, and this is pretty negligible to me. The Vanguard website also gives a total inception return, which is 1 year and 6 months. VGT returned 7.08%, and the index returned 7.26%. After expenses, it's only down .04% as well.
| | | | |
| --- | --- | --- | --- |
| | VGT | MSCI US | Difference |
| 2013 | 30.95% | 31.09% | -0.14% |
| 2012 | 14.00% | 14.24% | -0.24% |
| 2011 | 0.53% | 0.66% | -0.13% |
| 2010 | 12.67% | 12.99% | -0.32% |
| 2009 | 62.03% | 62.18% | -0.15% |
| 2008 | -42.84% | -42.76% | -0.08% |
| 2007 | 14.80% | 15.13% | -0.33% |
| 2006 | 9.09% | 9.21% | -0.12% |
| 2005 | 2.94% | 3.09% | -0.15% |
VGT has been doing what it was created to do, but what about the next ten years? I believe VGT is set up for success for many years to come. Just seven months into the second ten years, the Yahoo graph below shows that VGT is already up 15%.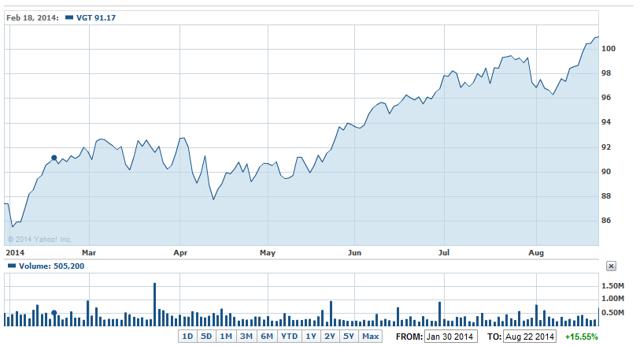 VGT's holdings are able to take advantage of current technology trends. One of these trends is the usage of smartphones. As you can see from the charts here, smartphone sales have been growing. Nearly 7 billion people have some sort of mobile subscription. In 2013, there were over 1.8 billion smartphones sold. It's just not the creators of the hardware that profit from this. There are many companies that create applications for smartphones. Tablet sales have also been growing. Tablets started to take off in 2010. The same link above mentions tablet sales. In 2013, tablet sales were 195 million, and it predicts that there will be over 300 million in 2015.
TV is also becoming more internet-based. People can steam movies and TV shows using their smart TVs or smartphones. Netflix (NASDAQ:NFLX) is one of these companies that make this possible. A few of the companies on the list below provide digital media services too.
Social media is growing as well. Tweets, hashtags, and updating statuses are common social interactions these days. Billions of people are creating, sharing, or exchanging information and ideas in virtual communities and networks every day. Some of the companies below take advantage of this. Some create applications for social networking, and some profit off advertising in them.
Many companies are now going to the cloud for their hardware and software needs. Cloud computing refers to using the internet for all their needs. They can use the internet for storage, servers, and networking. Using the internet for business has advantages. Business can spend less money on infrastructure. It's easier to work remotely and to stay connected with each other or with clients that could be all over the world.
Money is becoming more electronic too. Electronic payment card usage is at its all-time high in 2014 so far, with $4.53 trillion worth of sales. This includes credit cards, debit cards and prepaid cards. Banks are getting online as well. Many of the large banks have mobile banking, so there would be no reason to go to a physical bank anymore. In a 2013 Federal Reserve report, it stated that 33% of mobile phone users used an online banking tool in 2012. 51% of smartphone users used online banking.
Below is a list of VGT's top holdings that are involved in the trends above.
I have mentioned some of the technology companies and trends that are becoming popular and making peoples' lives easier. By being invested in so many technology stocks, VGT has taken advantage of all previous technology breakthroughs. In the first ten years, it has almost doubled in price, and it looks to be well-positioned to take advantage of all the future tech breakthroughs too.
Disclosure: The author has no positions in any stocks mentioned, and no plans to initiate any positions within the next 72 hours.
The author wrote this article themselves, and it expresses their own opinions. The author is not receiving compensation for it (other than from Seeking Alpha). The author has no business relationship with any company whose stock is mentioned in this article.