There are a plethora of dividend growth ideas to choose from in today's market, but investors must go beyond traditional yield analysis (i.e., picking the one with the highest payout). A focus on a cash-flow-based intrinsic value assessment and a cash-flow-based analysis of dividend health are two distinct tools that investors can use to augment their dividend growth process. A robust intrinsic value assessment results in a fair value estimate, while a cash-flow-based analysis of dividend health results in the Dividend Cushion (the higher the Dividend Cushion ratio above 1, the better). In this piece, let's take a look at the valuation, balance sheet considerations, and dividend prospects of 5 dividend growth giants you should know about.
Coca-Cola (NYSE:KO) -- Fair value: $35 -- Dividend Cushion: 1.7
There are few companies fundamentally stronger than Coca-Cola. The firm boasts a number of competitive advantages: its brands, financial strength, distribution system, global reach, and a deep executive bench. Recent moves to scoop up stakes in Green Mountain (NASDAQ:GMCR) and Monster Beverage (NASDAQ:MNST) have made it a savvy asset manager. The firm has raised its dividend in each of the past 50+ years, and we expect dividend growth to continue at a high-single-digit annual pace for the foreseeable future.
Though the strength of Coca-Cola's competitive position is undeniable, we don't expect the "cola wars" with Pepsi to subside anytime soon, nor do we think social pressures against sugary colas will wane. Importantly, we think readers should be cognizant of the generosity embedded in Coca-Cola's fair value estimate in our valuation model, stemming from a comparatively low discount rate and elevated expected growth in the out-years. Said differently, investors are certainly paying up for Coca-Cola at present levels.
The firm's second-quarter results were mildly disappointing. Investors had been expecting better performance than the 1% reported drop in revenue and the 2% reported fall in operating income during the period, especially in light of the buzz surrounding the "Share a Coke" marketing campaign and the World Cup in Brazil.
Internals at the firm remained strong, however, with worldwide volume growth up 3%, and brand Coca-Cola revenue up 1% both globally and in North America in the quarter. Comparable currency neutral performance was better, and the company remains a cash cow. The firm's balance sheet is flush with $17.1 billion in cash and a manageable long-term debt load of $19.2 billion, as of the end of last year (net debt was ~$2.1 billion).
All told, we like the company, but we think there will be a better entry point for new money. Shares simply aren't cheap. Our fair value estimate of the firm is $35 per share, and the company's shares are trading north of $40 each.
Pepsi (NYSE:PEP) -- Fair value: $79 -- Dividend Cushion: 1.1
It's hard not to like Pepsi's fundamental competitive advantages. The firm has significant scale in North America and nineteen $1 billion global brands sold in the US -- that's just an incredible brand portfolio. Pepsi's second-quarter results were much more well-received than Coca-Cola's, in our view, and the snacks giant raised its core constant-currency earnings per share growth outlook for 2014 to 8% (was 7%).
Pepsi is targeting over $10 billion in cash flow from operating activities and more than $7 billion in free cash flow (excluding certain items) in 2014. The firm expects to return a total of $8.7 billion to shareholders in 2014 through dividends of ~$3.7 billion and share repurchases of ~$5.0 billion. We think the company's dividend-per-share will expand at an 8%-12% annual pace during the next couple years, fading to a mid-single-digit clip over the long haul.
The one minor concern that we have with Pepsi -- and that we don't have with Coca-Cola -- is its balance sheet. By no means is Pepsi's credit health weak, but the firm's balance sheet reveals $32.8 billion in total short- and long-term obligations and only $11.2 billion in cash and cash equivalents. The firm's net debt position is why its Dividend Cushion ratio is 1.1, and Coca-Cola's is a more robust 1.7. All else equal, a better net cash position offers more financial flexibility.
Our fair value estimate of Pepsi is $79 per share. Its shares recently closed over $90 each, so we see no reason to rush into them at current levels.
AT&T (NYSE:T) -- Fair value: $34 -- Dividend Cushion: 0.3
AT&T is a fantastic company. The firm continues to execute across key growth areas including mobile internet, consumer IP and strategic business services. Its merger with DirecTV (DTV) will create a content distribution leader across several platforms, and deal synergies are expected to exceed $1.6 billion on an annual basis. AT&T has increased its quarterly dividend for 30+ consecutive years and frequently returns $20+ billion to shareholders annually through dividends and share repurchases.
During the firm's second-quarter results, AT&T reiterated expectations to generate $11 billion in free cash flow in 2014. Capital expenditures, however, are still anticipated to be in the $21 billion range for the year, revealing the significant capital intensity of the company's operations. All else equal, we generally prefer capital-light operations, which don't have to plough a significant amount of cash generated from operations back into the business as capital expenditures. Investors should expect AT&T to increase its dividend at a ~2% annual clip for the foreseeable future, but this pace will hardly keep up with inflation over the long haul.
AT&T's Dividend Cushion ratio of 0.3 picks up the firm's mountain of cash obligations to bondholders in the form of debt, which stands at ~$80 billion (debt repayment takes priority over equity and dividends as it relates to the hierarchy of the capital structure). Though the firm's net-debt-to-EBITDA measure (credit health) is among the best in the industry, readers can clearly see in the table below that its cash balance ($11.3 billion) is simply dwarfed by its massive debt load (~$80 billion as previously mentioned).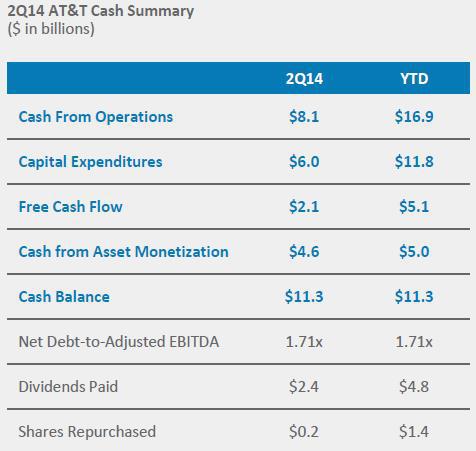 Image Source: AT&T
It is also evident in the table above that AT&T continues to return more cash to shareholders in the combination of buybacks ($1.4 billion) and dividends ($4.8 billion) than it generates in internally-generated free cash flow ($5.1 billion) -- at least it has thus far through 2014. This relationship is unsustainable and should be viewed as a major red flag for income investors, especially those hoping to hold onto AT&T into the next decade and beyond.
Verizon (NYSE:VZ) -- Fair value: $56 -- Dividend Cushion: UR (under review)
Our updated take on Verizon's dividend is slightly more benign than our previous view. Still, we retain our concerns about the size of Verizon's debt load following its purchase from Vodafone (NASDAQ:VOD) of the portion of Verizon Wireless it didn't already own.
For one, we are more than 5 years into the economic recovery from the March 2009 lows, and if history is any guide, we should see an economic slowdown within the next few years. At the end of the second quarter, Verizon's debt load stood at a whopping $107.7 billion, a very lofty balance for any company (even the strongest of companies) to take into any economic downturn. Though now wholly-owned Verizon Wireless will certainly throw off a lot of incremental cash, we would now expect management to allocate more attention to paying down debt than growing the dividend, at least in the near term.
We continue to evaluate Verizon for addition to the Dividend Growth portfolio, but readers should etch the firm's balance sheet into memory (which we've reproduced below). The green shading represents Verizon's cash and cash equivalents balance and the red shading represents its long-term debt load. The company remains an investment-grade credit, but its net debt position is just not very comforting.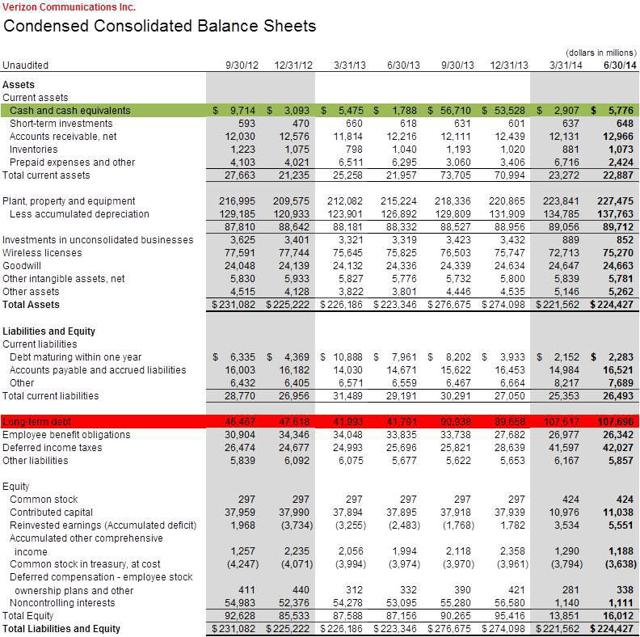 Image Source: Verizon
Our fair value estimate of shares is $56, slightly higher than where they are currently trading. Verizon may represent a potential opportunity for a risk-seeking investor that isn't worried about the mountain of debt on its balance sheet heading into the peak of the economic cycle, but we prefer to stay on the sidelines for just a little bit longer.
Microsoft (NASDAQ:MSFT) -- Fair value: $48 -- Dividend Cushion: 3.4
The software giant is one of our favorite dividend growth ideas and a top holding in the Dividend Growth portfolio. Out of the five dividend growth ideas on this list, it is by far our best one.
We think innovation at the company has been reignited with the company's new CEO Satya Nadella, and his decision to cut 18,000 jobs will work wonders as it relates to profitability. Microsoft's fiscal fourth-quarter results helped to reinforce our valuation thesis on the company, and we were very pleased to hear the fundamental momentum behind the company's commercial cloud revenue, which doubled from last fiscal year.
Microsoft's Dividend Cushion ratio is an extremely healthy 3.4, and we think investors can expect solid double-digit annual dividend-per-share growth for some time. Shares have upside to $48 each, in our view, and potentially into the $50s if management executes upon the cost cuts effectively. Our fair value estimate is based on a robust discounted cash flow analysis that considers Microsoft's future free cash flow stream and the value of its cash-rich balance sheet. The upside case considers the margin of safety around the firm's fair value estimate. Microsoft represents one of the rare bargains remaining in today's marketplace, and you can evaluate Valuentum's track record on the firm here. Its landing page can be accessed here.
Thanks for reading!
Disclosure: The author has no positions in any stocks mentioned, and no plans to initiate any positions within the next 72 hours.
The author wrote this article themselves, and it expresses their own opinions. The author is not receiving compensation for it (other than from Seeking Alpha). The author has no business relationship with any company whose stock is mentioned in this article.
Additional disclosure: MSFT is included in the Dividend Growth portfolio.