Has the Fed's quantitative easing been a stimulus for the U.S. economy? The expectations for quantitative easing started to build with Ben Bernanke's speech at Jackson Hole when he laid out the Fed's options for further easing:
Notwithstanding the fact that the policy rate is near its zero lower bound, the Federal Reserve retains a number of tools and strategies for providing additional stimulus. I will focus here on three that have been part of recent staff analyses and discussion at FOMC meetings: (1) conducting additional purchases of longer-term securities, (2) modifying the committee's communication, and (3) reducing the interest paid on excess reserves. I will also comment on a fourth strategy, proposed by several economists – namely, that the FOMC increase its inflation goals.
In the remaining text of the speech it became fairly clear that Bernanke favored option 1. From that point until the policy was actually enacted at the FOMC meeting following the election, markets moved in anticipation. So how would this policy create stimulus? According to Bernanke, one way would be what Bernanke called the portfolio balance channel. As the Fed purchases one type of security the seller then uses the proceeds to purchase some other, more risky security. In this way, financial conditions would supposedly be further eased. So in the case of QE2, as the Fed purchases Treasuries, the sellers then purchase something such as a mortgage bond or a corporate bond. Let's see how that's working out. If the policy is working we would expect to see higher prices for corporate bonds: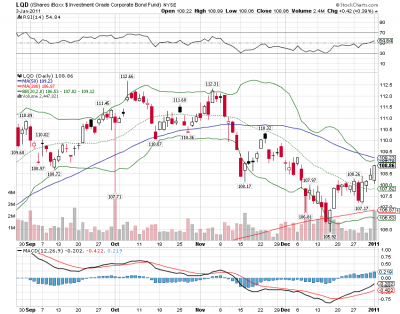 (Click to enlarge)
Well, prices are slightly lower but basically there isn't much difference. What about mortgage bonds?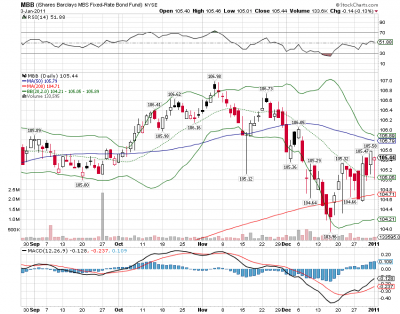 (Click to enlarge)
Again, not much change. So if there has been any stimulus through interest rates from the policy so far, it is minimal at best.
What about other markets? What if the former Treasury holders that sold to the Fed bought something else? QE2 has also affected other markets primarily through a weaker dollar: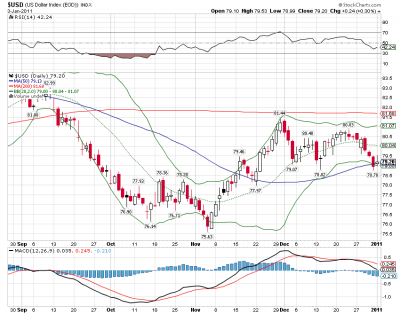 (Click to enlarge)
A weaker dollar raises the price of commodities, such as oil: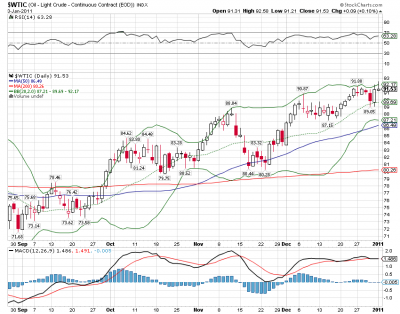 (Click to enlarge)
Oil has risen about $18/barrel since the Jackson Hole speech. At roughly 20 million barrels a day usage that works out to $131 billion per year in extra energy costs. Now there are lots of reasons why oil prices might rise so I would not credit (blame) QE2 for all this move but certainly it is responsible for part of the move. But oil is only one of a pretty long list of commodities that have risen in price since Jackson Hole: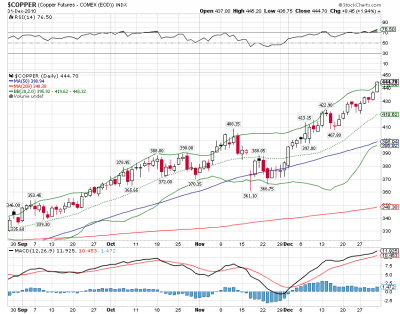 (Click to enlarge)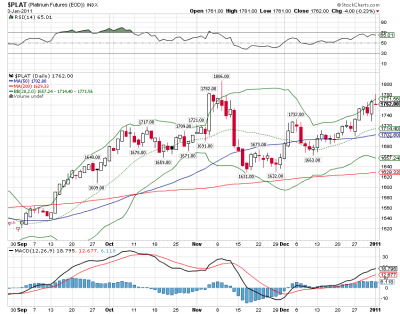 (Click to enlarge)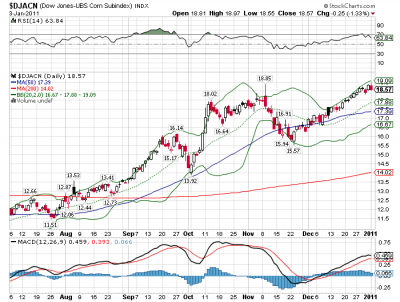 (Click to enlarge)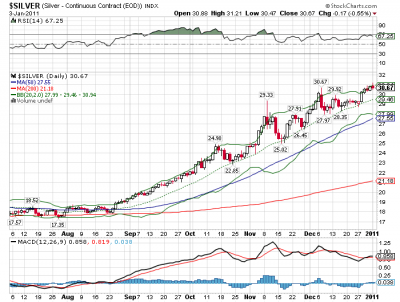 (Click to enlarge)
The Fed can create untold numbers of dollars and they can purchase all the Treasury notes they want. What they can't do is control how those new dollars get spent once they are turned over to the Treasury sellers. It appears that at least some of those new dollars are finding their way into the commodity markets. Raising the cost of commodities is not a positive for the economy.
One other place some of that new cash seems to be ending up is the stock market: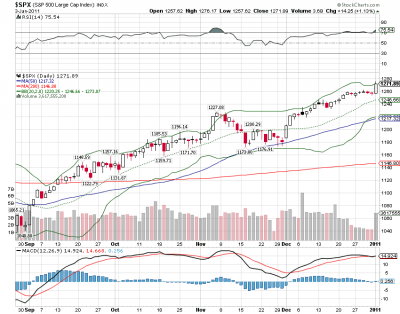 (Click to enlarge)
And by the way, it isn't just the U.S. market that has gone up. One reason the dollar is weaker is because speculators have sold dollars to buy foreign securities: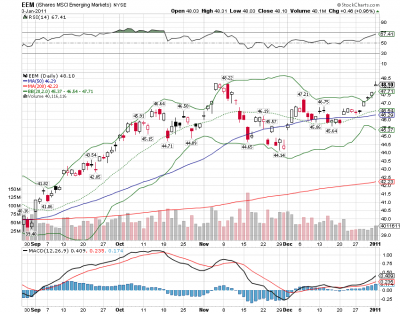 (Click to enlarge)
Bernanke has spoken about this too, implying that higher stock prices produce a wealth effect that provides a positive stimulus for the economy. Robert Shiller among others has produced research that indicates the effect is weak at best.
So to sum up:
1. There has been little reduction in interest rates although there has been a tightening of spreads as Treasury rates have risen more than corporate rates. Besides, large corporations have had little problem borrowing funds. Small companies have had some problems but even there the problem is that companies have no reason to borrow. One last thing to consider is that more borrowing is not required for economic growth. Net stimulus from this mechanism is basically zero.
2. Commodity prices have risen significantly. The rise in oil prices alone has added an additional $131 billion cost to the economy. Net stimulus is decidedly negative and large.
3. Stock markets have risen but research indicates the wealth effect from stocks is weak. And at least some of the capital has leaked to overseas markets. Net stimulus effect would appear to be neutral to mildly positive.
There is no way to isolate the effects of QE2 on markets. There are too many other factors affecting markets that have little or nothing to do with Fed policy. However, the available evidence would seem to point to a net negative to date. If it is correct that QE2 is causing oil prices to rise - and I think it is - and the Fed continues with QE2, the negative effects may become too large for the economy to overcome. How high do oil prices need to rise to cause a new recession?
Disclosure: I have no positions in any stocks mentioned, and no plans to initiate any positions within the next 72 hours.