By Chris McKhann
Shares of Carrizo Oil and Gas (NASDAQ:CRZO) have been slipping off their 52-week highs from Monday, prompting call selling in the name.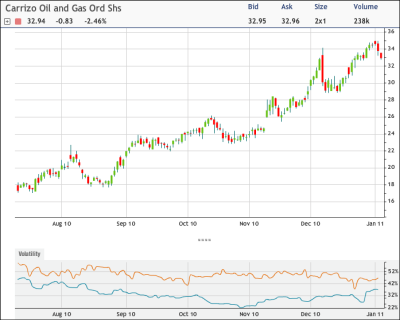 CRZO is down 2.46 percent today to trade at $32.94, adding to the losses from yesterday. Shares hit a two-year high at $34.98 on Monday and are still more than double what they were at the June low below $15.
Carrizo's option activity so far today is almost entirely in the January 35 calls, as a trader sold 2,750 of them for $0.60. This volume was twice the previous open interest at that strike and therefore represents a newly opened position.
Within seconds of that trade four large blocks of CRZO stock were bought, totaling about 30,000 shares. Combined with the options, this is a short volatility strategy with a wide profit margin.
Although the trade initially has a negative bias (negative delta), it takes its maximum profit with shares around $35 at expiration.
Disclosure: No position