[Originally published 8/5/2014]
Augusts filter attempts to hone in on companies that have a long-term history of raising dividends and the financial flexibility to continue raising them in the future. While we like dividend companies at 5i Research, we like dividend growers even more. Consistent growth in distributions helps to fight off the effects that inflation can have on returns and income while rewarding shareholders who are willing to own a stock for the longer term. It generally also shows strong management and an understanding of business requirements and outlook, compared to a high yielding name that may struggle to make payments or put operations at risk in the name of a dividend.
The filter returned 18 companies trading on Canadian exchanges. The metrics used were:
Compound annual growth rate for dividends paid on shares that is greater than 10%
Dividend payout ratio that is less than or equal to 75%
Debt to equity ratio that is less than or equal to 50%
The final two points relate to the financial flexibility of the company. Dividends are great but if the company cannot maintain them, let alone grow them, there is little point in paying a dividend at all. The payout ratio below 75% helps to ensure that there is some room to increase dividends going forward while the leverage ratio helps us to filter out any companies that may have high debt service costs and in turn, difficulty in meeting interest payments or trouble in justifying increased dividend payments.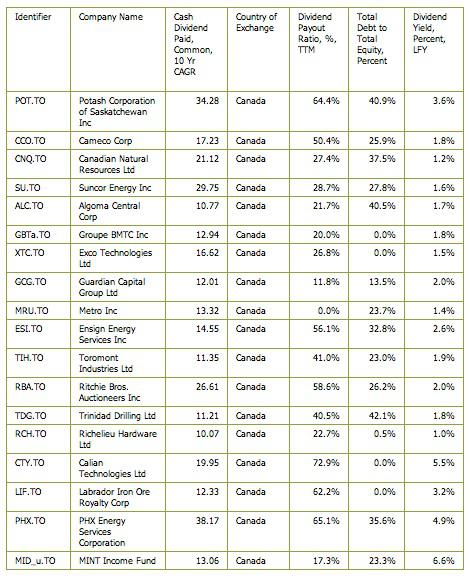 The filter gives us an interesting mix of companies from industries ranging from energy and financials to materials and industrials. Exco Technologies is a higher rated company covered by 5i Research that has shown some very strong performance over the last year and made the list as well. While past dividend increases do not ensure future increases, there is a higher likelihood that these companies have developed a clientele that looks for dividend raises. This should result in pressure on management to continue increasing dividends so as not to disappoint the investor base.
Disclosure: None
Editor's Note: This article discusses one or more securities that do not trade on a major U.S. exchange. Please be aware of the risks associated with these stocks.