The Permian operators have been very successful in 2013 and 2014. Midland has outperformed other US plays and the west Permian players. There has been a recent pullback affecting the Permian, Bakken, Eagle Ford, etc. We believe this has provided an opportunity, especially in the Midland Basin. We continue to like the northern Midland Basin players including Diamondback (NASDAQ:FANG), Athlon (NYSE:ATHL), RSP Permian (NYSE:RSPP), and Parsley (NYSE:PE). These names have outperformed the southern operators like Approach (NASDAQ:AREX) and Laredo (NYSE:LPI). Well results in the northern part of the basin have been significantly better, and the reason these names have seen a much higher stock appreciation. We continue to believe that operators in stacked plays will outperform in 2015. These provide an interesting situation for investors, as current intervals are downspaced, while others are tested. There could be significant upside, as acreage values will head higher as locations are added per section. Of these plays, the Permian looks to have the most upside. Not only are there several intervals to prove, but there is significant downspacing in current intervals, like the Wolfcamp.
Pad development continues to be the focus of US operators. We are seeing this in all over the country, including North Dakota, as the middle Bakken has seen the majority of traffic. The Three Forks has emerged, and although the middle Bakken has produced better, the Three Forks has three benches to target. In mid and western McKenzie County, we have seen the lower Bakken silt emerge, but not by drilling the interval. Operators are fraccing into this zone, which has improved recoveries for companies like Triangle (NYSEMKT:TPLM) and Whiting (NYSE:WLL). Continental (NYSE:CLR) has been the Bakken leader with respect to pad development.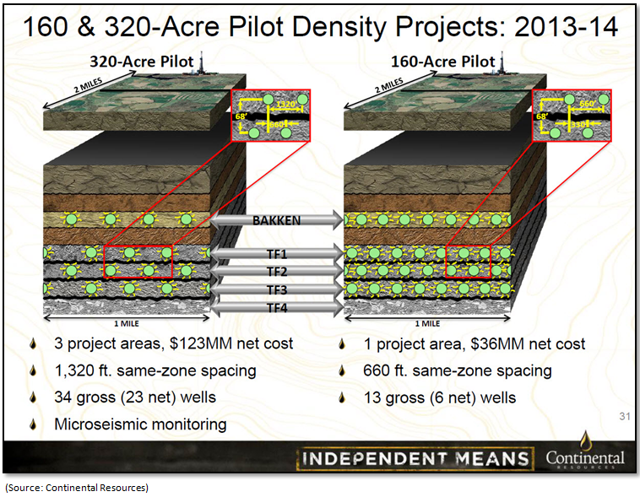 Continental has progressed to 32 well pads. It is fraccing 8 wells in each of the four intervals. This is a big improvement when compared to just 8 wells per section a year ago. The greatest improvement was the addition of the 2 deeper Three Forks intervals. There isn't as much certainty here, but initial results have been encouraging. The middle Bakken will continue to be the best interval in most North Dakota fields. The upper Three Forks continues to produce well. On average, it produces at a 10% to 20% discount. Operators have commented the second bench is much like the first when looking at geology. Second bench wells haven't produced in line with the first bench, but expectations are it will when operators get more comfortable. There is less info on the third bench, which seems to produce around 20% than the second. Keep in mind, there have been some excellent results in all benches. This data supports positive estimates in the lower intervals.
The Niobrara is another stacked play. It is not as far along as the Bakken, but is also seeing heavy traffic. Noble (NYSE:NBL) is a leader, and its progress can be seen below.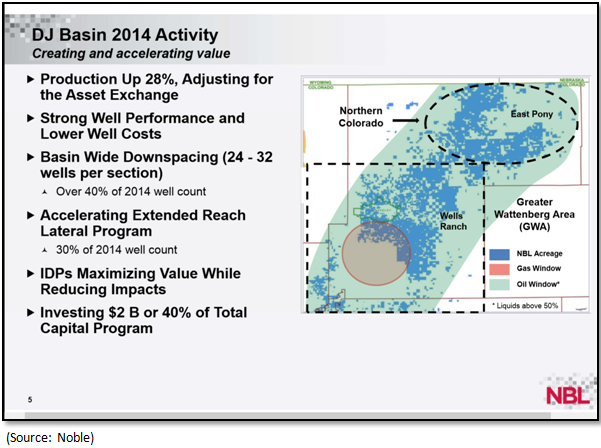 As you can see above, there has been basin wide downspacing of 24 to 32 wells per section. The main intervals being worked are the three Niobrara benches and the Codell. There has been talk of the Greenhorn and J Sand also, but little has been done to prove up those intervals.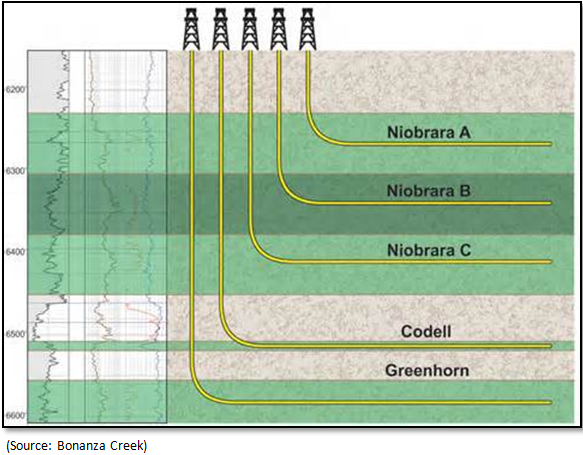 The Eagle Ford may be the single best interval in the United States. It has some of the best producing wells to date. This source rock is very thick and can house a significant number of wells per section. No company has more successful in the Eagle Ford than EOG Resources (NYSE:EOG). Below shows its progression in East Texas.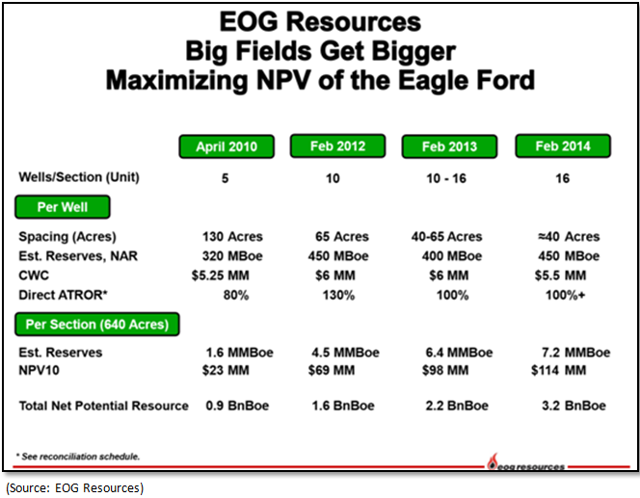 The Eagle Ford is not the only source rock, as the Austin Chalk and Buda could also be economic. These probably will not be as good as the Eagle Ford, but could produce additional wells/section. The diagram below provides the location of each resource bearing intervals.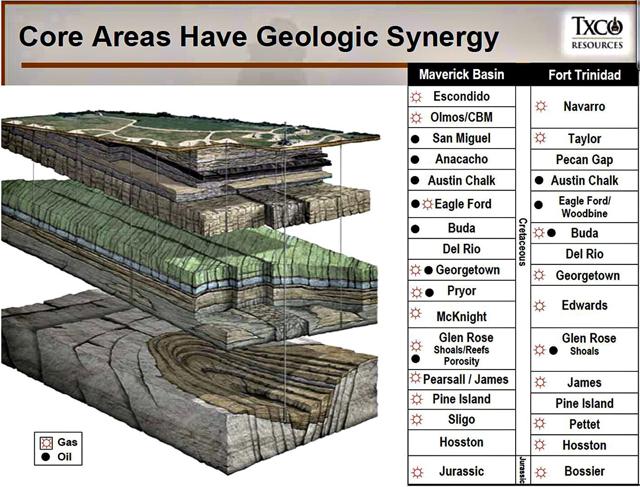 (Source: TXCO Resources)
As you can see there are a large number of oil bearing intervals, and there hasn't been a lot of testing to date. This has more to do with the Eagle Ford pay zone, as it is very thick and has much better geology than the other prospective zones. This shows how early we are in the development phase, as there are several pay zones that have not been horizontally tested.
The Midland basin receives a premium when compared to other US plays. This is understandable, given the perceived upside. There are a large number of intervals, maybe more than anywhere else in the United States. All of the targets below are proven either through vertical or horizontal applications.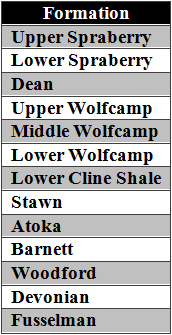 The Midland Basin was first fracced as a vertical play. The Spraberry is 3,000 to 4,000 feet thick.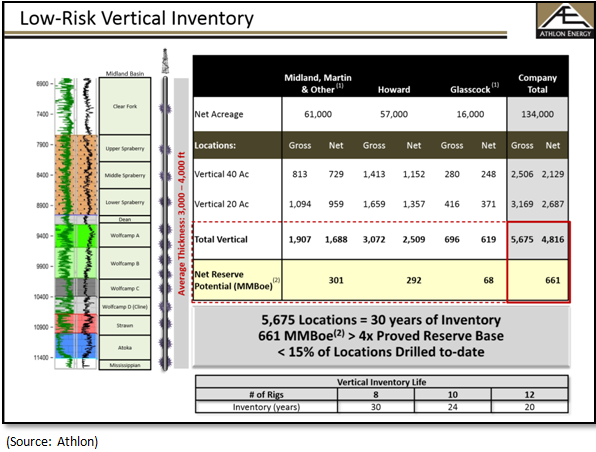 There are a total of 12 intervals that produce vertically in this area. We are unsure of the proportion of horizontal producers, which is why there is a big question mark hanging over this play. As each operator completes a well, more acreage is de-risked. When operators complete well pads, we see acreage downspaced. The earlier this process happens, the better. Although the Wolfcamp has seen some traffic, other intervals have not seen any. Further is gained from EUR revisions, and we are seeing steady increases to Wolfcamp and Spraberry wells. We should continue to see improvements, as production per foot is increased. Longer laterals and tighter stages should also create improvements.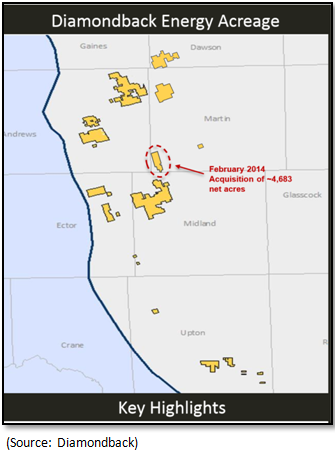 We like most of the Midland Basin names, but one of our favorites is Diamondback. It currently has five horizontal and one vertical rig running. Its core acreage is in the northwestern portion of the Midland Basin. This is thought to be the best overall area, with the best horizontal production to date. Production increased 149% year over year in 2013. Estimates are for a 112% increase year over year in 2014. Its 2013 exit rate was 11.5 MBoe/d. FANG's February '14 acquisition increased this by 2.2 MBoe/d. FANG estimates its 2014 exit rate to be 15.5 MBoe/d. Total reserves improved 58% year over year in 2013, while proved developed increased 143%. In 2013, FANG had proved developed reserves of 12.3 MMBoe and 27.9 proved undeveloped, for a total of 40.2 MMBoe. In 2014, reserves will increase to 70.5 MMBoe. By category, FANG has 48% PUD, 2% PDNP and 50% PDPs. Cash margins were a little less than $65/Boe in 4Q13, which led peers by 40% on average. LOEs have exhibited double-digit decline for five straight quarters on a Boe basis. Since the beginning of 2013, FANG has decreased its drilling costs/foot from $510 to $390 in Midland County. Its 5,000 foot laterals can be drilled in 11 days for $4.8 million. Its 10,000 foot laterals can be drilled in 17 days for $9.4 million. It produces 79% oil which is also leading peers. FANG has over 70,000 net operated acres. Its acreage is 99% operated. Its Midland Basin acreage is 67% oil, 15% NGLs, and 18% gas.
FANG has identified a large number of horizontal drilling locations, which includes those acquired in February of 2014 and September of 2013.

FANG continues to add acreage, as it did in September of 2013. This bolt on core purchase added 12,500 net acres, with 50% being operated. RSP Permian will operate the other half of the leasehold. It will generate an estimated $70 million to $80 million of cash flow in 2014. In January of this year, it had net production of 2,100 Boe/d. In February of 2014, FANG acquired 4,683 net acres in Martin County. It had working interest of 72.6%. It has six prospective horizontal intervals. It added 1,626 gross locations and increased proved reserves from 63,587 MBoe to 70,524 MBoe. Proved developed reserves increased 23%.
The enormity of these numbers is difficult to comprehend, as no other play offers this much resource per section. This covers seven intervals, and does not cover the upper Spraberry or deeper pay zones. We are unsure how many locations per interval will be possible. Using conservative numbers, we could estimate each will provide four per section, but with today's newer completions designs with fracturing closer to the well bore allowing for more locations, as seen in the Bakken diagram earlier in this research. Using the low-end of EUR estimates, this would produce 28 wells/section and 12.6 MMBoe. Keep in mind, the EUR estimates are for 7,500 foot laterals. FANG's initial estimates in Midland and Andrews counties were low when compared to its current results. In their first 16 Wolfcamp B wells EURs increased from the initial 600 MBoe to 638 MBoe. The same was seen in FANG's first two lower Spraberry locations. This increase was from 500 MBoe to 650 MBoe. Its first middle Spraberry well modeled to 500 MBoe to 565 MBoe. Its East Upton County wells did not show this upside. The Wolfcamp B modeled 604 versus its initial estimate of 600 MBoe. West Upton has been a big disappointment, with estimates decreasing from 600 MBoe to its five well average of 463 MBoe.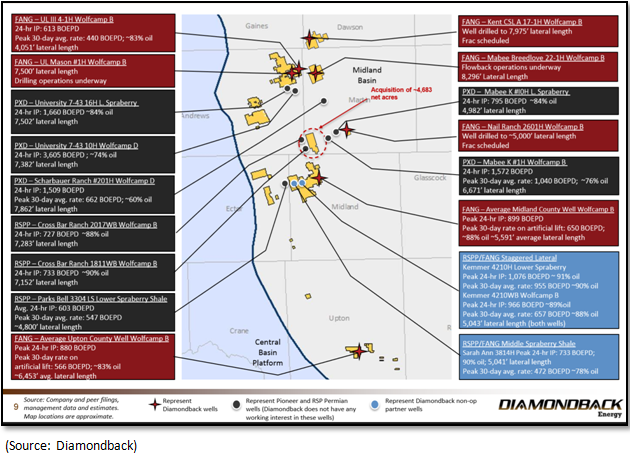 The above map provides a picture of how well operators are doing in FANG's core acreage. Pioneer (NYSE:PXD) has been very busy near FANG. Above provides the locations of its five wells. Pioneer has targeted the lower Spraberry, Wolfcamp B and D. RSP Permian has also been active in the above locations. It has targeted the Wolfcamp B, lower and middle Spraberry. Two of these RSPP wells were non-ops for FANG. The Wolfcamp B had an average IP rate of 913 Boe/d. This includes wells from PXD, RSPP, and FANG. PXD had the best Wolfcamp B well with an IP rate of 1,572 Boe/d. The average IP rate for the Wolfcamp D is 2,557 Boe/d. These were both excellent wells, and may prove to be better than the Wolfcamp B. PXD's 3,605 Boe/d location may be the best in the area. It will be interesting to see how well the D is, and how far this sweet spot stretches. The lower Spraberry had an average IP rate of 1,034 Boe/d. PXD also had the best producer at this interval with an IP rate of 1,660 Boe/d. Both PXD and RSPP have targeted the lower Spraberry. The middle Spraberry only has one well represented on the map. It had an IP rate of 733 Boe/d. Although there aren't any other middle Spraberry wells to compare, this is a promising result. It's difficult to judge how good these wells are as 24 hour IP rates don't provide much by the way of data to model. We don't know the size of choke, which could inflate rates depending on size. We also don't know if there were any production issues either. To the south, Athlon also has two Wolfcamp B wells on line. These had IP rates of 2,078 Boe/d and 1,661 Boe/d.
Reporting on a 2 or 3 stream basis can affect EURs significantly. 2 Stream EURs do not report NGLs, but include this resource as gas. 3 stream EURs provide higher results as seen below.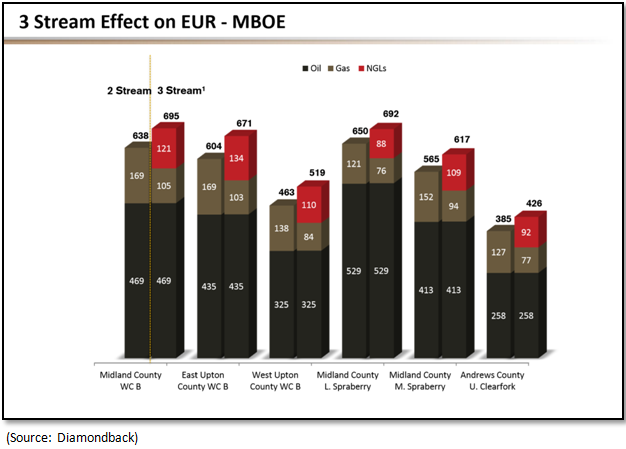 The reason I have included this, is some operators report numbers as 2 stream, but in reality have higher EURs if those were compared with an operators that reports on a 3 stream basis.
There is significant data compiled on the Wolfcamp B, and to a lesser extent the Spraberry. The lower Spraberry has seen more, but it has more upside given its greater depth.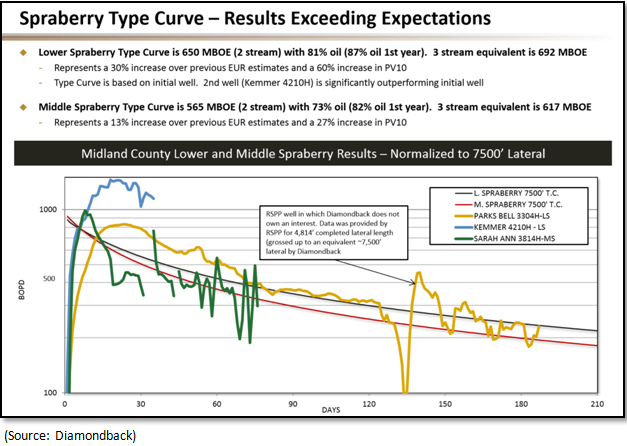 The upward revision to the lower Spraberry is significant. This was initially thought of as a lower-cost, lower-producing play. After the first few wells, the economics improved significantly. The lower Spraberry's 650 MBoe is set for a 7,500 foot lateral. Expectations indicate these numbers will be better when the Wolfcamp transition to a two-mile lateral. The same could be said for the middle Spraberry, but IRRs are much better with the lower Spraberry. It is important to note these wells produce more oil initially (87%), but over the life of the well, recoveries (81%) decrease.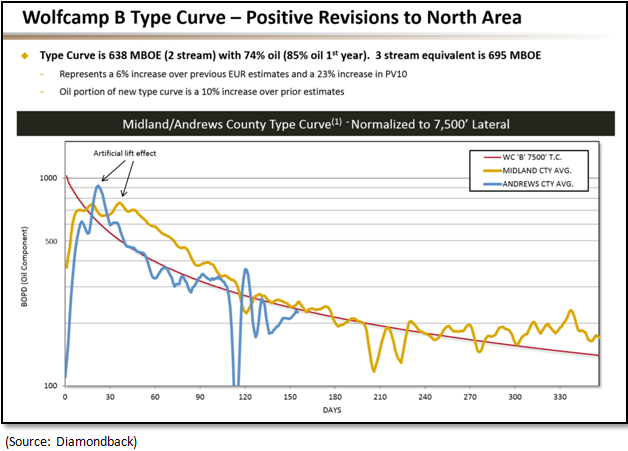 As expected, the Wolfcamp B is better in north Midland County. Oil recoveries are lower as a percentage than the Spraberry. Artificial lift has produced positive results early in production. Andrews County is producing in line with estimates, and Midland County is producing better. Further out in production, the depletion curve is flatter than expected.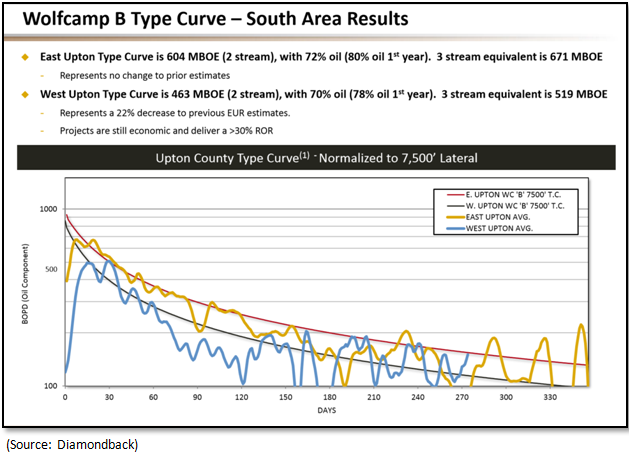 The southern Midland Basin has underperformed the north significantly. Its Upton acreage is still good, but the west may not be economic. Oil recoveries as a percentage are also better in the east.
Downspacing has been encouraging with respect to the Wolfcamp B/Spraberry. In Midland County, six horizontal locations/section had been tested successfully with no communication. Since operators are intertwining vertical and horizontal locations, we could see large increases to total oil recoveries.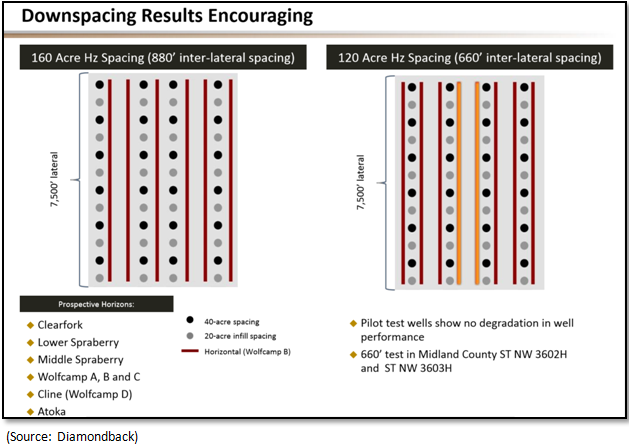 The above illustrations show the number of current locations/sections currently and what is being tested. Vertical downspacing at 40 acres will produce 24 locations. If this acreage is proven to 20-acre spacing, this number increases to 48/sections. Currently, each drilling spacing unit is set up at 40-acre spacing that can be infilled without losing any locations. It is conceivable that downspacing to 10-acre spacing could happen. This isn't likely, but still possible. The Wolfcamp B is currently proven to six locations per section, but FANG is testing eight. This horizontal pilot has not shown any negative communication. It will take some time to see how this infill affects production going forward, but as for now it seems to be a big positive. Further upside can be had by eight additional intervals, all of which have been tested, producing average to very good results.
FANG continues to outperform. Since 4Q12, revenues have grown 181%. Over the same time span, EBITDA has grown 301%. It plans 65 to 75 gross horizontals, and 20 to 25 vertical locations in 2014. Costs are expected to be $6.9 million to $7.4 million for a 7,500 foot lateral. Vertical costs are estimated to be from $2.0 million to $2.2 million. It continues to improve well economics, and has a large acreage position in the heart of the play. We would guess it will continue to add small tracks of land and increase this position over the next few years. There could be more upside here than anywhere else in the US, and investors may continue to see additional upside as more intervals are proven and de-risked.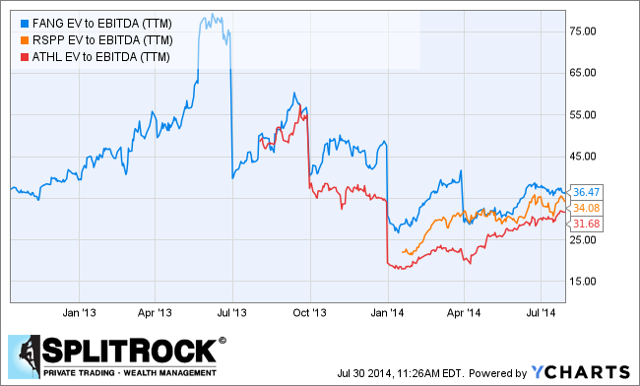 The above chart shows how Diamondback, RSP Permian and Athlon's valuation have decreased since last year. The final numbers were produced at the end of last July and we have seen those continue to decrease during the pullback in WTI pricing. Some of this decrease is due to these operators growing into its multiple. The rest has been created by falling share prices during the slide in oil prices. We think oil may continue downward in the short term with lows Q4. FANG currently has an EV/EBITDA of 18.45, which is lower than its recent average of 28 to 30. On 8/15/14, Tudor Pickering upgraded FANG to a buy and Raymond James reiterated its outperform rating with a $110 price target. The last eight analyst ratings have a 12-month price target average of $111.25. This estimate provides for 28% upside. Although we believe FANG may head lower in the short term, due to rising oil inventories at Cushing. It may prove to be an excellent buying opportunity.
Disclosure: The author is long FANG, ATHL, EOG, TPLM, WLL.
The author wrote this article themselves, and it expresses their own opinions. The author is not receiving compensation for it (other than from Seeking Alpha). The author has no business relationship with any company whose stock is mentioned in this article.
Additional disclosure: To read the full research note on FANG and specific well results, contact us at shaletrader.com. This article is limited to the dissemination of general information pertaining to its advisory services, together with access to additional investment-related information, publications, and links. Accordingly, the publication of Split Rock Private Trading articles should not be construed by any consumer and/or prospective client as Split Rock Private Trading's solicitation to effect, or attempt to effect transactions in securities, or the rendering of personalized investment advice for compensation, over the internet. This information is provided for guidance and information purposes only. This information is not intended to provide investment, tax, or legal advice. The information contained herein has been compiled from sources deemed reliable and it is accurate to the best of our knowledge and belief. However, Split Rock Private Trading cannot guarantee its accuracy, completeness, and validity and cannot be held liable for any errors or omissions. All information contained herein should be independently verified and confirmed. Split Rock Private Trading does not accept any liability for any loss or damage whatsoever caused in reliance upon such information. Readers are advised that the material contained herein should be used solely for informational purposes. Split rock private trading is a registered investment adviser. Information presented is for educational purposes only and does not intend to make an offer or solicitation for the sale or purchase of any specific securities, investments, or investment strategies. Investments involve risk and unless otherwise stated, are not guaranteed. Be sure to first consult with a qualified financial adviser and/or tax professional before implementing any strategy discussed herein.