In about a week, the month of September will begin. For most, that means that the summer is ending, and it is back to school or work. For technology giant Apple (NASDAQ:AAPL), the ninth month of the calendar year is the last month of the company's fiscal year. Apple will be starting a new fiscal year in just a couple of weeks, so it is definitely time for investors to start thinking about fiscal 2015. Today, I'll provide a preview of important items.
All hail the iPhone 6:
While there may be a few million units sold in fiscal 2014, the majority of iPhone 6 units sold will be in fiscal 2015 (and beyond). In fact, if a recent report is correct about a production slowdown, more sales may be pushed into fiscal 2015. The screen assembly issue seems to have been shaken off by the market, but it could be a problem if a few million units sold are shifted into October.
Remember, at around $600 a phone, or more if Apple is able to charge more for these larger screen devices, a few million units is important. Somewhere between 4 and 5 million devices could equal about $3 billion in revenues for Apple. That $3 billion is the entire range of Apple's guidance for fiscal Q4. While I don't think a warning will come, a production delay that leads to supply constraints could almost be as dangerous as an October iPhone launch. That could lead to a big Q4 miss for Apple sales, which would then most likely push up Apple's sales expectations for the holiday fiscal Q1.
Fiscal 2015 could be a milestone year for the iPhone. Depending on how fiscal Q4 turns out, it could be the first year where the iPhone brings in more than $100 billion in revenues. Fiscal 2014 may end up hitting that number if Q4 has a strong quarter. Apple may also be able to crack the 175 million units sold number in fiscal 2015.
Get the iPad back on track:
While the tablet market as a whole continues to see strong growth, Apple has not had the best of fiscal years when it comes to the iPad. Perhaps my statement from one of my recent Apple articles sums this up best:
The extremely popular tablet has lost a little of its luster this year thanks to the success of phablets and an increase in lower-cost tablets. In the first nine months of the fiscal year, Apple reported a 2% decline in iPad unit sales and a 3% decline in revenues over the prior year period.
I've stated that the newest iPad should be launched about a month after the new iPhone, and I still believe that to be the case. The question is will we see three different screen versions. We've heard rumors of a larger iPad, roughly 12 or 13 inch screen size, possibly coming to market. This larger screen version would be in addition to the other two iPads already on the market that are likely to be refreshed in October. A larger device would certainly help get iPad sales going again. The iPad is likely to bring about $30 billion in revenues during fiscal 2014, so it remains the second largest sales product for Apple.
One interesting item to watch is if the larger screen iPhone 6 will cannibalize sales of the iPad mini. Consumers may stop purchasing smaller screen tablets in favor of larger phones. For Apple, the company would probably prefer the sale of an iPhone 6 to the sale of an iPad mini. Generally speaking, the iPhone is a higher revenue and higher margin product, so it would be better for the top and bottom lines if consumers prefer the phone. It will be interesting to listen to future earnings calls to hear what Apple management has to say about this potential issue.
Mac and iWatch:
Through the first nine fiscal months of fiscal 2014, the Mac was Apple's best performing line of the company's four major lines. As you can see on page 27 of the most recent 10-Q filing, Mac unit sales were up 14% over the prior year period and segment revenues were up 10%. While the overall PC industry has struggled at times, Apple is doing quite well, and Mac success is expected to continue. With a good year in fiscal 2015, it could be possible that the Mac line contributes more than $25 billion in revenues.
When it comes to new products, the iWatch will be the most anticipated item for fiscal 2015. There are many questions to ask, from pricing to launch date, etc. If Apple is able to sell 50 million or so units in a year, this could provide a revenue boost of around $10 billion in the first year. If an iWatch were to launch in October or November, it would quickly become one of this holiday season's hottest items. If the product does not launch until early calendar 2015, the impact on fiscal 2015 will be a bit less.
Other products/services:
For the iPod, its best days are certainly behind us. Revenues for the once mighty device are down 51% in the first nine months of the fiscal year, as compared to the first three quarters of the prior year. The iPod obviously is not that important anymore, but it still brings in over $2 billion in annual revenues. Twitter (NYSE:TWTR) isn't even up to that point yet, and a lot of companies would kill for that level of total revenues. One must wonder how much longer the iPod will even be sold by Apple. Its days are numbered.
Let's not forget the rest of Apple's business though. I haven't yet touched on the segment of the business that showed the most revenue growth in the first nine months of the fiscal year. That's the iTunes, software, and services segment, which showed 14% revenue growth in the first three quarters of fiscal 2014. This segment of the business should be over $18 billion in revenues this year, meaning $20 billion is not out of the question in fiscal 2015. Additionally, the accessories segment could provide over $6 billion in the 2014 fiscal year. It will be interesting to see where Apple accounts for the revenues of Beats, which will provide a boost to one or a few of these categories. These "other revenues" don't usually get the headlines, but they are nearing $25 billion in annual revenues for Apple. That's a significant part of the business, and about twice the revenues that Facebook (NASDAQ:FB) is doing on an annual basis currently.
Capital returns and acquisitions:
According to the 10-Q, Apple had about $39.1 billion left on the $90 billion share repurchase program at the end of the June quarter. Apple did not buy back as much stock in fiscal Q3 as I thought it would, which leaves more for the current quarter and future quarters. Apple expects to finish this plan by the end of calendar 2015, so that would be about a $6.5 billion per quarter rate if the buyback is executed evenly. The extra buyback is part of the reason why I'm raising my Apple price target, which I'll discuss later. There isn't too much to say on the dividend at the moment, as the next raise is probably several months away.
The other major use of cash for Apple will be acquisitions. Apple has made dozens of acquisitions in recent years, and even went big recently with the multi-billion dollar purchase of Beats. Recently, I discussed a few potential takeover targets. Whether it is buying out a supplier or just strengthening the ecosystem, you can be sure Apple will use some cash for acquisitions.
Current estimates and my fiscal 2015 price target:
With larger screen iPhones coming and perhaps a new product like the iWatch, analysts see fiscal 2015 being a better year than fiscal 2014. Current estimates call for 9.4% revenue growth to more than $197 billion. EPS are expected to rise to $7.05 a share from the current fiscal 2014 estimate of $6.33. Obviously, Apple has not finished off the current year, so the 2014 number may still change.
A couple of months ago, I gave my initial price target for Apple in fiscal 2015, which was $106, or $111 if Apple made the Dow. I've continued to state that Dow inclusion would be worth $5 to Apple, and I'll be consistent here with that. The table below shows a range of Apple earnings, along with the multiple I've given the company for each level of earnings. From there, we can determine a price target.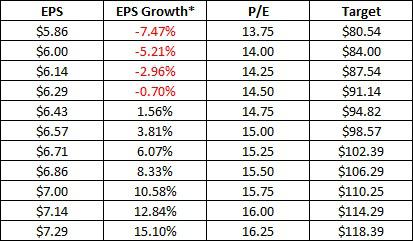 *EPS growth based on current estimate of $6.33 for current fiscal year. This number will change until we get final fiscal 2014 results.
Based on the current analyst estimate of $7.05, my price target would be a little under $112, so we'll round up to that dollar amount for the moment. Should Apple make the Dow, you could add another $5 to that, or $117. At this point, before any product launches, I believe that $112 is a completely fair target for Apple. I'm about $6 above the mean and median targets among wall street analysts currently. I'll continue to update this target as necessary, but for now, I see another roughly 10% of upside for Apple.
Final thoughts:
Apple is just a few weeks away from starting its next fiscal year. Soon, the company will launch a new iPhone, which could help the company eclipse $100 billion in phone revenues during the 2015 fiscal year. Apple may also launch the iWatch, which will help to accelerate revenue growth by adding a few billion to the top line. The company also has tens of billions left on the buyback, which will be very beneficial to shareholders. I believe Apple has a bright future ahead, and my current $112 price target reflects my optimism.
Disclosure: The author has no positions in any stocks mentioned, and no plans to initiate any positions within the next 72 hours.
The author wrote this article themselves, and it expresses their own opinions. The author is not receiving compensation for it (other than from Seeking Alpha). The author has no business relationship with any company whose stock is mentioned in this article.
Additional disclosure: Investors are always reminded that before making any investment, you should do your own proper due diligence on any name directly or indirectly mentioned in this article. Investors should also consider seeking advice from a broker or financial adviser before making any investment decisions. Any material in this article should be considered general information, and not relied on as a formal investment recommendation.