In its last quarterly earnings call, Occidental Petroleum (NYSE:OXY), or Oxy, revealed a bit more about what the company would look like after its split and likely restructuring. In the conference call, management more clearly delineated results from California acreage, which will be split off into California Resource Company by the end of this year. Management also mentioned that it is still working on a sale of its Middle East/North Africa assets. Finally, management hinted at the sale of some other North American assets, as well.
More and more, it looks like the 'new' Occidental Petroleum will be a Permian Basin-focused company. Occidental has over 1.9 million net acres in the Permian Basin, making Oxy the second biggest acreage holder there second only to Chevron. Oxy will get impressive growth from the development of its horizontal drilling operations in the two prime Wolfcamp drilling shelves: Wolfcamp A and Wolfcamp B. Development of horizontal drilling in the Permian will easily be funded by Oxy's highly profitable enhanced oil recovery operations.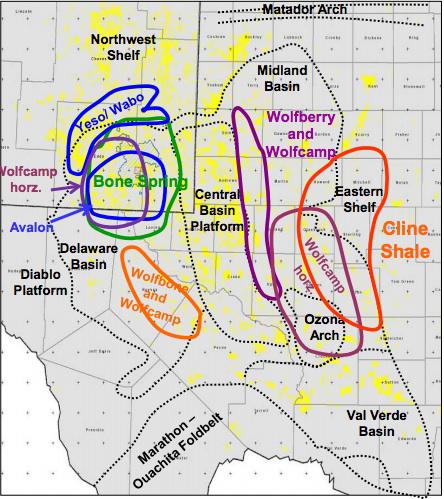 A look at Oxy's Permian shale holdings (in bright yellow)
In splitting off its businesses, Oxy is following in the footsteps of ConocoPhillips and Vodafone in an effort to unlock the full value of all the company's assets. Oxy plans on rewarding shareholders by buying back a massive amount of shares. Some of these plans have already been mentioned. Some, I believe, are yet to come. This article will look at the pro forma Occidental Petroleum. I believe that Oxy is indeed worth considerably more in pieces than it is worth today as a whole.
Permian kingpin
Most experts now agree that the Permian Basin is the next big shale play to be developed. Whether it will be as profitable as are the Eagle Ford and Bakken remains to be seen, but we do know, from reports from companies such as EOG Resources, that the Wolfcamp shale will be a very profitable one. Some companies, such as Pioneer Resources, believe the Sprayberry-Wolfcamp field to be the second biggest single oilfield in the world next only to the largest one in Saudi Arabia.
But, like many large oil companies, when it comes to horizontal drilling, Occidental has been beaten to the punch. Instead of jumping into the shale aggressively, Occidental instead opted for a more diversified approach anchored by an LNG "mega project" in the Middle East. As a result, Occidental's Wolfcamp operations are admittedly "behind" those of more focused shale-drillers such as EOG and Pioneer. In order to 'catch up' in production, returns and ultimate recovery, Oxy is currently spending big on proppant concentration, well downspacing and other things. The company is heavily appraising its Wolfcamp A and Wolfcamp B acreage, and plans to spend an unprecedented $1.9 billion in the Permian in 2014.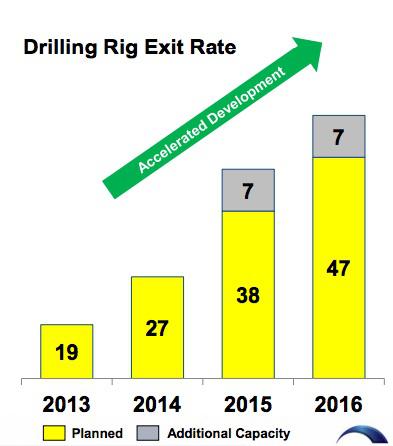 Courtesy of Occidental Investor Relations
This above chart shows just how serious Occidental now is about exploiting the Wolfcamp shale. While this rig rate will be unmatched in the Permian, it is still important for Occidental to get its drilling efficiency on par with companies such as EOG and Pioneer. Such shale expertise may be best acquired through future acquisitions, but acquisitions of this kind won't likely occur until Oxy completes its split-up.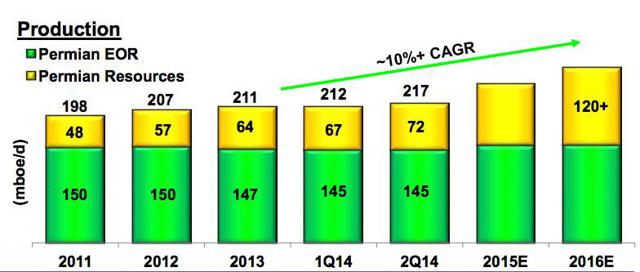 This chart shows how Occidental plans to grow production by a compound annual rate of ten percent per year through 2016 at least. If crude oil export restrictions are lifted, I would expect this trend to be extended. As a Permian-focused company, this should translate to near-10% growth after management has finished selling the assets which it intends to shed.
Serious buybacks
As a result of the coming spinoffs, Occidental will buy back almost 24% of its overall share count. Much of this share buyback is already committed. For example, the company currently has a buyback plan of 20.5 million shares. As a result of the California separation, management will buy back another 60 million shares. Finally, management will buy back another 25 million shares due to the sale of its stake in Plains All American Pipeline. Together, that amounts to about 13% of Occidental's existing share count. Not too shabby.
But Oxy will buy back more than just that. These three buyback programs do not include the coming sale of Occidental's Middle East and North Africa unit, for which management believes it can fetch another $8 billion or so. While some of that will likely go to debt reduction, most will also go to buying back shares. If Oxy can sell its Middle East and North Africa assets for $8 billion, and designate all of the proceeds to share buybacks, the total buyback goes from 13% to 24% based off of today's share count.
To be sure, I believe there will be yet more buybacks after this. CEO Steve Chazen has already hinted that Oxy is looking to sell acreage remaining in the Bakken and Piceance, both of which I believe will get a good price. Neither of these assets are a very large part of Oxy's portfolio, but the additional share buybacks would likely be of use just because there will already be so much downward pressure on the share count.
In any case, with a share count almost 25% lower than where it is now, Occidental looks like it will be a Permian-focused company and will have only a few other significant areas of operations such as Colombia. With a much smaller share count and $1.8 billion in free cash flow from the Permian, it's safe to estimate a dividend yield of about 3.0%; only slightly above today's yield.
However, keep in mind that Permian production is growing and the Wolfcamp shale play right now needs a huge amount of capital in order to properly develop. As the shale play matures, horizontal drilling operations in the Permian will come closer to being cash-flow neutral, and will eventually be cash-flow positive and actually add to the dividend provided largely by enhanced oil recovery operations. That means free cash flow will grow even faster than will production, and production is already slated to grow at 10%.
In short, Occidental may not achieve an instant, dramatic upward spike from its split as both ConocoPhillips and Vodafone did. However, the company will have unmatched production and dividend growth, at least for a large oil company. One should expect approximately 10% year on year production growth and a dividend growth rate that is even higher, perhaps significantly so.
Risk factor
There are a couple things that could throw a monkey wrench into Occidental's plans. One is a steep (and ironic) pricing differential between realized prices for Permian oil and West Texas Intermediate prices. The Permian Basin has been plagued by midstream marketing issues as oil production has simply grown much faster than has capacity to move that oil. With the completion of a few major pipelines from the Permian to the Gulf Coast, this problem could soon be solved for the time being. Lower realized prices will hurt Occidental and other Permian-focused drillers.
More significant a risk is the coming overcapacity of crude oil in the US. Many experts, including midstream crude oil giant Plains All American Partners, believe that the US will produce about 900,000 more barrels of condensate and light sweet crude than it consumes by 2017. Therefore, this oil must be exported if oil realized prices are to remain above $90 per barrel as they have for the last few years. Unfortunately, there is a 40+ year-old ban on crude oil exports in the United States.
Not long ago, however, the appropriate regulatory agency issued a permit for Pioneer Resources, one of the biggest horizontal drillers in the Permian today, to export limited qualities of condensate, apparently on the notion that condensate is different enough from crude oil to not technically be classified as such. Just a few weeks ago, ships carried oil out of the United States for the first time in over forty years. This has ignited hope that more of such permits will be issued. Condensate accounts for about 300,000 of the coming 900,000 barrels of excess capacity. Light, sweet crude oil accounts for the remaining 600,000. Judging by the fact that the Permian Basin seems to be the source of recent supply bottlenecks, I believe that the Permian will be the area most affected by whether the export ban on crude gets lifted. The fortune of Occidental Petroleum, therefore, will be strongly linked to how the domestic supply issue plays out in the coming years.
Conclusion
Throughout the 1980s and '90s, Occidental built a sprawling business centered on connections in the Middle East. Steve Chazen, who has been CEO since 2011, has decided to focus more on North American assets instead, and has been working to consolidate the business into a focus on a few key areas. This spinoff represents a quantum leap in the same direction.
When the dust all settles, I believe that Oxy will no longer be a sprawling global oil company but a focused, Permian Basin play. As such, there will be more geography-specific risk. However, Oxy should also be able to grow production at rate well above what it used to be capable of. In addition, investors should expect faster dividend growth.
Those looking for a large oil company should right now consider Occidental before most others. The pro forma Oxy will have excellent dividend growth, a huge shale position with vast potential, and some of the most profitable vertical drilling acreage in the United States.
Disclosure: The author has no positions in any stocks mentioned, and no plans to initiate any positions within the next 72 hours.
The author wrote this article themselves, and it expresses their own opinions. The author is not receiving compensation for it (other than from Seeking Alpha). The author has no business relationship with any company whose stock is mentioned in this article.