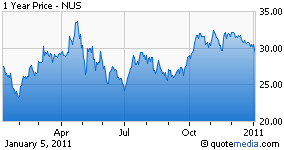 Nu Skin Enterprises (NYSE:NUS) is a global direct marketing firm focused on selling personal care products and nutritional supplements. The company has two primary brand lines. Nu Skin consists of personal care products, mainly focused on skin care. Some product examples include moisturizer, suntan lotion, soaps, cosmetics, and so forth. Pharmanex is the nutritional supplements line. Products here include LifePak pill-based supplements (similar to what you'd find at GNC), g3 nutritional fruit juices, weight loss shakes (like Slim-Fast), etc.
Last year, the Nu Skin line accounted for about 55% of sales, and Pharmanex 43%. Over a longer period of time, the breakdown has been about 50/50. Nu Skin is truly a global company. Japan is its largest market at about 30% of sales. China accounts for about 18% of revenue, and both the U.S. and South Korea 15%.
You won't find Nu Skin products in your local grocery store. This is a direct marketing (or "network marketing" or "multi-level marketing/MLM") firm, with products only available through individual distributors. Most are probably familiar with Avon (NYSE:AVP) or Amway, which have similar business models (and in some products are direct competitors to NUS). Individuals start their own Nu Skin distribution business, which can be expanded by recruiting new people to be distributors under them. Nu Skin has over 761,000 active distributors worldwide. While that figure has been pretty much flat over the past 3 years, the number of "executive distributors" has increased about 10%. Executive distributors are those that have built large networks and sales volumes.
While many (including myself) have been skeptical of MLM companies, a few things caught my eye on NUS. First, they do not pay recruitment bonuses - only commissions on sub-distributor sales. Second, the company's culture is not focused on signing up new distributors at any cost. This limits the "churn and burn" aspect that is the major turn-off against more aggressive firms. Additionally, NUS averages a 42% commission payout on sales, one of the highest of any MLM.
One other thing on MLMs - they have been good choices out of the Magic Formula Investing (MFI) screen. HerbalLife (NYSE:HLF) is up an impressive 267% since appearing in MFI in April of 2009. Avon is up over 70% since appearing in February of 2009. Pre-Paid Legal (NYSE:PPD) is up 35% in the past year. The very low cost of the MLM business model makes it a highly efficient way to market and distribute product.
Nu Skin's growth will come from two sources: emerging markets and new products. The company posted 30% year-over-year growth in China for Q3, in addition to 55% in South Asia (Indonesia, Singapore, Australia, etc.). ageLOC, a new line of products focused around anti-aging, has been a huge hit in 2010. NUS is expanding ageLOC into nutritional products now with their Vitality line of dietary supplements. Just launched in the fall, management expects this to be a major contributor to revenue growth. NUS is in line to grow operating earnings for 2010 by 40%, and is projecting about a 10-12% increase for 2011.
The success of ageLOC in 2010 has created impressive business momentum. Nu Skin is one of the few companies, Magic Formula or not, with a perfect Piotroski score of 9.
This firm also has an impressive management team. Blake Roney founded Nu Skin in 1984, still sits as chairman, and holds a 13% ownership stake. Current CEO Truman Hunt has been the head since 2003 and with the company since 1994. CFO Ritch Wood has been at Nu Skin for 17 years. The board includes another co-founder and the previous CEO as well! Insiders collectively own about a quarter of the shares. There appears to be strong loyalty to the company, making stability and continuity a real positive.
While I believe this is a good company, a few things prevent a full recommendation. First, using modest growth targets and historical multiples, I come out with a fair value of $34 a share. That represents a decent 14% upside, but I'm looking for more in the 25-30% range (and up).
Also, some of Nu Skin's main markets have restrictive and fluid regulations around MLM organizations. Japan in particular has seen increased government and media scrutiny, and Nu Skin has faced numerous complaints there. China's regulations are especially unclear - the company has implemented more of a retail store model there. MLM firms, like franchisors, are always at risk of a large distributor running amok and hurting the entire brand's reputation. Government risks have been a huge impediment to some MFI stocks over the past several years (look at for-profit education, for example).
The bottom line is that this is a good company with excellent business momentum that makes a decent MFI choice today, but a better one should the stock pull back to around $25.
Disclosure: No position