As a society we are heading towards a future where almost everything is connected to the Internet. Machine-to-machine communications, or M2M, will be a fundamental factor in syncing together all types of objects and devices; allowing them to communicate and capture data. As a leading global provider of wireless M2M solutions, I.D. Systems (NASDAQ: IDSY) is increasingly positioning itself for success in this growing market.
The company secures, tracks, and manages high-value enterprise assets, including everything from forklifts to rental car fleets. It also monitors and analyzes fleets of vehicles, cargo, and even the people involved in their operations; which assists its customers with efficiency, productively, safety, and the reduction of maintenance and operating costs. This makes it a player in analytics as well.
Growth through dominant market share
The company posted revenues of $11.4 million when it reported on August 7. This was not only a record for the company, but was also a respectable 22% increase year-over-year, as well as a 17% sequential increase in sales. The main growth driver of revenues during the quarter was sales of industrial vehicle management systems, or VMS, which grew 41% y-o-y.
VMS is especially lucrative for the company because there's only around 5% market penetration, and according to CEO Ken Ehrman, the company owns around 50% market share coupled with "market leading intellectual property". I.D. Systems also successfully made its first VMS deployment in China during the quarter, opening up another major potential growth outlet.
Shifting the business model
CEO Ehrman revealed during the conference call that his company is modifying its mindset going forward, stating that:
We are shifting our go-to-market strategy to a more service and software oriented model, with a cost barrier to customers initial investment is lower, but there is a significant recurring revenue stream for licensing our software and intellectual property, hosting our systems in the cloud and providing remote support and upgrades throughout technology.
The recurring revenue model done right can be very lucrative. Especially if the streams are long-term sustainable. I.D. Systems' recurring revenues during the second quarter were $4.5 million versus $4.4 million during 2Q of 2013.
At first glance this appears to be a less-than-ideal increase, as recurring revenues as a percentage dropped to 39% of total revenue compared to 46% of total revenue in the second quarter of 2013. Management revealed that this drop was primarily due to a "strong" increase in product sales, however, with CFO Ned Mavromatttis elaborating, "We expect our recurring revenue will increase at a higher rate over time, as we bring a new generation of products to market, with a model that heavily emphasis recurring revenue."
Investing for future profitability
I.D. Systems posted a loss during the quarter of $1.7 million, or -$0.14 a share, missing analyst expectations. Ehrman offered some encouraging words, however, in the Q&A session, saying:
...we are absolutely setting ourselves up to be profitable in 2015. We're spending the money now that we need to spend to put us in a position to accelerate the adoption of our technology by our core customers. If we didn't spend that money, that would just push out and the more it pushes out, the more that pushes out our profitability, where we 100% have a product and a market that would support significant revenue growth and profitability and predictable revenue growth and in order to get there, right now we need to make these expenditures to set the infrastructure in place to achieve our objectives.
Perhaps some of this can be seen and felt in the company's gross margins during the quarter, which fell to 45% from 52% during the previous year. This drop was mostly due to a channel partner incentive program that had lower margins than the company's more traditional direct-to-end-user sales. The program did increase channel sales by 67%, however. The company also expects its margins to be back at historical levels by the end of its fourth quarter.
Back to normal in 2015?
CFO Mavrommatis also expanded on the lower gross margins during the Q&A session, explaining that the lower margins are also accompanied by a lower cost of sale. This will allow the company to continue to keep operating expenses flat going forward, while also realizing "significant" additional revenue streams.
The company expects to complete its I.D. Systems 2.0 initiative, which is "currently spread across 24 projects", by the end of 2014. These projects "are improving the scalability and replicable quality of our products, internal processes, implementations and customer support," according to Ehrman. The majority of expenditures related to I.D. Systems 2.0 are also one-time in nature, and the company currently expects to return back to normal operating levels by 2015. The initiative is a comprehensive improvement plan at the corporate level, and was budgeted for roughly $2.5 million in total.
Fundamentals and valuations
I.D. Systems has a fortress balance sheet, ending the quarter with $14.6 million in cash, cash equivalents and marketable securities. It currently contains no debt.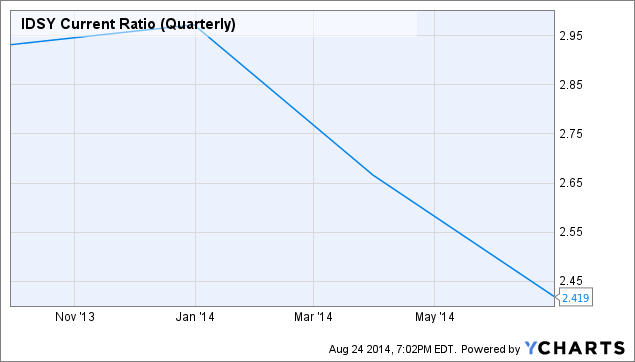 IDSY Current Ratio (Quarterly) data by YCharts
Assuming the company does turn a profit in 2015, shares look relatively cheap as well. Analysts estimate the company will earn $0.36 a share for 2015, which puts shares at roughly 15 times forward earnings.
As of now, it's more logical to value shares in relation to sales, where they look reasonable valuation-wise as well, trading near the lower end of the scale over the last five years: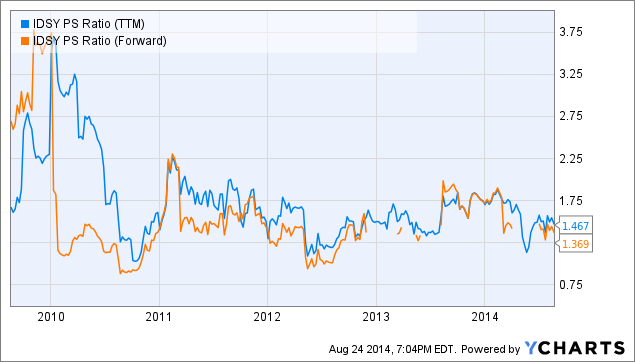 IDSY PS Ratio (TTM) data by YCharts
The bottom line
It appears that I.D. Systems is setting up for success in 2015. If and when its operating levels and margins level-out and return back to normal, the market might fully realize the company's potential.
The company also indicated during the quarter that it received purchase orders for VMS deployments from new customers that included "one of the world's largest automotive manufacturers, a Fortune 500 tobacco company, a major airline, and one of the largest truckload carriers in North America." These new customers also have enterprise expansion potential for the company.
Despite its small size (a market cap of $64.51 million), the company already has a very large and impressive list of customers. These customers include: 3M, Audi, Caterpillar, CNH, Cummins, Deere, Ford Motor Company, Forward Air, General Mills, Kellogg's, Knight Transportation, Meijer, Nestlé, Procter & Gamble, Swift Transportation, U.S. Trailer Holdings, U.S. Postal Service, Walgreens, and Wal-Mart, just to name a few. A business model secured by recurring revenues adds to the attraction of the company's growth prospects as well.
Disclosure: The author has no positions in any stocks mentioned, and no plans to initiate any positions within the next 72 hours.
The author wrote this article themselves, and it expresses their own opinions. The author is not receiving compensation for it (other than from Seeking Alpha). The author has no business relationship with any company whose stock is mentioned in this article.
Additional disclosure: Articles I write for Seeking Alpha represent my own personal opinion and should not be taken as professional investment advice. I am not a registered financial adviser. Due diligence and/or consultation with your investment adviser should be undertaken before making any financial decisions, as these decisions are an individual's personal responsibility
Editor's Note: This article covers one or more stocks trading at less than $1 per share and/or with less than a $100 million market cap. Please be aware of the risks associated with these stocks.