Today, we are going to look to a Midterm position. The market has pulled back a bit and looks to do it some more this morning, so this appears to be a nice buying place.

Midterm Trade of the Day: Gammon Gold Inc. (GRS)
Analysis: Gold is going to be another great place to invest in 2011. With continuous uncertainty surrounding the dollar (its inflationary possibilities, European woes, and tax issues), gold remains a safe haven for investing. Today and yesterday, however, gold gave up major gains after a 30% increase in 2010. Tuesday was the largest downward pressure gold had suffered in six months. With the price of gold went gold mineral miners like Gammon.
This downward momentum, to us, looks to be a great buying opportunity. This stock is one that has major potential moving forward. The stock gave up over 5% in the past couple sessions and has hit its midpoint in between its current trading bands. It is gaining support there, and the stock has potential to move back well over 8 if gold can add value. Gold is trading down again today as equities move down and the dollar rises, but this is not a trend that should last. The market was able to recover all losses yesterday, added tons of jobs in December according to the ADP report this morning, and appears still bullish.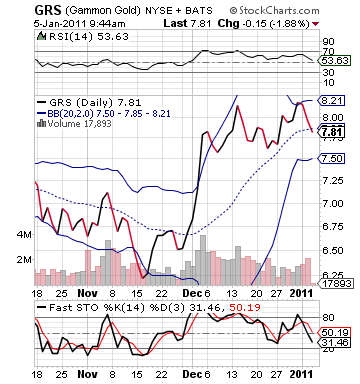 Also working in Gammon's favor is the fact that it has underperformed other gold companies like Capitol (CGC-OLD) and Rangold (NASDAQ:GOLD). The stock is well below the types of years that those two companies have had, and it should start to play catch-up throughout 2011. This stock will be a nice buy on any pullbacks like what happened over the last couple days. The company, additionally, looks solid moving into 2011, with two mines fully functioning and another five ready to go this year. It also is looking to merge with CGC.
In the next few days, gold is going to recover these losses, and has bottomed out at current levels. Getting into GRS makes sense at these levels. Downward momentum has slowed and this is a definite value play here.
Entry: We are looking to enter at 7.70 - 7.80.
Exit: We are looking to exit for a 3-5% gain.
Stop Loss: 4% on bottom.
Timeline: Two days or more.
Confidence: 8 out of 10 (10 being the highest).
Disclosure: I have no positions in any stocks mentioned, and no plans to initiate any positions within the next 72 hours.