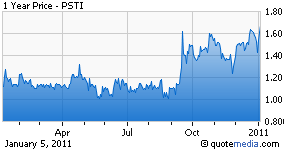 On December 8, 2010 Mesoblast Ltd. (MBLTY.PK) and Cephalon (NASDAQ:CEPH) announced a deal that I believe gives insights into the potential value of Pluristem Therapeutics, Inc. (NASDAQ:PSTI).
PSTI and MBLTY.PK are both cell therapy companies and are considered comparables. PSTI, an American company with headquarters in Haifa Israel, uses the Human placenta (afterbirth) as a source of their therapeutic cells while MBLTY.PK, an Australian company, uses bone marrow as their source of cells. Additionally, PSTI grows their cells in-house in a proprietary bioreactor while it is felt that MSB outsources the expansion of their cells where they are grown in Petri dishes or tissue flasks.
Both PSTI and MBLTY.PK have conducted several pre-clinical studies indicating their respective cells are potentially effective in a variety of indications including orthopedic, cardiovascular, hematological and neurological diseases. PSTI has recently completed two Phase I/IIa trials in Europe and Germany in peripheral vascular disease while MBLTY.PK is entering Phase III trials as an alternative to bone marrow transplant in hematological malignancies and in Phase II trials for orthopedic and cardiovascular indications. Therefore, it is safe to assume that MSB is "ahead" of PSTI in terms of number of clinical indication for which their cells are in trials However, I believe PSTI will continue to show progress and "get to where MBLTY.PK is" over the next year.

The highlights of the CEPH-MBLTY.PK deal are as follows:

1. CEPH has licensed MBLTY.PK's cells for the following indications:
a. Cardiovascular disease – including congestive heart failure and acute myocardial infarction.
b. Neurodegenerative disease – including Parkinson's disease, Huntington's chore and Alzheimer's disease.
c. In oncology – for the expansion of hematopoietic precursor cells in hematological malignancies.
2. CEPH will pay 50% of all preclinical cost (through Phase IIa) for the chronic neurodegenerative disease indications and 100% of the costs for clinical development post IIa for all indications licensed.
3. CEPG to pay $100 million to MSB up front on signing the deal and an additional $30 million after share holder approval to sell 19.9% of MSB's equity to CEPH at $4.35 ( a 45% premium to MSB's 30 day average at the time of the deal).
4. CEPH will pay milestone payments to MSB that could amount to as much as $1.7 Billion.
5. CEPH receives sales and marketing rights for the above indications.

MBLTY.PK's market value is currently approximately $745 Million while PSTI's market value is approximately $35 Million. As PSTI enters clinical trials for the other indication with their proprietary placental-expanded cells, their market value should reasonably approach or potentially exceed the market value of MSB because, in my opinion, PSTI's cells are easier to obtain and grow and are potentially better cells therapeutically.

Ergo, my opinion is to accumulate PSTI's Stock.