21 Vianet (NASDAQ:VNET) will report 2Q14 results on Wednesday after market close. A conference call is scheduled for 8pm EST. Detail of the call is below.
| | |
| --- | --- |
| United States: | +1-845-675-0438 |
| International Toll Free: | +1-855-500-8701 |
| China Domestic: | 400-1200654 |
| Hong Kong: | +852-3051-2745 |
| Conference ID: | # 77804574 |
The replay will be accessible through September 3, 2014 by dialing the following numbers:
| | |
| --- | --- |
| United States Toll Free: | +1- 855-452-5696 |
| International: | +61-2-90034211 |
| Conference ID: | # 77804574 |
Consensus expects RMB 0.65 EPS on RMB642m in revenue (Please note that VNET reports in RMB). VNET has had a good year so far with a twelve-month performance of +124% vs. the NASDAQ of 24% thanks to the rising demand for cloud services and data centers in China on the back of increasing data consumption on both PC and mobile. In addition, the partnership with IBM and Microsoft validates VNET's leading position in providing cloud services in China. The company is aggressive in both organic and M&A expansion. Q1 results reflected that the core hosting business is still growing at a robust pace (+53% y/y) on the back of rising data demand, and the company wants to leverage the near-term success to acquire assets that could further expand its scale (hence the acquisition of Dermot earlier this month).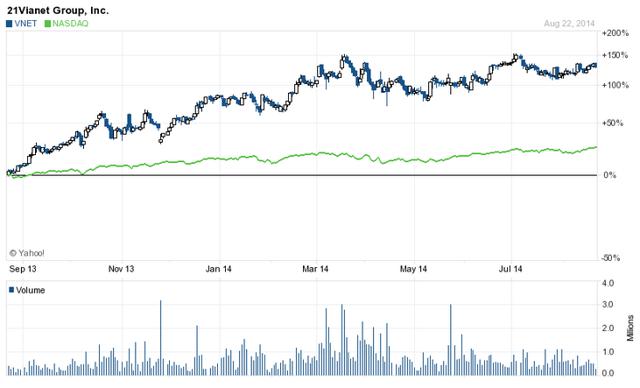 Hosting and cloud keeps on delivering
I expect the core hosting business to continue deliver another set of solid growth driven by data demand, in particularly from mobile. The trend toward cross connection between customers is on the rise in that traffics can be routed between customers rather than through telcos, thereby enhancing operational efficiency. I also expect the cloud services to progress smoothly with healthy uptick in both Azure and Windows. Last quarter, VNET had 9,000 Azure users and 20,000 Windows 365 users. While there is little evidence of the monetization impact behind these products, management has indicated that both products are well received by the customers and that user stickiness is high, which bodes well for long-term revenue growth.
Expect more M&As ahead
VNET is looking to invest/acquire businesses that will further boost its hosting and data delivery business, hence its investment in Aipu in June in which VNET buys into an internet provider that already has the capacity and bandwidth lease in place. The acquisition is will not only save on cost but also be earnings accretive in the long-run. Moreover, the acquisition of Dermot earlier this month essentially doubled the size of VNET's VPN capacity, an important asset post the IBM partnership in which corporate customers will require reliable VPN services. We could see more acquisitions ahead as VNET looks to solidify its standing as the largest independent carrier neutral data center service provider in China.
Disclosure: The author has no positions in any stocks mentioned, and no plans to initiate any positions within the next 72 hours.
The author wrote this article themselves, and it expresses their own opinions. The author is not receiving compensation for it (other than from Seeking Alpha). The author has no business relationship with any company whose stock is mentioned in this article.