Qunar (NASDAQ:QUNR) reported 2Q14 result and Q3 guidance both of which were above consensus. Revenue of RMB400m (+127% y/y) was higher than the management's guidance of 90-95% y/y growth and beat consensus by 17%. Net loss per ADS of RMB3.60 was a function of higher opex due to the ongoing investment in mobile. Management guided 90-95% y/y growth for Q3, which I suspect to be conservative and could bring another round of revenue surprise. (Please note that QUNR reports in RMB on its filings.)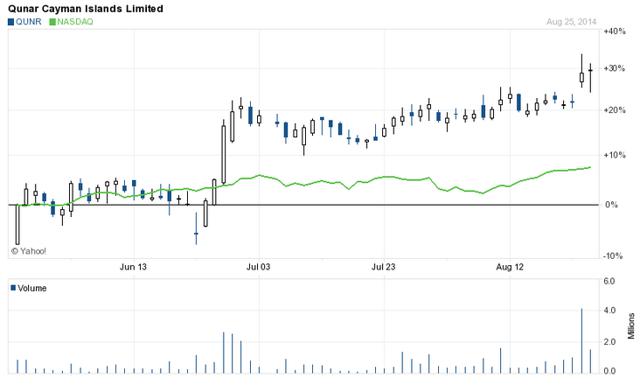 Growth remains sustainable
Total revenue of RMB400m (+127% y/y) handily beat consensus by 17%, driven by strength in both mobile (+512% y/y) and P4P (+137% y/y).
Within the P4P segment, flights and hotel revenue was RMB279m (+143% y/y driven by a 66% increase in total estimated flight ticket volume to 19m and 46% increase in revenue per ticket. As for the hotel side, revenue of RMB72m (+80% y/y) was mainly driven by 105% increase in hotel room volume to 7.3m, which was slightly offset by a 12.5% decline in revenue per room night. The decline in RevPAR was due to higher promotional activities that decreased the average daily room rates. The ongoing promotional activities could continue in the near term but I expect the higher volume to offset the impact when Qunar is able to expand its product offerings in the hotel segment. I note that during the quarter the company has expanded its direct sales network to over 165k hotels, of which 72k was signed over the second quarter.
Finding strength in mobile
Mobile revenue was RMB142m (+512% y/y) and now accounts for 36% of total revenue compared with 13% a year ago, suggesting that Qunar has been successful in directing traffic to its mobile platforms and monetizing its user base. Mobile already accounts for half of the company's hotel volume and 38% of its flight volume, and I expect the momentum to continue on the back of increased investment in mobile products.
Heavier investment in the near term
The biggest culprit behind the weak EPS is due to the heavy spending in opex as the company ramps up its mobile business. Non-GAAP operating margin was -51% for the quarter on heavy sales and marketing spend. Given that the company is in the process of scaling up its network and product portfolio, the heavy investment is likely to continue in the near term. At 15x P/S, the valuation is fairly rich and I am remaining on the sideline until I see a meaningful recovery in profitability.
Disclosure: The author has no positions in any stocks mentioned, and no plans to initiate any positions within the next 72 hours.
The author wrote this article themselves, and it expresses their own opinions. The author is not receiving compensation for it (other than from Seeking Alpha). The author has no business relationship with any company whose stock is mentioned in this article.