Renren (NYSE:RENN) reported Q2'14 results after the market close on Monday, in which revenue of $25m (-42% y/y) beat consensus estimate of $21m. The $0.09 EPS beat (vs. consensus of -$0.08) was entirely on an $86m gain on short-term investment. The company also guided Q3 revenue of $19-21m, implying a decline of 49%-54% y/y.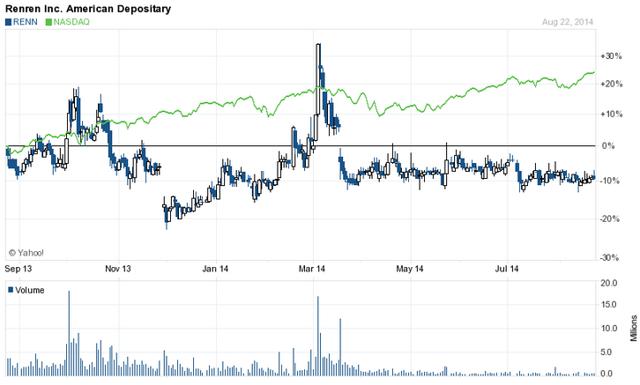 More challenges ahead
Renren's Q2 result highlights the competitive challenges that the company faces, and the diminishing network effect due to a shift in user preference towards Tencent's WeChat. The core site revenue declined -27% y/y to $15m, in which advertising revenue of $11.7 (-24% y/y) indicates further monetization challenge, in particular on the mobile front. IVAS revenue of $3.4m (-35% y/y) declined due to the 18% y/y decline in MAU. Game revenue of $10m (-56% y/y) is the result of its aging titles and the lack of success of the new titles.
The company's weak outlook further highlights the challenges that Renren faces. The core business is facing competitive pressure from the mobile social networking platforms such as WeChat and Weibo (NASDAQ:WB), while its gaming segment is losing value due to lack of new contents. Furthermore, its 56.com video site cannot match the scale of Youku (NYSE:YOKU) and Baidu (NASDAQ:BIDU). In short, Renren's decline is unlikely to reverse in the near term, and investors are better off putting their money into more established social networking players such as Tencent (700 HK), Facebook (NASDAQ:FB) and/or LinkedIn (NYSE:LNKD).
Cash offers support, and future lies in privatization
At the end of the quarter, Renren has net cash of $2.55/ADS, which I believe will offer support for the shares in the near term. However, beyond such support, visibility is anything but clear, given the competitive environment and the lackluster performance. For the believers of Renren, my view is that the only way for the company to create shareholder value is through privatization, given the diminishing monetization value behind its asset, but I would not hold my breath for this one.
Disclosure: The author has no positions in any stocks mentioned, and no plans to initiate any positions within the next 72 hours.
The author wrote this article themselves, and it expresses their own opinions. The author is not receiving compensation for it (other than from Seeking Alpha). The author has no business relationship with any company whose stock is mentioned in this article.