Annie's Inc. (NYSE:BNNY) is a natural and organic food company that sells meals, snacks, and dressings and condiments primarily through its brand. The meals constitute 40% of sales, snacks constitute 41% of sales, and condiments and dressings constitute 14% of sales. The company was founded in 1989 and began operations by selling macaroni and cheese products in the New England area. Today, Annie's offers over 145 products and is present in over 35,000 retail locations in the United States and Canada. The company was listed in the NYSE in early 2012 and began trading on March 28th, 2012. In this article I will discuss the company's financial performance as well as the lawsuits against Annie's and the impact of those lawsuits.
Financial Analysis:
Annie's Inc. announced the financial results of the first quarter of 2014. The company reported net sales of $43.3 million reflecting an increase of 10.1% compared to the figure reported in the first quarter of the previous year. Annie's derived its total revenues from four major segments: meals, snacks, dressings and condiments, and supply agreements.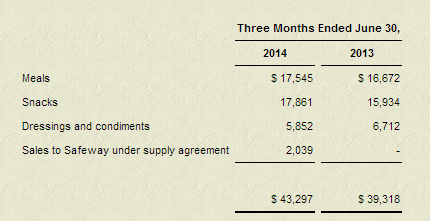 Source: Quarterly Statement

Despite the growth in the top line the company failed to outweigh the Thomson Reuters earnings estimate. The company managed to beat the sales estimate by $0.6 million but earnings were negative $0.06 compared to the consensus estimate of negative $0.03.
Source: Thomas Reuters
Annie's Future Prospects:
The natural and organic food industry currently totals $54 billion and grew 12% annually from 1997-2012. The industry is expected to continue to grow 11.3% annually to $113 billion in 2020. The total grocery industry sale for 2013 was $620 billion. Annie's current year sales estimate is $241 million and represents a 0.38% market share in the organic industry and 0.033% of the total grocery industry. Sales growth should not be difficult for Annie's to overcome with the combined impact of industry growth and market share gains. But the company is facing some serious allegations regarding misrepresented information and securities fraud. These issues could cause serious damage to the company's reputation and raise serious concerns among its stakeholders.
Lawsuits Against Annie's:
Class Action Lawsuit by Glancy Binkow & Goldberg LLP:
"Glancy Binkow & Goldberg LLP, representing investors of Annie's, Inc., has filed a class action lawsuit in the United States District Court for the Northern District of California on behalf of a class comprising all purchasers of Annie's, Inc. securities between August 8, 2013 and June 3, 2014.

The Complaint alleges that defendants misrepresented and/or failed to disclose material adverse facts about the Company's operations and financial performance, including that:

The Company's historical methodology for estimating certain trade allowances did not include all related trade promotion costs.

The Company's controls over accounting for contract manufacturing did not sufficiently evaluate the valuation and accuracy of all contract manufacturing receivables and payables.

The Company had a material weakness in its ability to detect misstatements as a result of its insufficient controls.

As a result of its inadequate internal and financial controls, the Company's financial statements were materially false and misleading at all relevant times."
Reason for Lawsuit:
On June 2, 2014, Annie's, disclosed that the company had identified a material weakness in its internal control over financial reporting that was not effective as of March 31, 2014. According to the company, the material weakness related to "an insufficient complement of finance and accounting resources resulting in design deficiencies in certain areas in which our controls were not precise enough to detect misstatements that in the aggregate could be material to the consolidated financial statements."
Annie's, Inc. 401(k) / ERISA Lawsuit:
ERISA is a federal law that sets minimum standards for pension and health plans set up by private businesses. ERISA was designed to protect people who participate in employee benefit plans, including employees with stock options in a company.
"Annie's, has been accused of securities fraud. All the current, former employee and member of any of Annie's, Inc. investment plans or profit sharing retirement plans are included in this possible Annie's, Inc. 401(k) or Employee Retirement Income Security Act (ERISA) class action. All that employees or member of any investment plan which have suffered from Annie's, Inc. 401(k) plan losses are qualified for damages or remedies that may be awarded in a possible Annie's, Inc. ERISA class action lawsuit."
Impact of Lawsuits:
I feel that the intensity of these allegations is quite strong and the company will have to suffer huge fines if the company is found guilty. Right now it is difficult to estimate the amount of fines and penalties but before discussing any expected lawsuits expenses I would like to discuss the company's financial stability.
By the end of the first quarter of 2014 the company's net assets were around $85 million and a major portion of those assets were non-cash assets, goodwill amounting to $32 million, and deferred tax of $4.2 million. In short the company's actual assets are around $50 million which includes $1.6 million in cash, $17 million of receivables, and $27 million of inventory. On the other side the company does not have any reserves and will have a very negative impact on the company's financial stability. Overall, the company has 17 million shareholders and the net book value per share is around $2.9.
I believe that if the company fails to defend itself then it would prove to be disastrous. The company has been listed on the NYSE since 2012 and within 2 years after listing the company is facing two serious allegations. This will cause an adverse effect on the company's reputation and investors' confidence as the company already suffered a decline of 40% in its share price in the past 10 months. If the company is found guilty then it won't be hard to predict the company's future. So right now the company's future depends on the decision of those lawsuits.
Final Thoughts:
Right now my complete focus is on those lawsuits because the company does not have a strong reputation and if anything negative happens its stock price will dip. Therefore I would recommend waiting until the court discloses its decision.
Disclosure: The author has no positions in any stocks mentioned, and no plans to initiate any positions within the next 72 hours.
The author wrote this article themselves, and it expresses their own opinions. The author is not receiving compensation for it (other than from Seeking Alpha). The author has no business relationship with any company whose stock is mentioned in this article.