In the usually quiet week between Christmas and New Year's China shook up the investing world by saying that it will further limit exports of rare earth elements. By now you've likely heard of rare earth elements, either in this letter or from other media outlets.
Here's the bottom line - China's protectionist policies spell opportunity for small cap investors with exposure to rare earth stocks - but you need to know where to look. You also need to be aware that at some point the seemingly relentless ascent of these stocks will end. Furthermore, the weak ones will crumble, so these are not 'buy and forget' type investments.
China's announcement that it will curb export permits for such minerals by 35 percent in the first half of 2011 is no small deal. The country has a stranglehold on the supply of rare earth elements, and it's not easy to get rare earths out of the ground and to world markets. By some estimates, China's domination amounts to 97 percent of production, even though it's believed to hold a third of global reserves.
China's planned quota cutback comes on top of the country's 72 percent export reduction in the second half of 2010. What worries analysts most is that China has always lumped together a very diverse group of 17 minerals under a single quota, but now it appears ready to enforce stricter control by embracing specific limits on the elements.
Beijing's rationale for the quotas is that it is aligning exports to World Trade Organization policies- and that it wants to conserve its holdings to ensure future supplies. Of course, by clamping down China also will force prices to rise, thereby helping domestic producers and helping pump GDP higher. That's important in a country where the government needs to keep the population enticed by the carrot of higher living standards that accompany greater growth.
But Beijing's policies are causing ripples across the Pacific. One concern of the U.S. government is that some of the minerals are needed for critical weapons systems, rangefinders and night-vision goggles.
Rare earths are important to you and me as well, because they're used to make a growing number of high-tech electronic devices, from Apple's (Nasdaq: APPL) iPhone to LED lights by Cree Systems (Nasdaq: CREE), to hybrid vehicles from the likes of Toyota (NYSE: TM) or Honda (NYSE: HMC).
Some members of this group of 17 rare chemical elements are also invaluable to electric vehicle makers General Motors (NYSE: GM) and Nissan (OTCPK:NSANY) for their magnetic properties. They're also used in lasers and in equipment to help harvest wind energy.
Despite their name, rare earth elements are not all that rare on earth. Here's a chart from a recent U.S. Geological Survey report that breaks down 2009 production:
2009 Rare Earth Production (Metric tons)
| | | |
| --- | --- | --- |
| Country | 2009 Production | In-Ground Reserves |
| China | 120,000 | 36 million |
| India | 2,700 | 3.1 million |
| Brazil | 650 | 48,000 |
| Malaysia | 380 | 30,000 |
| Russia/ex-Soviets | N/A | 19 million |
| Australia | 0 | 5.4 million |
| United States | 0 | 13 million |
| Other countries | N/A | 22 million |
| WORLD TOTAL | 124,000 | 99 million |
What's really rare about rare earth elements is finding concentrated mineral deposits where it's economically feasible to harvest them - that's the challenge. Refining them is also a difficult process. And I'd be remiss not to mention that rare earths are often found alongside radioactive uranium ore, so mining companies have to face that hazard.
But uranium is on a tear now too - so that is actually somewhat of an incentive at the moment despite the physical mining challenges.
Rare earths fall in two groups: light rare earth elements (LREE) and heavy rare earth elements (HREE). Some industry experts, including Jon Hykawy of Canada's Byron Capital Markets, recently told his clients in this report that he expects the shortfalls in rare earth heavy metals (atomic numbers of 62 and higher), but oversupply in the LREEs (atomic numbers 61 and lower).
The U.S. used to be the dominant producer of rare earth elements - until the 1990s when China began to flood the market and wrested control as prices plummeted. Now many North American mining sites sit idle, although Molycorp (NYSE: MCP) -- the biggest holder of non-Chinese rare earth mineral deposits - is prepping a $531 million reopening of a shuttered mine in California's Mojave Desert. Molycorp also is exploring a partnership to make rare earth magnets in the U.S. with Japan's Hitachi Metals Ltd. (OTCPK:HMTLY). Since its August IPO, Molycorp stock has risen a whopping 473 percent.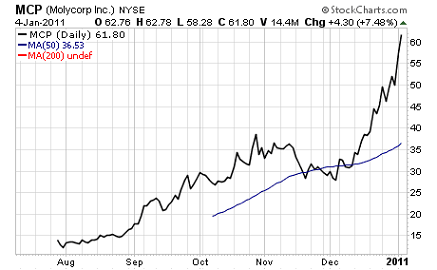 Make no mistake, you'll be hearing a lot more about rare earth elements and companies with rare earth reserves in 2011. I covered some of the potential investments in October in this article, but China's quotas could change the entire global dynamic and open up more exciting opportunities.