United Technologies (UTX) is a technology-oriented and diversified industrial conglomerate. It is one of the top suppliers of building and industrial systems, propulsion and aerospace systems, and helicopters. Among its products are elevators, escalators, as well as security systems. UTX owns some of the leading brands in the industry. It operates in 71 countries from about 4000 locations.
The company earns about 60% of its revenue from outside of the US and it sells its products to large entities including governments and retail customers. UTX has proven its cutting edge and industry-leading R&D capabilities and has provided new technologies and solutions to the global aerospace and building industries.

Click to enlarge
UTX's Strength and Stability Proven by its Strong Financials
Rock Solid Margins
UTX's strength can be seen in multiple areas. UTX's margins (shown in exhibit 1 below) show us the stability of the business. The gross margins remained very stable in the last decade and the operating margins increased during the same period. UTX's strong commitment to R&D enables it to attract steady demand. There is a strong and steady demand for many of UTX's products and UTX serves the demand by providing innovative technology.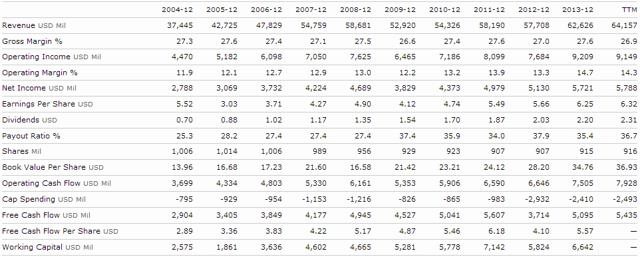 Click to enlarge
Exhibit 1 (Source: Morningstar.com)
Fulfilling the Demand for Innovation Fuels the Company's Top Line
UTX's affinity for innovation has fueled its top line and caused it to grow at a CAGR of 6% in the last decade. Continuous innovation allows UTX to demand premium prices for its cutting edge technologies and this in turn helps its topline to grow. Another factor that will fuel top-line growth is the growing demand in the emerging markets. In 2014 UTX expects its top line to grow to about $65 billion that is about 4% higher compared to last year's sales and UTX expects EPS to increase by 8%-10% compared to last year's EPS.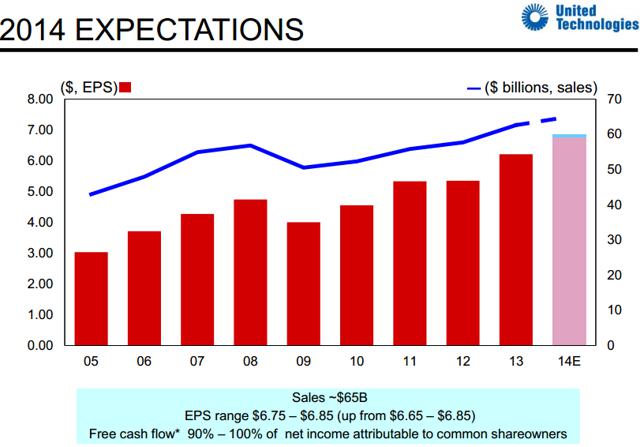 Click to enlarge
Exhibit 2 Source: Earnings presentation
The Company is Growing its Operational Efficiency to Stay at the Top
It is worth noting that the company's operating profit (given in exhibit 1) increased due to increasing operating margins. The operating profit increased at a CAGR of 8% over the last decade. UTX's industry is very competitive and it is very important for a company to increase its operational efficiency in order to better compete in its industry and produce higher returns for investors. UTX has done a great job by increasing its operating efficiency as depicted by its growing operating margins.
Rewarding Shareholders
UTX shares its success with its shareholders through dividends and its share repurchase plan. UTX paid out a constantly growing dividend. In the past decade the company paid out dividends that grew at a CAGR of 14%. UTX increased its dividend payout ratio over the same period from around 25% to 37% and the company's TTM dividend yield is 2%.
Generating Strong Cash Flows
UTX's strength can also be seen in its strong and growing cash flows. The company's ability to produce consistent cash flows will continue to support UTX's leading R&D capabilities and create growth in the top and bottom lines. The company's cash generating ability has also allowed UTX to consistently reward its shareholders.
Reaping Growth in Emerging Markets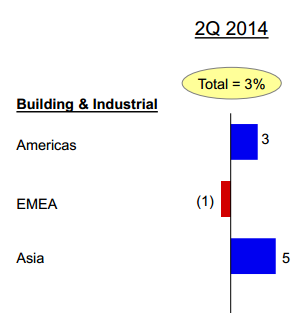 Exhibit 3Source: Earnings presentation
Economists are forecasting healthy growth in the emerging markets of the Asia Pacific region, South America, the Middle East, and Africa. China and India are among the top emerging markets that are expected to produce healthy demand for the products that UTX produces. With the increasing buying power of the middle class and development of trade and businesses there will be healthy demand for UTX's products. In the second quarter of 2014, UTX managed to generate higher organic growth in the building and industrial segment. There was a higher organic growth figure of 5% in the emerging Asian markets compared to 3% organic growth in America (shown in exhibit 3). Strong growth in air travel in the emerging markets is forecasted by economists at the world's top airline manufacturers Boeing (NYSE:BA) and Airbus (NYSEMKT:EAD). Strong growth in the aerospace industry would allow healthy growth in the demand for UTX's products.
Engine Fire Incidences
There was a drop in sales and profits at the company's Pratt & Whitney unit resulting from engine fire incidents and the share price fell as a result. However these incidents are not expected to hurt the company's bright long-term outlook. Therefore the fall in share price provided some investors a good opportunity to take a position in UTX. It is encouraging for investors that UTX's earnings beat consensus analyst earnings estimates in the second quarter of 2014.
Enticing Upside Exists at Current Price
The following is a summary of UTX's valuation as provided by 16 brokers. The consensus target price for UTX reveals very attractive upside potential. The mean target price is $128.31 that presents upward potential of 18% at the current price of $108.56. The median target price is $129 that presents upside potential of about 19%. The most optimistic target price, if materialized, presents upward potential of 27% at the current price. A very encouraging thing is that the most conservative target price is above the current price level and presents upside potential of about 8%.

Relative Valuation
If we look at the price multiples to identify undervaluation we see that the price to earnings ratio is 15.83 times meaning UTX is undervalued compared to the industry. The company appears to be properly priced compared to the sector and overpriced compared to the S&P 500.Building growth in the P/E ratio multiple, the PEG ratio shows that UTX is underpriced compared to the S&P 500 but overvalued compared to the industry and the sector. Overall, the price multiples indicate some undervaluation.

Conclusion
UTX is a leading innovator and industrial conglomerate that has produced consistent and strong financial performance in the last decade. Its strong commitment to R&D will continue to give it a leading position in the industries it operates. The emerging markets are likely to fuel its top and bottom lines in the coming years. Its valuation reveals that UTX's stock is underpriced at the current price.
Disclosure: The author has no positions in any stocks mentioned, and no plans to initiate any positions within the next 72 hours.
The author wrote this article themselves, and it expresses their own opinions. The author is not receiving compensation for it (other than from Seeking Alpha). The author has no business relationship with any company whose stock is mentioned in this article.