Klarman Did What??
Hedge fund manager, Seth Klarman, recently took a 14.06% stake in Veritiv Corp (NYSE:VRTV) for his fund Baupost. Klarman is notorious for bringing an average annual return of 19% for his fund and doing it while remaining 50% in cash.
This article will analyze what VRTV adds to this risk-averse, value investor's portfolio.
Biotech, energy, and Paper stocks?
Klarman's US long portfolio increased an impressive 48% Q/Q from $4.14B to $6.14B, due mostly to the performance of Idenix Pharmaceuticals Inc (NASDAQ:IDIX) and Micron Technology (NASDAQ:MU). Merck (NYSE:MRK) acquired IDIX at $24.50 a share. Although the recent 13-F filing shows that Klarman still holds a stake, Baupost sold out of IDIX August 12, 2014. Four days prior, Klarman took a 14.06% stake in VRTV on August 8, 2014 when the stock was trading at $38 a share, representing 1.4% of the long portfolio.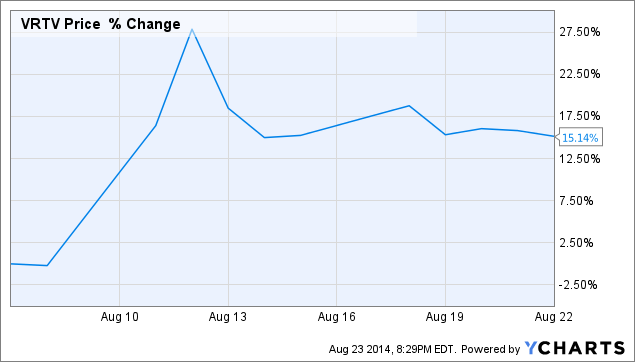 Mr. Market reacted fairly quickly to the news. The share price shot up from $38 a share to $52 a share. However, a poor earnings report on August 13th, 2014 caused the stock to fall back down and VRTV has since been trading between $42-$47 range. With the disposition of IDIX, at $45 a share, VRTV represents 2% of Klarman's long portfolio.
Bringing Paper Back
The bulk of Klarman's holdings appear to be energy, healthcare and information technology stocks. VRTV as a result represents a rare exception for the Baupost fund. It is probably his least "sexy" holding and the only stock that has anything to do with industrials. The company isn't within a "growth" sector. In fact, paper is a declining industry. It seems strange for Klarman to go long on industrials, let alone anything that has to do with paper. Maybe Klarman is playing it safe?
Veritiv went public on July 1st, 2014. It represented the merger of International Paper's (NYSE:IP) subsidiary Xpedex and private holding company, Unisource Worldwide Holdings, Inc. Both companies specialize in "business-to-business solutions." This includes: print, packaging, and facility solutions as well third-party logistics service. Veritiv believes that the two companies will benefit from corporate synergies across their various segments.
The paper business is on the decline. This is no secret. And Veritiv's recent quarterly performance highlights this foreboding issue. And the market quickly curbed its enthusiasm for Veritiv as a result of the company's declining performance. However, Veritiv believes that the company will achieve net synergies as a result of the merger.
Xpedx+Unisource=Opportunity
Xpedex sources its products and equipment from approximately 6,000 vendors in the United States and approximately 600 vendors in Mexico. In turn, xpedx serves as a distribution channel for these vendors. Xpedx has 86 distribution centers in 39 states and Mexico. Xpedx then markets and distributes these supplies, products and services to more than 58,000 customer locations.
Unisource sources products and equipment from North America, Europe and Asia include approximately 2,800 vendors in the United States, approximately 1,000 vendors in Canada and approximately 100 vendors in Europe and Asia. Unisource then serves as a North American distribution channel for many of these vendors. Unisource sells its products to a diverse customer base of approximately 48,000 customers. Unisource provides supply chain management through its 93 distribution centers, providing next-day services to most major metropolitan areas in the United States and Canada.
Combined, the two companies have 179 distribution centers and a customer base of 106,000 customers, with international reach.
Equity valuation of Unisource at the time of purchase was $411M. Xpedx's equity is valued at $756M. This suggests that the book value of Veritiv is roughly $73 a share. At $44.50, Veritiv has a potential upside of 64%, suggesting current valuation represents a "margin-of-safety." This alone could be why Klarman saw opportunity in Veritiv. But I believe there is more.
Synergies:
Revenue performance for Veritiv is expected to be between $9B to $10B for 2014. However, EBITDA is expected to be only $135 to $145 million, a margin of 1.3% to 1.4%. Veritiv believes it will steadily improve this figure over the next five years through net synergies.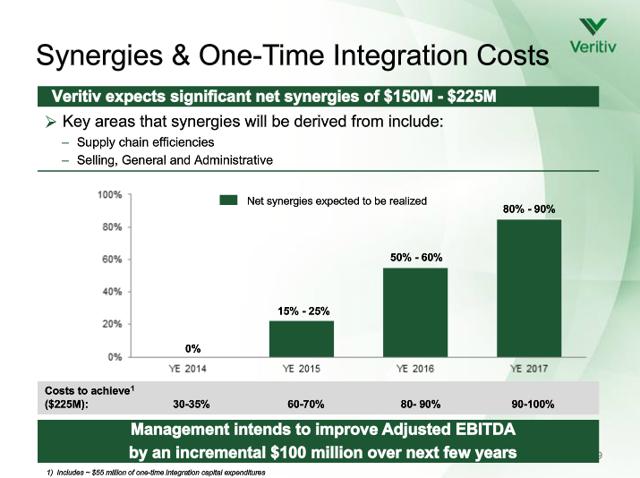 And here's the pitch: combined these two companies can deliver between $9B to $10B in revenues. That's the equivalent of $625 revenues per share. However, both companies struggle to deliver valuable margins on their own. Combined, the company will be able to deliver cost savings in the following areas: overhead, strategic sourcing, supply chain efficiencies, and reduction of fixed costs. Basically, the goal is to maintain current revenue stream and cut costs.
The recent quarterly report suggested that even this might be ambitious. It should first be noted that the recent financial report did not include the financials from Unisource, but only Xpedx. Xpedx did see a decline of net sales of -5.5% in the six months ending in June 30th, 2014 as compared to 2013, primarily due to the decline Y/Y in two of their segments: facility solutions and print. However, this decline was in line with the company's projections. Veritiv expects to make up for the decline by ramping up their packaging segment. There was an increase in net sales of 2% Y/Y.
In connection with the merger, Veritiv entered into an agreement for a $1.4B asset-backed lending ("ABL") Facility.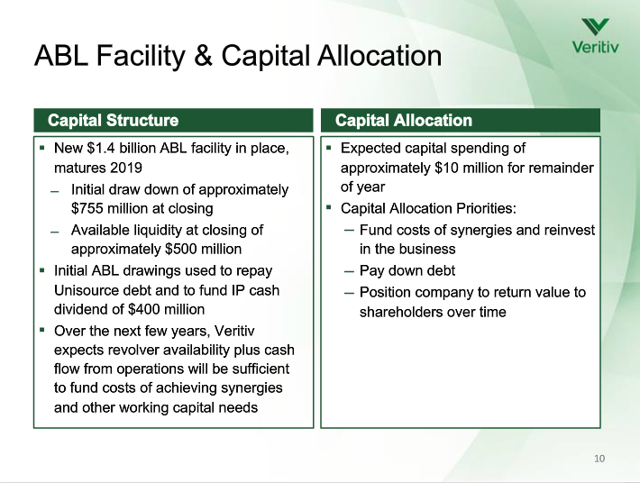 $754.5M was used to pay for the merger and related transactions leaving the available borrowing capacity under the ABL Facility of approximately $509.9M, or approximately $32 per share. The latest filing from the company does not reflect this on the balance sheet due to the fact that the merger occurred after the end of the second quarter. Investors should expect to see this liquidity on the company's third quarter balance sheet.
Conclusions
If the merger can help these two businesses cut costs and improve efficiencies, then this stock presents an opportunity for the value-investor. The risk of this investment is if the company fails at achieving net synergies and is unable to make up for the decline in its print segment. I believe that Veritiv will be able to deliver. Veritiv's target is that by 2020 it will have an aggregate EBITDA exceeding $759 million for the years 2017 through 2019. With a market cap of $712M, I believe Veritiv presents an excellent long-term buying opportunity at current price.
Disclosure: The author is long VRTV.
The author wrote this article themselves, and it expresses their own opinions. The author is not receiving compensation for it (other than from Seeking Alpha). The author has no business relationship with any company whose stock is mentioned in this article.