This article is a follow up to the following:
What happened to FQ4 2014?
As discussed in Part 1 of this series, Prospect Capital (NASDAQ:PSEC) has become heavily reliant on other income to cover dividends. Historically, PSEC has had higher amounts of originations that drove most of the structuring fees and correspondingly higher amounts of other income to 10% to 14% of total income. During the June 2013 quarter, there was also over $14 million in dividend income (significantly higher than average) along with a higher average interest rate on investments, driving EPS to $0.38 and was the last quarter that the company covered dividends with net investment income ("NII") and increased its cumulative undistributed NII. During March 2014, PSEC had record originations of $1.34 billion driving record amounts of structuring fees and over $26 million in other income or 14% of total income. However PSEC was short of covering dividends and used part of its undistributed NII.
Also discussed in Parts 1 and 2, there was the lack of growth capital available to the company to continue to drive originations and fee income for FQ4. The recent 10-K stated "While we were in discussions with the SEC, we elected to suspend our debt and equity raising activities for the remainder of the quarter and continuing through the filing of this Form 10-K. This curtailment of capital raising activities suppressed our levels of origination and growth in the fourth quarter of the fiscal year ended June 30, 2014. This reduction in originations suppressed our level of structuring fees recognized and reduced our earnings for the quarter." The table below shows the historical weighted average interest rate, breakdown of income, dividend coverage and cumulative undistributed NII.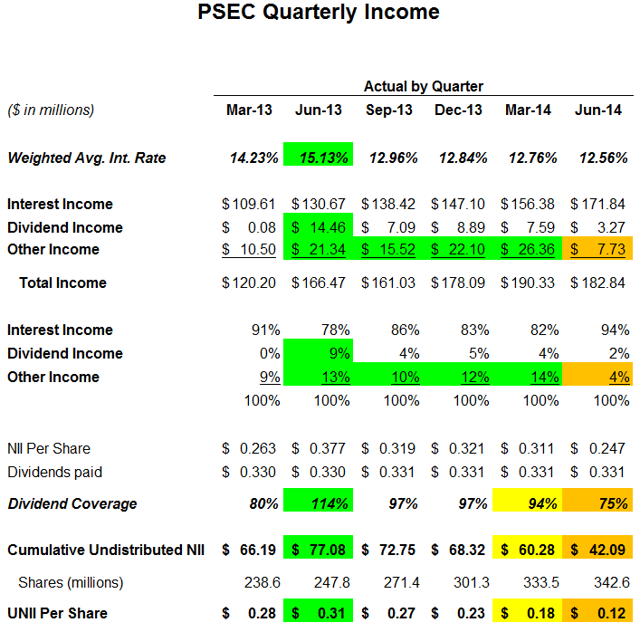 In Part 3 of this series I provided a side-by-side analysis of projected results for FQ4 2014 comparing various analyst estimates as well as my revised projections that were a bit more optimistic than my projections in Part 2. Obviously PSEC came in below all expectations so I will use the 'worst case' scenario of my original estimates from May 21, 2014: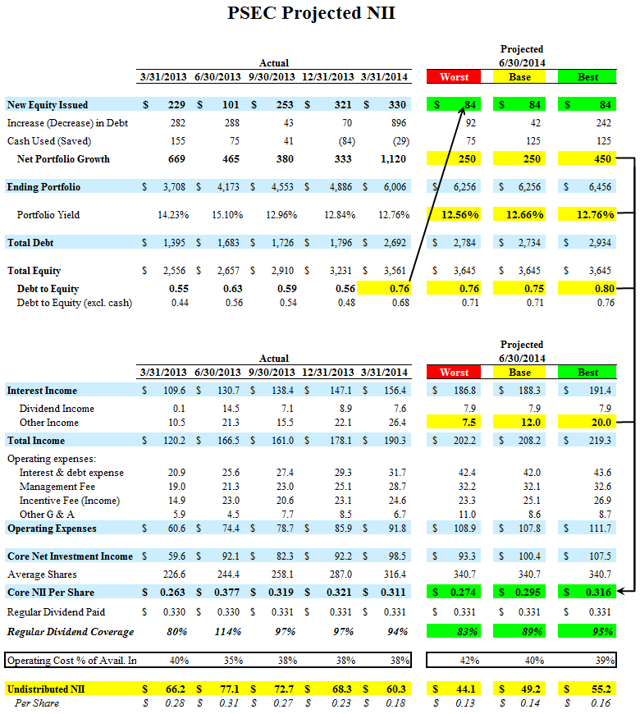 The following table compares my 'worst case' projections from the previous table to the actual results.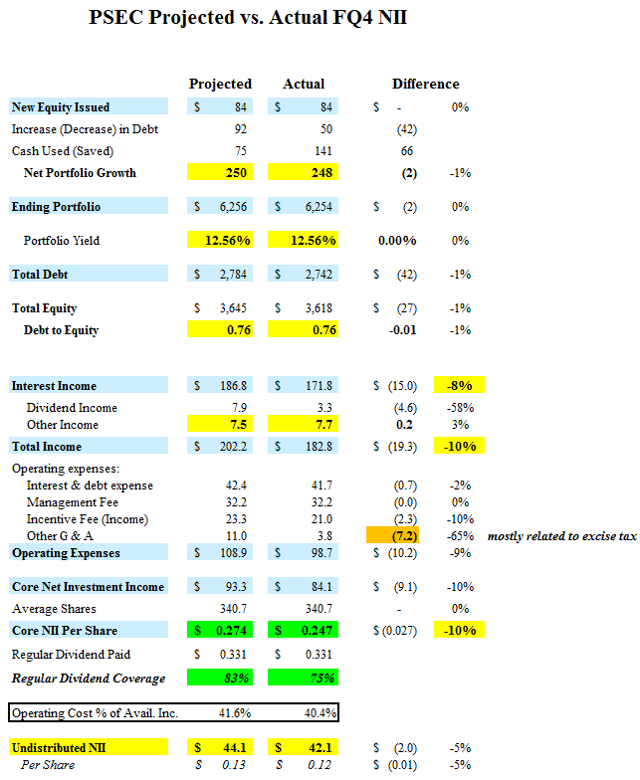 In Part 2, I mentioned "Assuming that PSEC keeps its debt-to-equity ratio close to its targeted 0.75 plus the $84 million in equity and a portion of its cash reserve, I have assumed $250 million in net portfolio growth this coming quarter." While this estimate was accurate, my interest income was 8% higher than actual. The difference could have been due to the timing of the large amount of deployments in the previous quarter and/or the associated yield from those investments. Keep in mind that PSEC closed a large portion of the originations near the end of the quarter including:
March 28, $277.5 million of secured floating rate debt to Instant Web, LLC.
March 31, a secured debt investment of $60.0 million in United States Environmental Services
March 31, a $153.5 million follow-on senior secured debt investment in Progrexion Holdings, Inc.
March 31, invested $246.3 million in cash and issued 2,306,294 unregistered shares of common stock to support the recapitalization of Harbortouch Payments
March 31, provided $78.5 million of debt and $14.1 million of equity financing to Echelon Aviation
All of these investments should have had a full quarter of benefit for the company. My higher estimate of interest income is the primary reason for many of the differences to the actual results including 10% higher estimated incentive fees and 10% higher core NII. I also had a higher amount of dividend income but this was partially offset by other G&A with an unexpected reversal of excise tax of $7.2 million for the quarter.
Portfolio Mix
PSEC needs to find a way to increase its portfolio yield and has started to reverse course regarding its portfolio mix by reducing the amount of safer senior secured debt and growing its subordinated debt and more importantly its collateralized loan obligation ("CLO") residual interests. I will cover these changes from a risk standpoint in my "BDC Risk Profiles" series.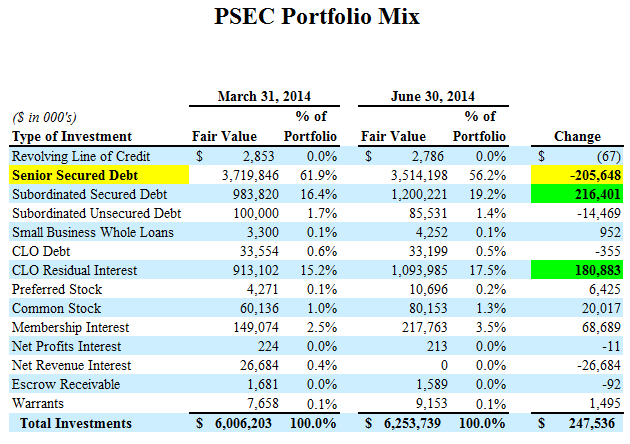 Portfolio Yield
PSEC's portfolio yield is continuing to decline but this should slow over the coming quarters as the portfolio mix starts to refocus on higher yield investments.

The previous table also included the following explanations for changes in the portfolio yield: "The decrease in annual returns during the comparable period is primarily due to a decline in prepayment penalty income driven by a $14,731 decrease in the make-whole fees we received from Energy Solutions. The decrease in our current yield is primarily due to originations at lower rates than our average existing portfolio yield. Excluding the adjustment for make-whole fees our annual return would have been 14.1% for the year ended June 30, 2013."
New Shares Issued
As previously mentioned, PSEC has "elected to suspend our debt and equity raising activities for the remainder of the quarter and continuing through the filing of this Form 10-K". As of August 22, 2014, there were 342,854,575 shares of common stock outstanding.
NAV Stability
As discussed in Part 3, the following items are the primary drivers to changes in net asset value ("NAV") per share and I have included the recent quarterly impact from each:
NII coverage of dividends - ($0.08 decrease)
Changes in the value of portfolio investments - ($0.04 decrease)
New shares issued at a premium to book value - (no change)
The following table was provided in the latest press release regarding the changes to NAV per share.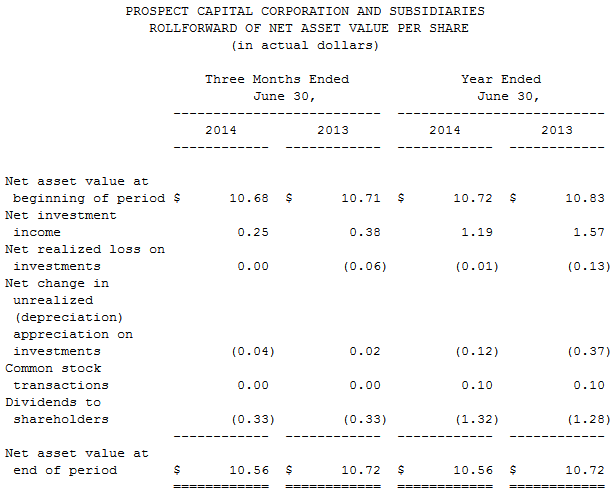 In Part 5 of this series I will provide my projections for FQ1 2015 with best and worst case scenarios. I would expect to see the stock trading down this morning and the longer it trades near $10.56 the less of a chance the company will have to raise additional capital which could result in continued underperformance for the coming quarters due to less fee income.
For links to previous PSEC articles on Seeking Alpha please check my "PSEC Articles" as well as the "BDC Research Page" that I will continue to update as well as my "Index to BDC Articles" for more information on other BDCs.
Disclosure: The author is long PSEC.
The author wrote this article themselves, and it expresses their own opinions. The author is not receiving compensation for it (other than from Seeking Alpha). The author has no business relationship with any company whose stock is mentioned in this article.