Bondholders tend to be more sophisticated than equity holders. They also tend to represent institutions and are more plugged in than your average investor. That said, bondholders' behavior - buys, sells and how they price bonds - may give you the first indication of what is actually going on with a company. That is why the August 1st article from Kamakura Corporation, Molycorp Bond Issues Top "Cheapest Bond", piqued my interest.
The list ranked Molycorp Inc.'s (MCP) 6% convertible bonds due 2017 and 3.25% convertible bonds due 2016 as number one and number two, respectively, on the list. Here were the details:
Molycorp 6.00% Convertibles
Price - 61.303
Average yield - 24.69%
Matched U.S. Treasury Yield - 1.05%
Average Credit Spread - 23.68%
Kamakura Default Probability - 4.26%
Spread to Default Probability - Ratio of 5.544
Molycorp 3.25% Convertibles
Price - 73.612
Average yield - 21.11%
Matched U.S. Treasury Yield - .48%
Average Credit Spread - 20.64%
Kamakura Default Probability - 5.37%
Spread to Default Probability - Ratio of 3.846
Conversation With Donald van Deventer of Kamakura
Of the bonds listed, the two Molycorp bonds also had the highest default probabilities, which I took to mean they were highly speculative and highly impaired credits. That said, I wanted more clarity, so I spoke to Donald van Deventer of Kamakura.
Shock Exchange: Donald, thank you for the bond analysis on Molycorp. A few things. When you say its two bonds are the "cheapest" is it simply based on yield, average credit spread, spread to default probability or a combination of all of them?

van Deventer: It's based on the trade-weighted average price among all of those senior fixed-rate non-call corporate bond issues that had at least $5 million on the day. The underlying data comes from FINRA's TRACE system and is processed by Kamakura. There's a separate ranking for trade-weighted credit spread, and Molycorp "won" that one today too. We do the spread to default probability ratios weekly, usually posting on Monday. Thanks for reading!

Shock Exchange: The fact that Molycorp bonds (or anyone else's bonds for that matter) are the cheapest, do they tend to be mis-priced or is the market usually telling us something else?

van Deventer: With respect to the market in general (not Molycorp specifically), my working assumption is that you need a real smoking gun to prove the market wrong and they are hard to find. One such smoking gun is our default probabilities, which most people don't have access to. Ratings still influence bond prices even though their accuracy is much lower than our default probabilities. With respect to super junk credits, there are very few holders and very few trades. There is also likely to be a few insiders with knowledge that can really move the bond prices. That's an environment where the odds of insider trading get much higher. That would be my main worry - having fewer weapons than the other guy in the gun fight.
My conclusion from the conversation was that Molycorp's convertible bonds were considered a super junk credit by bondholders. I felt vindicated by saying the bonds did not reflect bankruptcy risk months earlier. Below is a chart of the company's $1.5 billion long-term debt: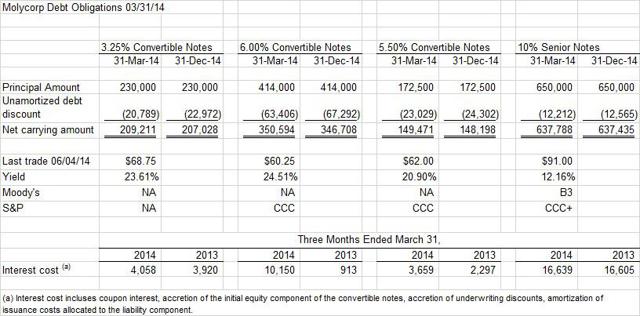 10% Senior Secured Notes Sell Off Prior To Earnings
On June 4th, the 10% senior secured notes were trading at 91 cents on the dollar. As I and several commenters tried to find value in Molycorp, the senior notes got everybody's vote as the best part of the capital structure to invest in; they provided the most protection in terms of asset coverage, in case Molycorp could not find a solution to its cash burn. However, the senior notes sold off just prior to the earnings release and traded at 87.25 cents on the dollar to yield 13.20%.
Why Would Safest Bonds Sell Off?
There had been no substantive changes with the other bonds since June, other than the fact that vulture investors were interested in the 3.25% convertible bonds. The question remained, "Why would the senior notes have traded off prior to earnings, and what was that telling us?" Two plausible reasons were as follows:
Molycorp Was About To Announce Asset Sales - If the company had decided to sell assets to raise cash quickly, this would have left the senior note holders with fewer assets as security in case the bonds could not be repaid.
Vendor Financing or Revolving Credit Facility - Any new debt taken on by the company and placed higher up the capital structure would have weakened the senior note holders' position. Equipment financing or a revolving credit facility backed by inventory and receivables would have [i] raised cash but [ii] created more debt and interest burden for Molycorp and [iii] left fewer assets backing senior note holders' claims.
Senior note holders no longer believed that yields of 10%-13% paid them for the risk taken on.
After the company announced a $400 million financing package from Oaktree Capital on its Q2 earnings call, we now know why the senior bondholders were correct. The financing package will [i] place Oaktree higher up the capital structure than the senior notes, [ii] give Oaktree claims on certain assets and [iii] create a higher interest burden, given its 12% interest rate. I recently lowered my valuation of Molycorp to $1.35 per share, given higher cash burn than anticipated and more debt burden. The stock initially rose over 15% to over $2.30 per share on news of the Oaktree financing. However, after realizing Molycorp's weakened capital structure and higher interest burden, equity holders have caught up with bondholders; equity holders have sent the stock down to $1.76 per share - about 12% below where it was trading prior to Q2 earnings.
Conclusion
Based on Q2 earnings, Molycorp's bondholders were signaling that the company was impaired and about to enter transaction(s) that would raise cash, yet further weaken the capital structure and further mortgage its assets in exchange for more debt. I would advise investors to closely watch bondholders for future signals on Molycorp's business prospects. I currently rate the stock a sell.
Disclosure: The author is short MCP. The author wrote this article themselves, and it expresses their own opinions. The author is not receiving compensation for it (other than from Seeking Alpha). The author has no business relationship with any company whose stock is mentioned in this article.
Additional disclosure: I own straddles on Molycorp.