Hiding pricing data and stonewalling analysts
Valeant Pharmaceuticals (NYSE:VRX) CEO Michael Pearson writes very sweet letters to shareholders every year. Among the many seductive propositions in those letters is the promise of great returns without the risk of R&D (by the way, as shown in previous articles, Valeant has a very poor return on capital). Such propositions enticed investors who had never invested in pharma before to invest in Valeant. That is a good thing, because if investors had read the financial statements of other pharmas, they would have found that unlike Valeant, others reveal the price increases for their drugs. Allergan (NYSE:AGN) and Salix (NASDAQ:SLXP), for example, disclose the exact amounts of price increases for each drug.
There is nothing wrong with price increases as long as they are sustainable. If a company discloses how much of its revenue growth comes from price increases and how much from increased unit volume, investors can make a judgment about the sustainability of the business. If steep price increases are being used to mask a rotting portfolio, then investors can exit before the revenue goes cold turkey (as non-Bausch & Lomb revenue has).
For example, if you look at the Salix Q2 earnings call, the Salix CFO gives the price increases per drug.
Another example is Allergan giving the price increases for each drug on Pages 35 and 36 of its Q2 10-Q. These companies have always been giving their price increase information - nothing new there.
Allergan attacked the concealment of pricing data in Valeant's reporting multiple times. Allergan alleges based on industry-standard IMS data, that Valeant makes eye-popping price increases very frequently. There are example slides from one of Allergan's presentations at the end of the article.
Despite this pressure, all that Valeant revealed in Q2 was whether its top 20 products were growing by price or volume. This is insufficient to determine sustainability. When an analyst asked Pearson on the Q2 call for more price information, Pearson gave this incredible reply.
David Michael Steinberg - Jefferies LLC, Research Division
Okay. And just one quick follow-up. Appreciate more the granularity on the top 20 global brands. You indicate that about 50% of the growth is from price and volume. I was wondering on the primary growth driver going forward if you could break out what percent might be volume, what percent might be price versus just a comment volume/price given that a lot of these products are pretty hard to track in terms of prescription growth.

J. Michael Pearson - Chairman and Chief Executive Officer
We'll take your comment under advisement, although I must say that when we looked at all competitors, we didn't see anyone that was even disclosing this much information. And we heard the investors loud and clear. Our investors said, "We'd appreciate this." That's why we're doing it, and we're committed to continue to do it. But whatever we disclose, we know there's always going to be a request to disclose even more. So we'll take the advice under advisement, but I do think at this point, we're disclosing probably more than just about anyone else in the industry in terms of if we show our breakdown by business unit, which Howard went through, and which we've committed to continue to disclose on a going-forward basis. And the top 20 products, price, volume, what's growing by quarter, by year, again, for the foreseeable future, we hope that addresses the vast majority of the concerns, but we do appreciate the input.
Thus, even though other companies like Allergan and Salix give the exact price increase data on a per-drug basis, and Valeant doesn't give any data about how much price increases were, Pearson claimed that nobody discloses as much as Valeant. Yes, it is the same Pearson who writes those sugary shareholder letters.
Just before the market could spot the rot in the non-B&L portfolio, Valeant acquired B&L. Just before B&L in turn starts rotting, Valeant wants to acquire Allergan. Valeant and Ackman began buys of Allergan just six months after the B&L acquisition closed.
Price hikes on non-B&L must be very aggressive
Allergan quoted a Needham research report that Valeant had hiked prices by more than 20% on 122 separate occasions in the last 3 years. If Valeant had revealed this, it might have given investors warning before the non-B&L revenue growth turned deeply negative. Needham said that Valeant had "far and away the most aggressive pricing strategy". This quote is in the last slide at the end of this article.
Valeant says 90% of B&L growth is due to volume. Why not, after all, the new products being launched by B&L were developed prior to Valeant acquiring them and gutting their R&D. But, the key is that the contribution of volume is just 45% in the growth of the top 20 brands. So, how did we get from volume contribution of 90% B&L to 45% overall? It must be due to huge price increases in the non-B&L portion. Non-B&L volume must be falling steeply and must be accompanied by steep price increases. Sooner or later PBMs and customers would shut the door on Valeant's products if prices keep getting hiked.
How is Valeant's tax rate below 5% when other Canadian companies have a much higher rate?
This is a question that I believe no investor can answer. It is taking the IRS years to figure out whether Valeant's tax setup is legal or not.
If you look at the Value Line reports on Canadian companies, you see everyone pay a much higher tax rate than Valeant. This is crucial for Allergan shareholders because Valeant claims a tax rate of less than 5% in their synergy pitch to Allergan shareholders.
Here are some Canadian companies and their tax rates:
Bank of Montreal tax rate = 21%
Bank of Nova Scotia tax rate = 21%
Royal Bank of Canada tax rate = 21%
Canadian National Railway = 28%
Canadian Pacific Railway = 27%
You get the picture.
How is Valeant's tax rate less than 5%? These Canadian companies pay a much higher tax.
This Bloomberg article explains how drug companies can transfer their IP to say the Cayman Islands and have their US subsidiaries license that IP. This can lower their taxes. But I remember reading in the past that most drug companies and tech companies have moved their IP to low-tax or zero-tax countries. But all such drug and tech companies report tax rates in the twenties.
The drug company Shire (NASDAQ:SHPG) has a tax rate of 16.4% even though Ireland's corporate tax rate is lower than Canada (Ireland: 12.5%, Canada: 15%). Covidien (COV), also docimiled in Ireland, has a tax rate of 16.5%. Actavis (ACT) and Perrigo (NASDAQ:PRGO) are two more Ireland-domiciled drug companies that have tax rates of 17% and 16%. How can Valeant claim a far lower tax rate in its synergy presentations to Allergan shareholders?
Eugene Melnyk blows the whistle on Valeant
Thanks to SA commenter JGC320 for finding this Financial Post article. Eugene Melnyk is the former CEO of Biovail; Valeant bought Biovail to get its tax inversion. Melnyk relocated to Barbados to get Biovail a tax domicile there. He has become a whistleblower for the IRS against Valeant. He claims Valeant will lose its tax rate and will have to pay back taxes to the IRS for previous years. The IRS started investigating Valeant because he blew the whistle. Eugene Melnyk makes several points, one of which is that he relocated to Barbados and hired local staff, whereas Valeant's CEO and staff work out of New Jersey.
Another great point made by Melnyk is that change of control payouts were made to Biovail executives, even though technically Biovail acquired Valeant. I don't know if Melnyk has sufficient evidence to nail Valeant, but the IRS investigation is ongoing. The Financial Times also revealed the IRS investigation in a recent article.
Valeant revealed in its latest 10-Q that in the second quarter of 2014 the IRS began investigating Valeant's 2011, 2012 tax returns.
The legality and sustainability of Valeant's tax rate is critical for investors. That is the main source of the synergies that Valeant is claiming in its attempted hostile takeover of Allergan. Remember, Valeant is leveraged to the maximum and any tax increase for Valeant will be unbearable.
Allergan's M&A
Allergan has been testing the patience of investors on the M&A front. For some unexplained reason, its M&A talks with Salix became dormant last month, though they could be reactivated. Allergan needs to just buy someone.
Even if Allergan overpays, it is a far better deal for Allergan shareholders. This is because Allergan shareholders would be owning only 44% of a combined company if they merge with Valeant. Allergan's balance sheet is unutilized. If Valeant acquires Allergan, the money raised by leveraging Allergan's assets would be shared with Valeant shareholders.
By making an acquisition on its own, Allergan can ensure that the benefit of its balance sheet accrues solely and entirely to Allergan shareholders. This happens in the same way that Allergan's job cuts transferred value solely to Allergan shareholders instead of being shared with Valeant shareholders.
Allergan needs to stop dithering
It has been four months since Ackman and Valeant announced their intentions. But Allergan has been dithering instead of acquiring. Now, Ackman and Valeant have filed a lawsuit in Delaware asking the judge to compel Allergan to hold the special meeting before Allergan can acquire anyone.
I think Valeant is highly desperate because it knows any acquisition of any other public company will also require a proxy contest because nobody wants to be acquired by Valeant. The only way for Allergan to be rid of a pursuer this desperate is to make an acquisition of its own before it gets cornered any further.
Allergan has failed to press forward decisively with an acquisition whenever Valeant has been vulnerable in the battle over the last four months. Instead Allergan has preferred to repeatedly fritter away advantages over Valeant. Allowing talks with Salix to become dormant is inexcusable. Allergan has frittered away four months without explanation.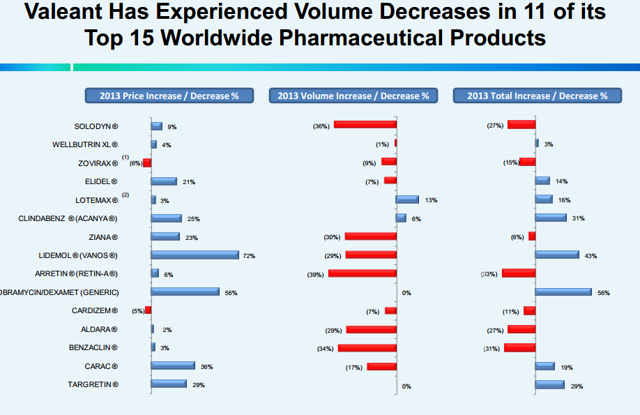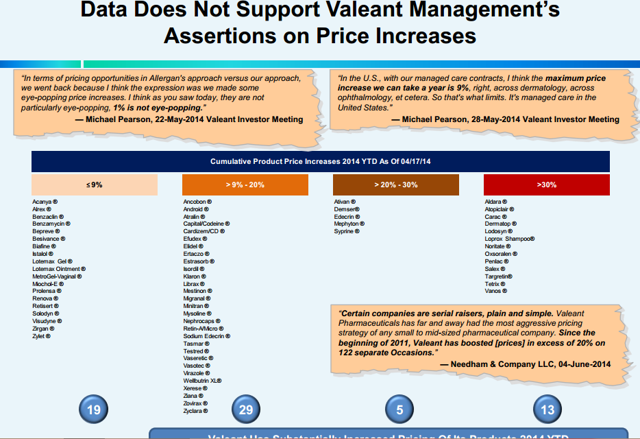 If Valeant thought this data was wrong, why didn't Valeant say what the price increases were? Allergan obtained this data from the standard IMS database.
Disclosure: The author is long PRGO.
The author wrote this article themselves, and it expresses their own opinions. The author is not receiving compensation for it (other than from Seeking Alpha). The author has no business relationship with any company whose stock is mentioned in this article.